I am currently in a small city called Hayward which is just 43klms south of San Francisco.
I was in no rush to leave my airbnb at Prunedale as the hosts were great. Before I left I went to the nearest Post Office at Castroville to send my Superbike souvenirs home. On arrival it was then I only realised how important the town was;
I think that I should be able to talk Mick into going to the festival when he comes over as he would be a dead cert to be named King Artichoke.
I post my stuff off – one thing I have learned is that the US postal service is very expensive compared to ours and also a lot more time consuming. If it's anything other than a letter you have to fill out a customs declaration which then has to be manually entered on the postal system by staff. I do wonder if anyone ever ticks the box saying that they are sending hazardous material? Seriously.
I get back to the house, pack Fred up, say my goodbyes. I head to Scotts Valley where I hope to catch up with Deric who I met at the race and do the ride with him up to Alice's Kitchen – unfortunately that didn't work out. I called in on the local Police and ended up having a chat to Lieutenant Wilson who gives me a patch and coin. I am just about to get back on Fred when a lady pulls up next to me in a BMW convertible and asks if I am the Australian that was just looking for a patch? It turns out the lady (Donna) is an ex local Police Sergeant (retired) and now the Mayor of Scotts Valley (she had been meeting with Wilson). Donna is an avid motorcycle rider and only just sold her Harley. Luckily I had washed Fred a few days ago and he was gleaming in the sun.
We have a good chat and now I have a Mayor following my blog! Ha. Donna is also giving me advice and help re where to go and what to do.
I leave Scotts Valley thinking that I am on Highway 9 and heading up to Alice's Restaurant. After a while I realise that I have taken a different route but should be ok as there are a lot of ways to get there. WRONG. I climb up over the mountain and get to within 30klms of the restaurant only to find the road totally closed (I did go along it but was stopped by the work crew and found out that even Fred couldn't climb over the rubble). I could have retraced my steps and started again but that meant at least another hour or so to add to the trip and I had organised to meet the next host at a certain time. It wasn't a waste of a ride though as it was still fun;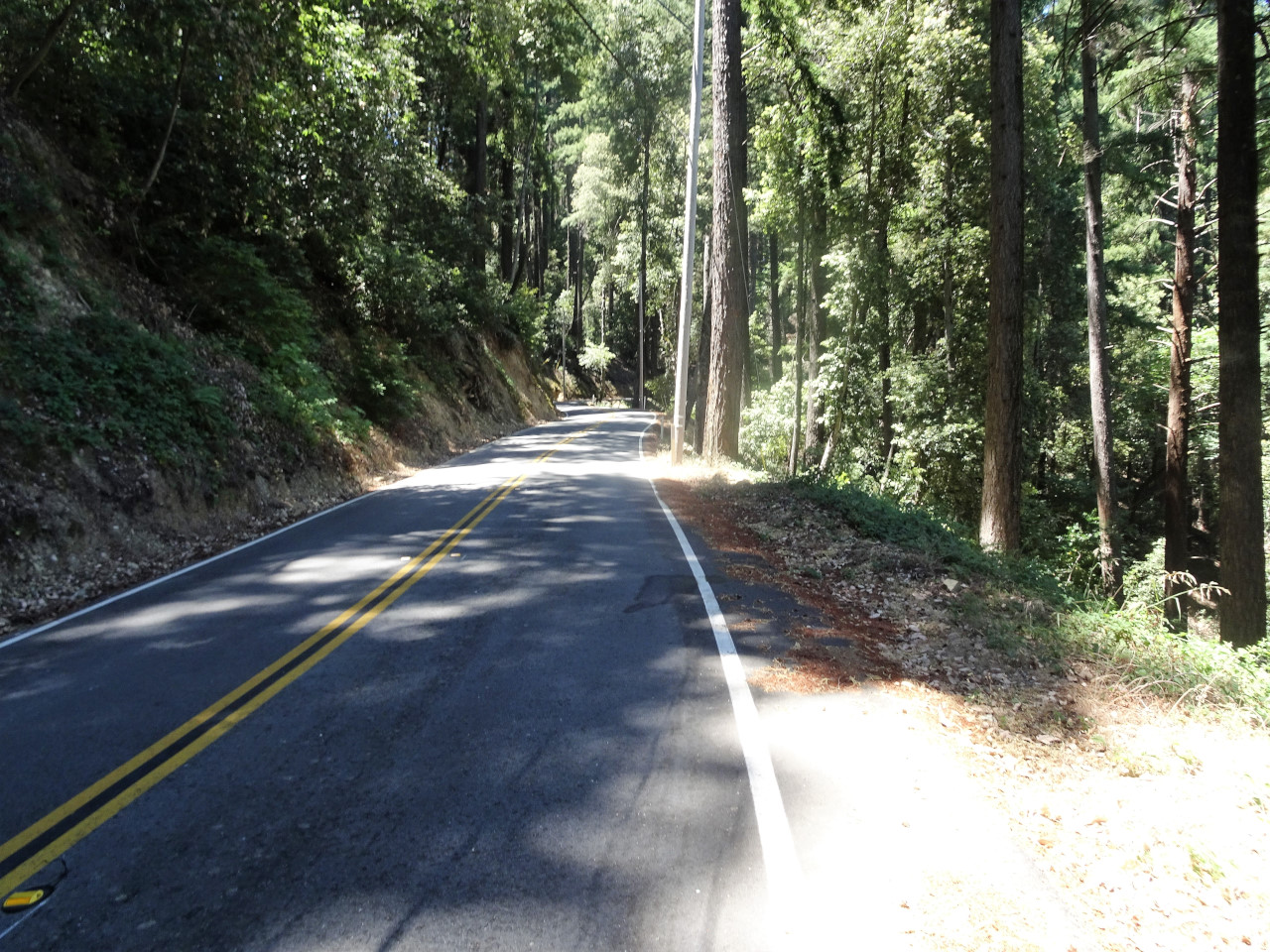 I decided that it was something I would have to do next time and turned around and went back to the main highway. I got to Hayward and settled in at my new airbnb which is hosted by an older Chinese woman named Grace. She has a 2 bedroom apartment in a large block of apartments but its surprisingly a really good setup. I make a few phone calls and organise to go in to a local motorcycle dealership (Eastbay Motorsports) which is only about 10mins away.
The next day I go into the motorcycle dealership and checked out getting new tires and a service for Fred. As it turns out I can't get it done until the next day as the tires have to be delivered overnight. I purchase 90% road and 10% dirt tires which is the best I can do re road wise for Fred. The guys in the shop are a laugh and good value. None of them can believe the length of time I am on my adventure for. One of the spare parts lads is now following my blog – he is mad about reptiles and wants to come out to Australia for that reason. Hopefully he will and I can help him out.
Now that I had some spare time I thought I may as well go for a ride over to East Bay and have a look around. Later in the morning I stop in on San Leandro Police and have a coffee with a Sergeant in their SWAT. He was in Adelaide for the world Police/Fire games and loved it. He gives me everything he has in his drawer including the special SWAT patches. He also wanted me to come back on Thursday as his squad was hosting the annual SWAT fitness challenge that over 40 jurisdictions participate in – apparently its absolutely brutal. He went on to say it all started out of his squad splitting into 2 x teams and doing a challenge internally which just grew to what it is today.
Would have been fun to see but I can't really afford time wise to stay until Friday as I have to keep moving to get up to Washougal. I tell him to let me know when they have a pie / beer drinking / tattoo contest I will send some of my detectives over!
All this talk about fitness makes me tired so back home I go and have an afternoon nap. Later on I get up and watch a replay of the Superbike races.
The next day (today) I get up and send a few emails and check out what has to be done to do an Alcatraz tour – this will be a must do after the NFL game in Sept. A tour is around $40 USD and goes for 2.5 hrs. No dramas re tickets if booked a few weeks out.
I fire Fred up and on the way down to the shop I see this and wonder what it could be;
Just looks dodgy to me.
I get to the motorbike shop and get told that it would be about 3hrs before Fred is ready. I go for a walk, have lunch and then find a Chinese massage place where I have a glorious 1 hour massage. I stroll back to the shop (resisting the temptation to have a nap under a tree) and wait about 20 mins for Fred. I get the bill and offer to pay with a kidney but they only take cash. The end result though was great as the tire problem is sorted and Fred has had a comprehensive service.
Back home we go and the change with decent road tires is amazing. Getting ready now for an early night as have to be away early as the forecast for tomorrows ride is high 30's.