It's nearly 9:00pm on Thursday 29/6 – I am currently in a trailer park at Caldwell in Idaho. I am only about 50klms from Ontario which is just over the border in Oregon. I have decided that I will do my blogs as the last thing of the day so I keep up and also don't forget what I have done.
After doing my best to make everyone envious of my camp I think the joke may have been on me. Around midnight it became absolutely freezing – my sleeping bag is rated 4 or 5 below but it did not cut it. I had on my thermals, socks, balaclava, t-shirt and jacket. Still froze.
Got packed up and headed off riding back over the Rockies – it was weird as the sun was out but it was so cold I had to stop and put my hands on Fred's motor to thaw them out. The scenery was again pretty spectacular;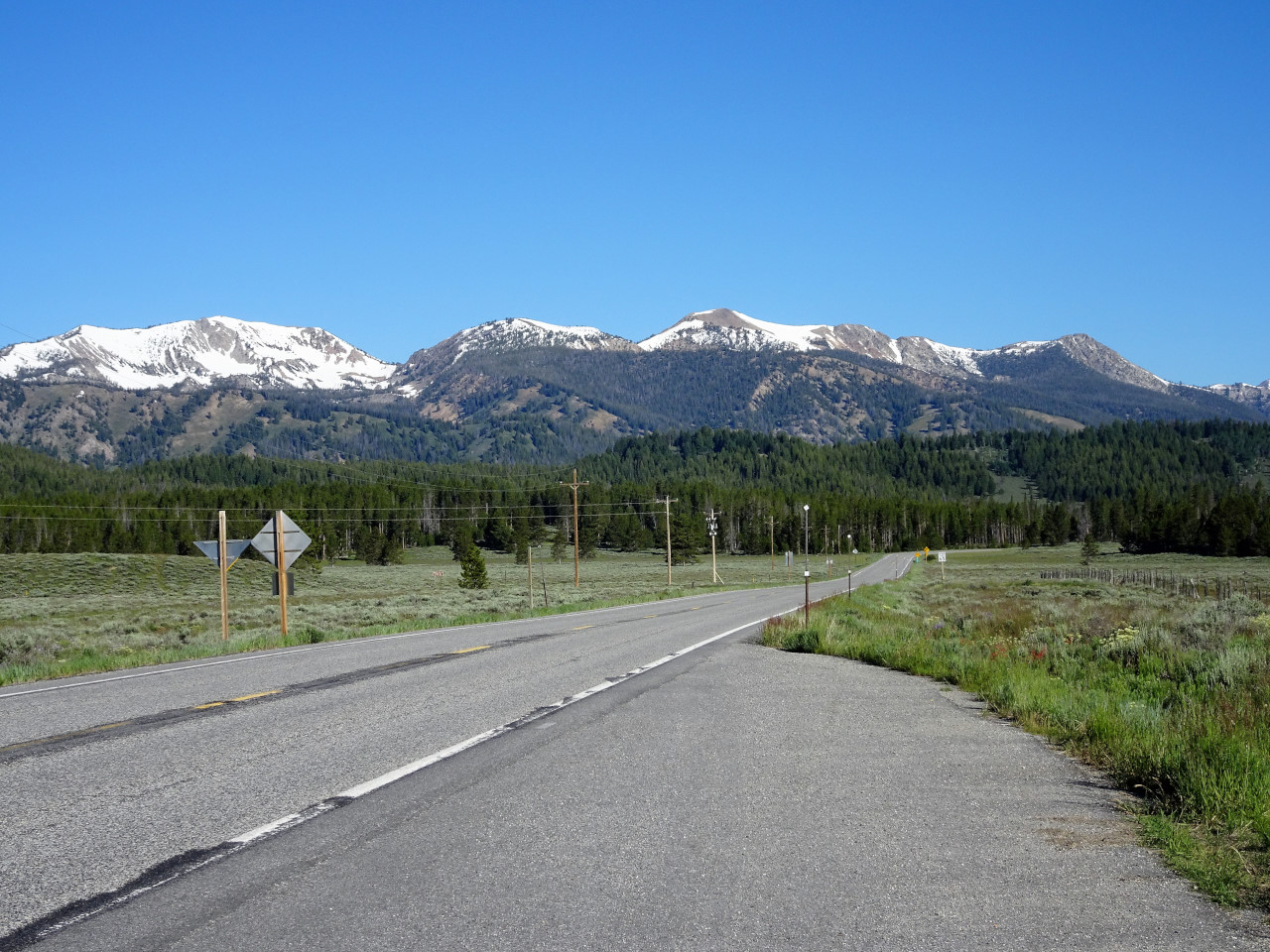 I pulled up at this place and had a chat to a couple who were out touring on their Harley's. They had come the way I was going but also were complaining about temp. In I go and have breakfast and was able to post 2 x blogs that I had done in the camp the night before. The good thing about over here is that absolutely everybody has Wi-fi.
I continue and checked out Lake Stanley;
I go thru a lot of small towns but I end up riding most of the day beside Snake River;
With all of this outdoors activity I was feeling a bit puffed by 10:30 so I decided to pull over – I sat down against a tree and had a snooze for about 30mins! Life is hard at the moment.
After my nap I head off and the landscape keeps changing quite dramatically;
Of course the roads were terrible (they should just have a smiley face);
I arrive in Boise thinking its going to be like the other country towns I went thru and discover its a major city – its actually the Capital of Idaho. Ha. So I get on my trusty gps and look for camping grounds. I go past several on the Interstate that were real trailer trash material but then found a great one about 40klms out.
I get talking to the owner who is about 40 with 2 x kids. He is ex-airforce police and tells me his 9yr old daughter shot a bear this 'season' and brings out a photo of her dressed in cams, holding rifle, posing with her foot on the dead bears head (and it was small bear). Good grief – I think I will now book in for counselling.
One last thing;
Who the hell is rock and what does he do that's so bad we have to watch out for him?