I think I am going to have to call the blogs I am doing at the moment my "Road to" series.  I have been under the pump to get to Memphis so I can catch a flight to Vegas to meet my mate Mick who is flying in on the 30th.  This has meant is a lot of miles and not a lot of rest!
With great difficulty I get up and going (hamstring is killing me and have trouble putting my boot on).   I soon get going out of the city;
I get about 120 klms under my belt and decide to head off the Interstate for a look at Okemah;
Home of Woody Guthrie (American folk singer/songwriter) who was famous for his social justice songs.  A look around the town discovers some great old buildings;
A bit further on is another small town, Henryetta;
I only go about 45 klms further on before I call in at the local PD in Checotah;
I then go and walk thru several antique shops.  One of the locals suggested that I go and check out a significant civil war battle field that is roughly 10 klms out of town.  The battle is known as "The battle of Honey Springs 1863".  A new Visitor Centre / Museum has been under construction but no-one is sure if it has actually opened yet.
I get on Fred and start heading back to the Interstate before I pulled over to do a u-turn.  I knew I had to go and check out the battle ground as I every time I don't do something I later regret it!
I ride out and see a couple of signs;
I turn up the side road and find a new building however there is no signage to indicate that its the new centre.  I pull up outside and straight away a guy comes out to me and introduced himself as Adam Lynn, the newly appointed director.  Adam explains that the centre has not been opened yet but he invites me inside to have a look;
What blew me away is that Adam gave me about a 20 min personal presentation on the battle while I recorded it on video (I checked and yes I have sound this time!).  His enthusiasm during it was fantastic and I asked every stupid question you could think of.
Adam goes right thru the battle and the movements etc.  I wont give you a civil war history lesson here but basically the battle was very significant for a whole number of reasons; The confederate army was attempting to gain control Indian territory, first battle on Indian land, first battle involving Native Americans and African Americans, etc.  The battle had influence on the outcome of the War.
Adam told me that the building was a multi-million dollar centre that had been argued for since the 1960's.  An archaeological dig recovered some 2,000 canon balls some time ago but the time was 'right' for something similar to be done again now.  They only have to finish setting up the displays and interactive exhibits inside to be ready for opening.  There are also self guided walking trails that are being restored that take you through the actual battle field.
When I get back home I intend to send Adam a copy of the footage as I know he will get a kick out of the 'first' presentation (and International at that) that he did in his new centre.
I can't thank him enough as I totally enjoyed the experience.  He gave me a booklet about the battle and I was on my way.  I swung by one of the roads where the walking trails commence;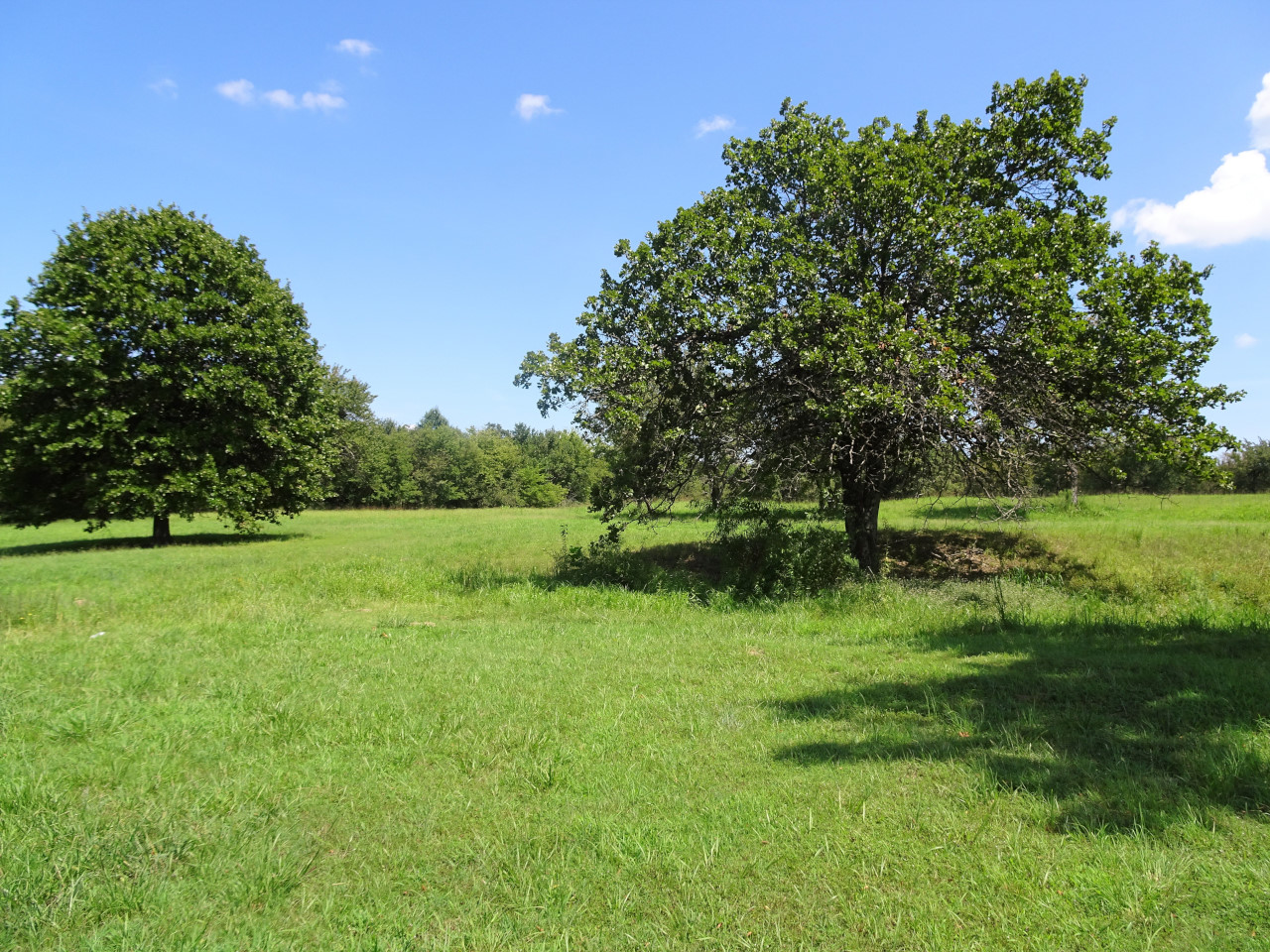 The other very important point is that the township of Rentiesville still survives today – these towns were created by parcels of land being given to the African American soldiers who fought for the Union and there are not many such towns left;
So I was quite chuffed that I turned around because the reward I got from doing that was sensational!  I head off again taking the 'back roads' and go thru a couple of small towns before I come out at Sallisaw where I stop and call in on the local Sheriffs office;
I head off and keep going all of the way until I get to my place at Fort Smith – crossing over the River to arrive in Fort Smith meant that I was out of Oklahoma and now in Arkansas.  I pull up at my lodgings and see this beauty sitting in the driveway next door;
I get myself sorted and have an early night.