I caught the Motel shuttle to the Memphis Airport that was less than 10 minutes away;
I killed a bit of time before the Frontier Airline desk opened up.  I went over and spoke to the staff (couldn't believe it was a mother and daughter team) and clarified the issue with my double charging of luggage.  They said that I should not have been charged anything re luggage at all given that my backpack fit the criteria for carry on and I definitely should not have been charged twice for luggage just because there was stopover.  Mum then made a phone call to her supervisor and relayed to me that I needed to submit a refund request form that can be found on the Airlines website.  Immediately I knew that I was stuffed and no way was I going to get anything quickly.
So I go thru security and wait outside the gate for boarding.  Whilst waiting I went online and submitted the form.  Basically my issue is that when I booked my flight over the net I was charged twice for luggage – I phoned the nominated contact number for the Airline to sort out what I thought was a mistake but was told (by an Indian call center) that I had to make 2 x payments.   I was charged an extra $76 – the only saving grace was that the flight was still a lot cheaper than anything else.
So I get on the flight and away I go.  Here I was thinking that I would be landing in Las Vegas and getting picked up by Carl at 11:30 pm which made it not too hard.  The thing I forgot all about was the time difference between States.  Yes, Carl was picking me up at  11:30 pm but that was Nevada time which was 2 hours behind Tennessee (so in fact my body clock was at 1:30 am).
Carl picks me up and we head back to his place.  By the time I get to bed its around 1:00 a.m local time (body clock 3:00 am).   Big lessons learnt in booking this flight!  Check baggage and check the bloody local time!
The next morning was spent just hanging out talking to Carl.  At 11:30 am we went to the Airport and picked up Mick.  The big fella was looking pretty good given the fact he had spent over a day in the air, still recovering from his knee replacement, and coughing his guts up from the flu.  Nothing much else happened for the rest of the day apart from getting up to speed with Mick.  He did however manage to belt out a few tunes to entertain us;
The next morning was spent getting a few things booked including our flights to San Francisco.  I was able to score some reasonably priced seats for the 'Australian Bee Gee's show" which was great as I just missed out on seeing them when I was in Vegas the  first time round.  The show was on at 7:00 pm just up the road at the Excalibur Casino;
The next part of the day was spent trying to sort Mick out with his phone.  'We' downloaded the Uber ap and then tried to link the payment side of things to a newly created paypal account – all I can say is that I will never, ever, ever, accuse Mick of being an IT geek!  In the end we got Suzi to book us a car and we headed into the Casino to check it out.
Carl had given us the low down on exactly what we had to do (which all of the locals do) to take full advantage of the Casino's hospitality.  On arrival we collected our tickets and then did a bit of a tour around before settling in at the 1 cent (penny) pokie machines – as long as you are playing a machine the waitress will keep up a steady supply of free drinks!  The Casino's don't mind this as they want people on the floor to give the appearance that its full and busy.
I can't remember the last time I played and when I went to put my $1 bill into the machine it jammed!  I took that as a sign that I was not meant to gamble!   So I sat in my chair, waiting for someone to come to fix the machine, and watched Mick win about $20.  We had a few drinks which cost us a $1 a round (that was a tip to the waitress).  The dollar tip was the amount nominated by Carl and when you work it out a good waitress is most likely getting somewhere between $50 – $100 an hour in tips.  We also took on board Carl's advice about hooting and hollering for every win as that encourages the waitress to pay you attention!
Eventually a technician came and she fixed my jammed machine.  I then played the machine for about half an hour before my dollar was gone.  We then set off for the show.
The show was fantastic and they played hit after hit.  Mick gave it a 8.5/10 and I gave it a 7/10.  The thing I love about these sorts of shows in the smaller casinos is how intimate they are.  You feel like you are back home sitting in a pub watching a live band.
The show went for about 90 minutes which may not seem long  but they never took a break.  Once finished we went back out and had a look at the evening Casino crowd.  We ended up going to Johnny Rockets burger restaurant in the Casino for dinner.  I can recall that a Johnny Rockets opened up back home in Adelaide but only lasted a few months before closing.  I get a small sized burger but with it comes 8 ketchup sachets and again its just another example of the waste in restaurants over here.
We jump in a taxi but the trip home was not without incident.  As soon as we got in the taxi, the driver (looked like a guide from the Pyramids in Egypt) was trying to put one over us.  He told me that he did not know the address where we wanted to go and he never had a GPS! (give me a break).  Long story short we take ages to get home and he charges us $31.
I totally blame Mick for the next part of the story (ha).  The driver gets aggressive because we gave him the exact money – Mick handed him $30 and I made up the rest in shrapnel.  He starts swearing under his breath and I can hear him say something that was clearly having a go at Aussies.  As I am getting out I tell him that there is no need for him to carry on and get aggressive given the fact he has ripped us off as the Uber ride in was $14 and that is why he wasn't getting a tip.  I reminded him that he had the meter running when he did his little act about not having a GPS.
I think mentioning the word 'Uber' was a massive button pusher for him and he fired right up to the point he looked like he was getting out of the drivers seat to have a go at us.  I wished him good night and went into the house as 7 foot tall Mick made a few comments to the driver about his integrity.  While all this was going on Carl had come out of the house and thought it was the best unpaid entertainment he had witnessed for some time!  We all had a 'debrief' about the incident before calling it a night.
The next day was a bit of a recovery day in that we slept in and later watched a couple of movies.   Again I had a crack at sorting Micks Uber account out and tried linking the account with some of his other cards.  Mick was very organised in that he had photocopies of all of his cards – the only issue was that the photocopies were of such a poor quality you could not read the bloody details on the cards!  When I asked Mick why he didn't just redo the photocopy he told me that he never had enough time!
For some reason I just couldn't get the Uber accounts for Mick and myself to work and it was a totally wasted effort.  In the end I decided that I would just use my wife's account (which did work) however that creates dramas when the driver is looking for a female to pick up and not 2 blokes.
Mick was dismayed when he looked at booking a Helicopter flight day trip to the Grand Canyon.  The fine print said that if you weighed over 114 kg you were slugged extra as you were effectively taking up the space of 2 persons.  Mick did not take kindly to my suggestion of going for a hike in the Las Vegas heat to sweat off the 6 kg that he was over!  He tried to use the argument that Michael Jordan was his height and weight – according to 'body mass index' MJ was obese.  All I can say is compare apples with apples Mick!  In the end he has booked a seat on a large jet helicopter for Monday afternoon.
The weekend arrives and another real non event day.  We go shopping with Carl and also get a tour of Las Vegas in regards to where you can deposit an old car battery as he wanted to dump one.  In the end he got his wish and got rid of it – I just hope that there is no CCTV!
Around lunch time the next day we head into the New Orleans Casino as we wanted to watch the movie "Dunkirk".  The Casino has a movie complex within it and we go and purchase tickets for the 1:45 pm show.  I am surprised that the tickets are only $8:50 and you actually choose your seat from the display screen when getting served.  Mick and I took about 10 minutes to chose what we thought were great seats.  Mick also went to pains to ask about extra leg room 'as he was a tall fella'.
We get our tickets and go and kill some time on the 1c machines.  We then head back and got and take our seats in the cinema.  This is what we found;
So much for the worry about where we sat and the leg room!  The theater had state of the art electric recliners and there were about 10 other people apart from us.  In the end a great movie watched in a very relaxed environment.
After the movie Mick had another crack at the pokies and I went and found a wi-fi area.  I later ordered a Uber pickup which turned into a bit of circus as the driver went to the wrong place (Casino valet) and not the designated / signed Uber pickup area.  Added to this was the fact he was looking for Helen!  The driver gets on to Helen back in Australia and she tells him to look for us.  We end up getting picked up and get home in time for me to cook dinner.
Monday comes and Mick sets off on his Jet Helicopter adventure – we arrange to meet up at the main entrance to the Venetian Casino at 5 pm.  Later that day I head in and get dropped off at the main entrance to the Venetian but discover its to the Motel and not the Casino.  Long story short, 1.5 hrs later I find the big fella sitting drinking beer under the fountain!;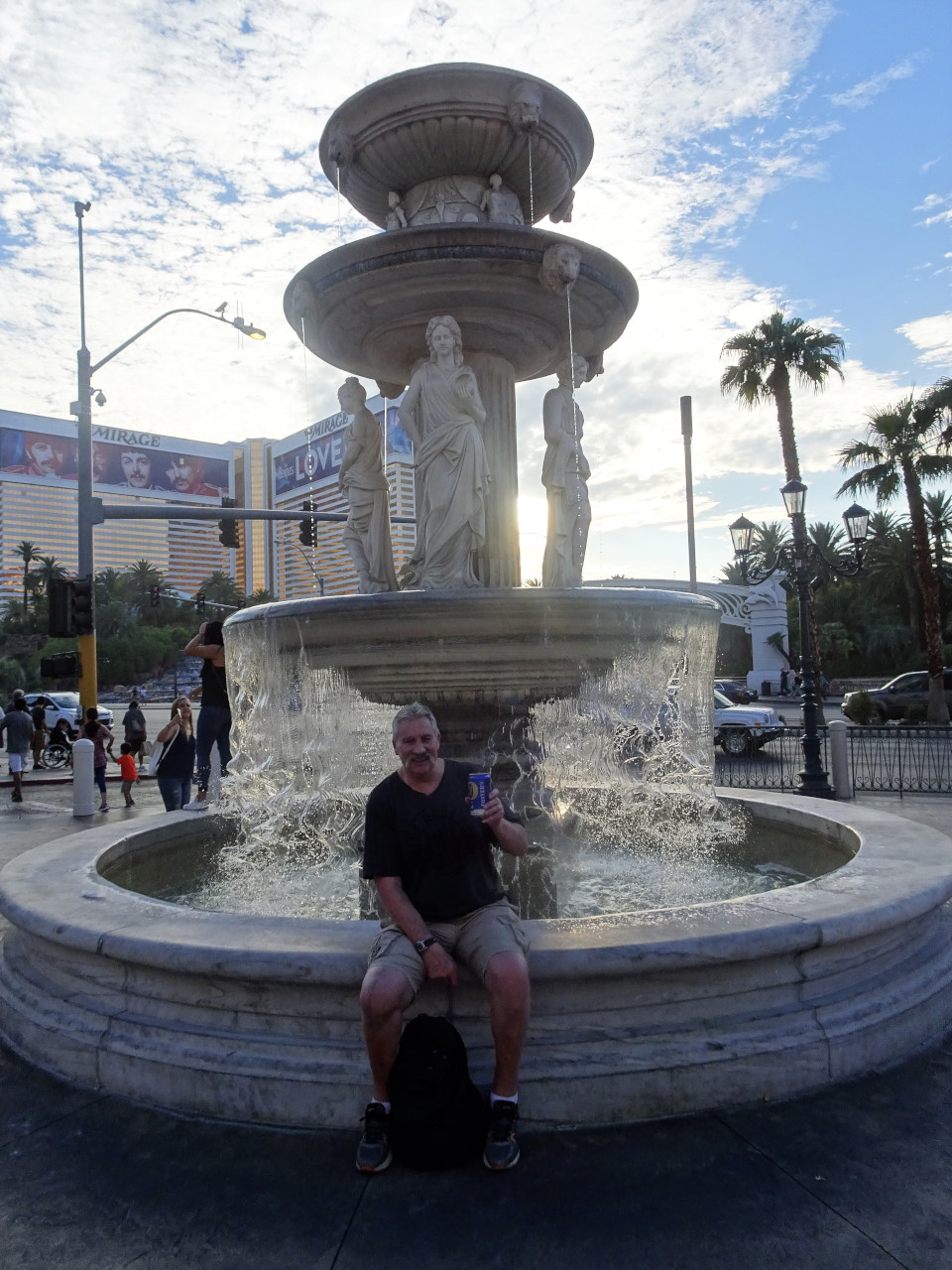 So we have a bit of a look around the strip;
 the 
The next photos are of the front to the Venetian Casino – they have actually replicated Saint Mark Square in Venice.  The amount of money spent must be astronomical!
We decide to head over to the Mirage Casino for a look;
Inside the Casino we play a couple of penny machines (I lose my usual $1) and have something to eat.  I notice that there is a box office and playing is the Beatles "Love" show by Cirque Du Soleil.  I went over and found that I could get heavily discounted tickets for the 2nd show which was due to start in a couple of hours time;
We go to the show and its great.  Love the old Beatles songs but the performance was outstanding – there was so much going on with multiple stages that you didn't know where to watch.  I have resisted going to Cirque Du Soleil up until this point but I am thinking I am a total convert now!
The show ends and we phone Carl up to book our Uber ride home.  For once there were no incidents and it all went to plan.  The next day was a bit of sleep in and then we went on another 'local' experience with Carl.
Carl took us for a tour of Costco at Red Rock – he described the area as the Beverly Hills of Las Vegas in that the area was out of the city and a lot of the more affluent locals lived there.  On the way there we stopped at Sears (great American company) and I was surprised to learn that they were going out of business and a massive sale was on.  I managed to get a few things I needed and Mick bought the following;
A direct flight from Adelaide Australia to Las Vegas is nearly 20 hours in the air – a long way to come to buy an Australian rock band t-shirt!
So we get to Costco and Carl introduces us to the game of "grazing" – basically there are so many food sample stands in the place that you just go from one to the other and 'graze'.  It was an absolute crack up with how much stuff we ate in there!  Mick had no shame in taking 6 sample cups at a time (who was going to argue with the Lumox?).  He did have a bit of trouble getting around but we sorted that out;
After 'lunch' we went back to the Ranch.  Carl had a film shoot to do and headed off with the lovely Suzi;
I was a bit worried about Mick as he seemed to be getting a bit tooooo friendly with the Bear;
So we wait up and Carl and Suzi get home after 9 – we then watch about 10 B grade movies given its our last night.  The next morning comes around and we get dropped by Carl at the Airport.  I can't thank these guys enough for how they looked after us.  Quality people.
We sail through checking the bag in for Mick and I get stopped at Security because I didn't have my passport (I left it with Fred).  I had plenty of photo identification on me but they still made me go thru additional x-rays and searches.  I had no dramas about this as given the issues over here I am quite happy they are strict on security.  Bottom line is I should have kept my passport with me (in fact my wife told me to do exactly that) as every Airport is different and this is the first time I had such an issue.
So that concludes Vegas.  Next stop San Francisco where we meet up with Jack.  Can't wait to see my mate again!