I checked now and have 60 people following my blog – the Lodi Police facebook mention gained a few Locals so welcome to them. Here is me thinking I would be lucky if my family followed me!
This is the site for the Lodi Police Department facebook page. Soon Fred will have a personal media manager given how famous he is;
https://www.facebook.com/lodipolice/
I just checked then and Fred had 113 likes and I had 5 comments deleted. Ha.
So I signed off last night wondering what today would bring. It actually started after I signed off. I fired off an email to my new mate Bram in Eureka telling him that due to the heat I was heading his way. I asked if it were possible to stay with him but fully understood if that didn't work due to the late notice. I was later totally blown away by his generosity in that although he would be away, he still wanted me to have the free run of his house. He sent me the address with instructions – he actually lives in Arcata near Eureka.
So I go to bed very relieved that I have a destination to go to and that I can chill out for a few days. The window is up (no screen) and all I can hear is the fan rattling away. Now I have backpacked thru Thailand, Laos, India, Vietnam, Nepal, Cambodia and a few others I can't remember but this room was right up there with the worst. I think I had about 4hrs broken sleep before I gave up and got up at around 5am. Cold shower with the cockroaches and then packed up Fred.
Fred fired up first try and we were out of there and gone. I get about 60klms up the road and nearly have a heart attack from fright as I get buzzed by a crop duster;
Now the photo shows it some distance away but here is what happened. I am riding along in my own world when it comes in from my left over my head and UNDER the power lines to my right. Now it either wanted to scare the living crap out of me on purpose or did it accidentally. Either way it worked. Pretty certain its illegal for it to go under the lines. Of note its a 2 winged duster and I can't ever recall seeing one like it.
I keep going and get to Chico. I find a real funky little place to have breakfast (Moms);
I have bacon/eggs/toast/coffee but turn down the sausage, hash browns, tomato, fruit, 25 sauces etc.
I next see this which makes me think that one of the guys back home (Gaz Rivett) may have a cousin that he doesn't even know about;
Not much further up the road I see this classic going to rust;
I also find that one of the other guys from work has a biker burger bar in Los Molinos;
Later in the morning I find this;
Words fail me on this one. I keep going and its bloody hot – around 43'c when I hit Redding. Its a very old town and is split by the Sacramento river;
Up the road further and I stumble on to this magnificent lake;
Its absolutely massive and as ride around it I can see boats of all descriptions on the water. I will say though that there is no way you could camp at the lake this time of year (heat) unless in an RV with full air con. I estimate its well above 44'c when I am there.
As I keep going I run into some serious road works (over the next 100klms) which means significant delays. I spot this in front of me;
I ride up alongside the driver and turn Fred off. I ask the lady what year is the Commaro an she tells me its 1987. She bought it for $1500 in Redding when her other car died. I feel like crying. If I had that car back home……
The road works continue and I am cooking;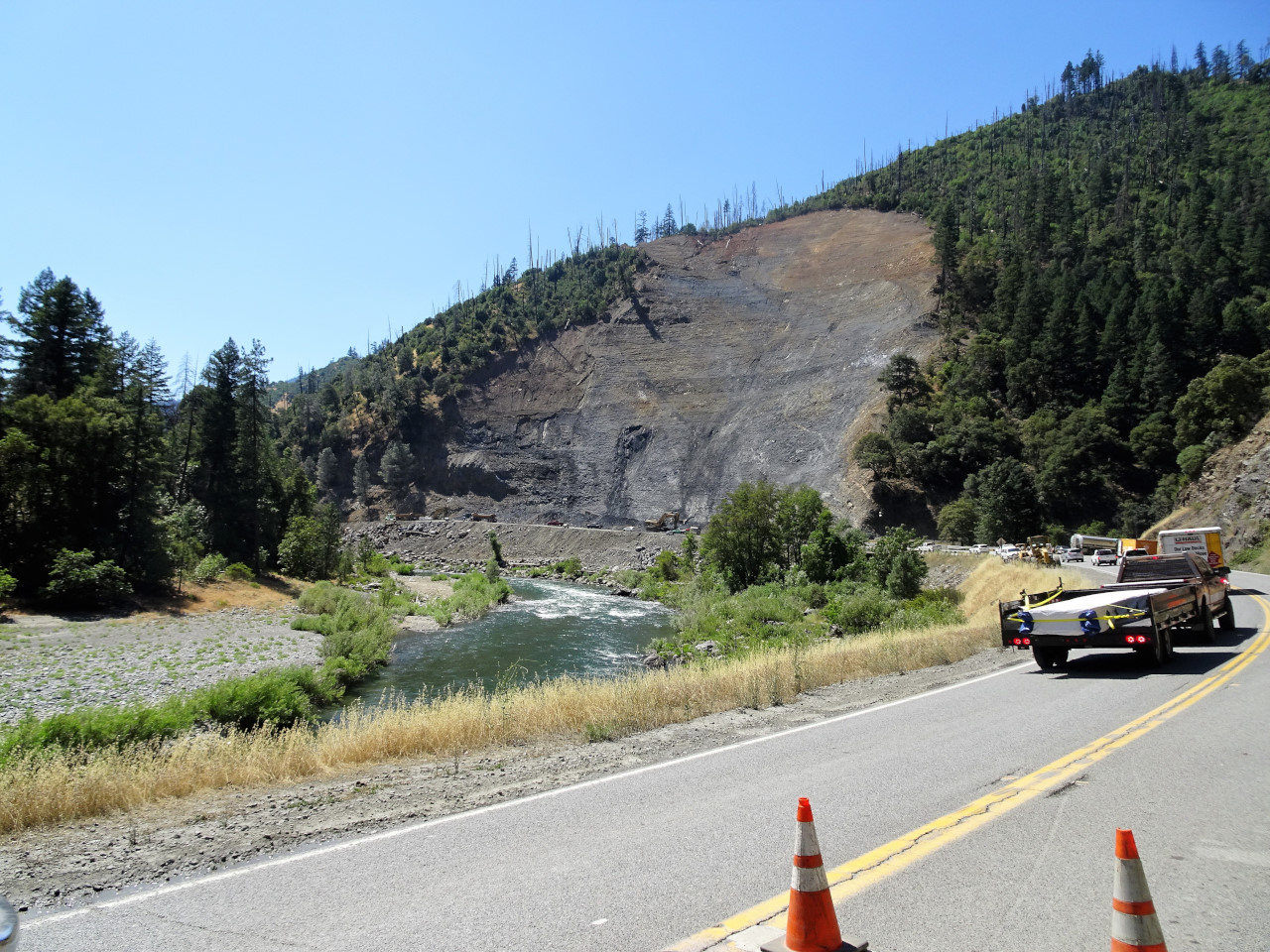 After the roadworks I start riding along the river – it still well over 40′.
I enter a stretch of 'Big Foot' country. The only comment I have on this is that if there is a Big Foot, today he would be in his cave under the bloody air conditioner!
By now I have nearly had enough. Fred and I have done close to 400klms and are stuffed. About 51klms from home its liked someone has turned on the air-con. It get progressively cooler to point that I think that I may need to put my jacket on. We arrive at Brams place at 5:30p.m. and I see the horses in the paddock jogging over to me for a pat. What a contrast in days due to 400klms!
I have a very cold shower (by choice) and go and pick up groceries. I get back and write this blog. I still have no idea how I am going to thank my host but it has restored my faith in the camaraderie between members regardless of where they work.