As the name of this blog suggests I was unfortunately involved in an incident on Pikes Peak yesterday. I will start from the start and get to it.
I was up and raring to go to ride up Pikes Peak. The Peak is the backdrop that you can see in my photos that I took of Colorado Springs and Garden of the Gods. It has an altitude of 14,114 feet above sea level and it ranks as Number 31 in elevation among Colorado's 54 peaks that are all over 14,000 ft (they are referred to as the "Fourteeners").
It takes me about 25 mins to get from home and thru the entrance gate;
My National Park Pass doesn't cover Pikes Peak and I pay the $15 entrance fee. The distance to the Peak is longer than I expected (38 miles) and the guide recommends that you have at least a half tank of fuel as consumption is double. I set off and as expected the scenery is sensational;
The Peak has 3 lakes that you can fish in between May – October and heaps of picnic areas / walking trails;
I spot a dirt side road and I am off on it for a look. Fred loves dirt and has a ball lighting up the rear as there is no luggage to weigh him down;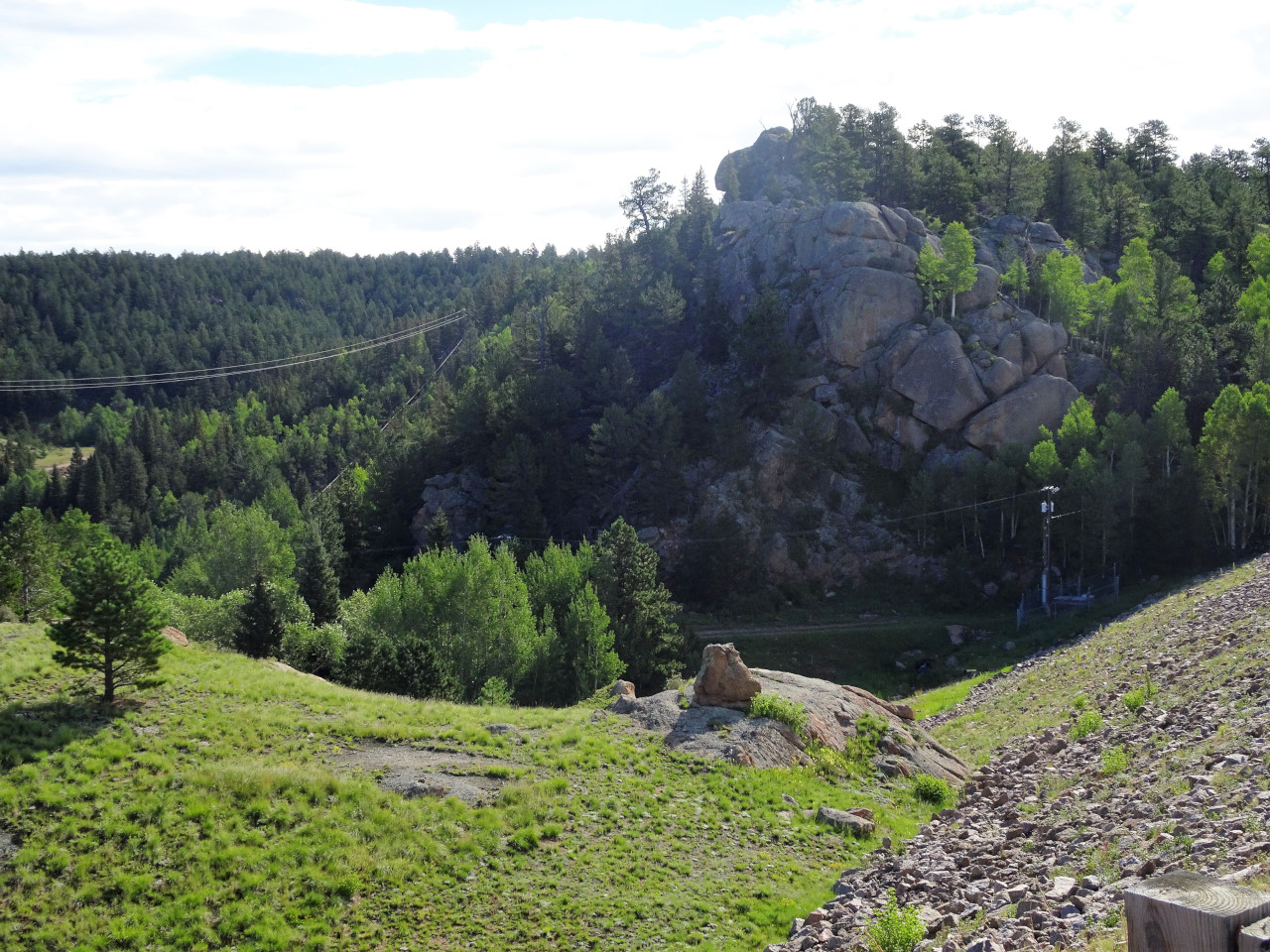 I get back on the main road and continue climbing up the mountain;
I stop at the Glencove Inn and have my photo taken by some Chinese tourists;
I get going again and I am starting to notice the altitude as its nearly 12,000ft – my hands are starting to freeze and my breathing is affected as well. Fred is running ok but occasionally stalls and has trouble idling. The scenery just keeps getting better;
Up until this point the day has been one right out of the box. I slowly get around a corner and see up ahead of me is a Harley Davidson tipped over on its side and there are about 3 people next to the bike and attending to what appears to be the male rider on the ground. As I get closer I see the rider has his clothing open and a guy and a older woman are performing CPR. Another man is attending to the victims airway. I can also see vehicles ahead of me are going right past without stopping.
I pull Fred up and run over to help. The guy doing the airway appears to be in charge as he is giving instructions and I later find out he is the on duty medic from the visitor centre at the top of the Peak (the centre was less than 2 miles from our position). I ask if I can help and tell him I am a Police Officer and know CPR. I jump in and give the lady a rest (she would have been well into her 60's but what a lady). Next thing I am going hammer and tongs doing CPR whilst the medic handles the airway – he is using a plastic type air bag to squeeze and get oxygen into him.
I get up to speed and are told that the 2 others saw the rider move to the side of the road and fall. He was only travelling very slowly given the incline. I got the impression it happened about 10 mins or so before I arrived. The other 2 couldn't get a response and started CPR and were joined by the Medic. A helicopter and ambulance were on their way. The 3 of us kept rotating doing the compressions. After a while the max we could get out was about 90 each before stopping given how hard of an effort it was due to the altitude.
The helicopter landed at the centre and the paramedic attended to treat the man on a much higher level (injections etc). A defibrillator was still maintained (it was hooked up when I arrived) but no further shocks were given as no electrical activity was being detected. The paramedic could only detect the blood flow that we were creating (we were still doing the compressions whilst the others did their thing). After a total of 1hr and 10mins the paramedic called time as there was nothing left that could be done and the man was pronounced deceased.
I provided my contact details to the medic and spoke to the others involved before heading off. I was now aware that the guy had a history of heart trouble and had a heart attack about 20 years ago. I couldn't help but think what the hell he was doing up there given that there is a clear warning in large bold letters on the pamphlet you are given upon entry which states; "Caution: The drive is not recommended for infants or anyone with a history of cardiac, respiratory or other health problems"
Right at this time I was absolutely spent – obviously the adrenaline had kicked in when doing CPR but now I could hardly stand up. I got on Fred and went up to the Visitor Centre to sit down and rest. Once up there it was surreal as everyone was going about their happy holidays when a bloke had just died within a stone throw. I would also guess that a fair number of them drove past and starred out of the window whilst we were trying to save him. I think if someone tapped me on the shoulder and said there is a plane here to take you back to Australia I would have gladly got on (with Fred).
Thankfully for me the guy who had also helped with CPR spotted where I was sitting and came over with his wife to talk. Turns out they are part time ministers (filling in when the pastor is away) from North Carolina. We basically had a debrief and got it out of our system by having perspective on what took place. I hope to catch up with them at some stage as they were both outstanding individuals.
I have found writing about this quite difficult but some good as come out of it. I am proud that I did not hesitate for 1 minute and jumped in to help. I did find it difficult to process later. I have been a Police Officer for 31 years and did first aid training every one of those years but thankfully until now had not found myself in a situation doing CPR. The last thing I would have thought of, when I was having such a fantastic motorcycle ride in an overseas country, is trying to save a strangers life. I also know if anyone talks rubbish about blacks and whites I can always point out that the minister was black and he worked his backside off trying to save a white guy. I know that we all did everything that could be done to save the guy but his time had come.
So after feeling somewhat better I get back on Fred to head down the mountain. I made myself take photo's as I knew that I would have regretted it later if I didn't but still felt pretty flat doing it;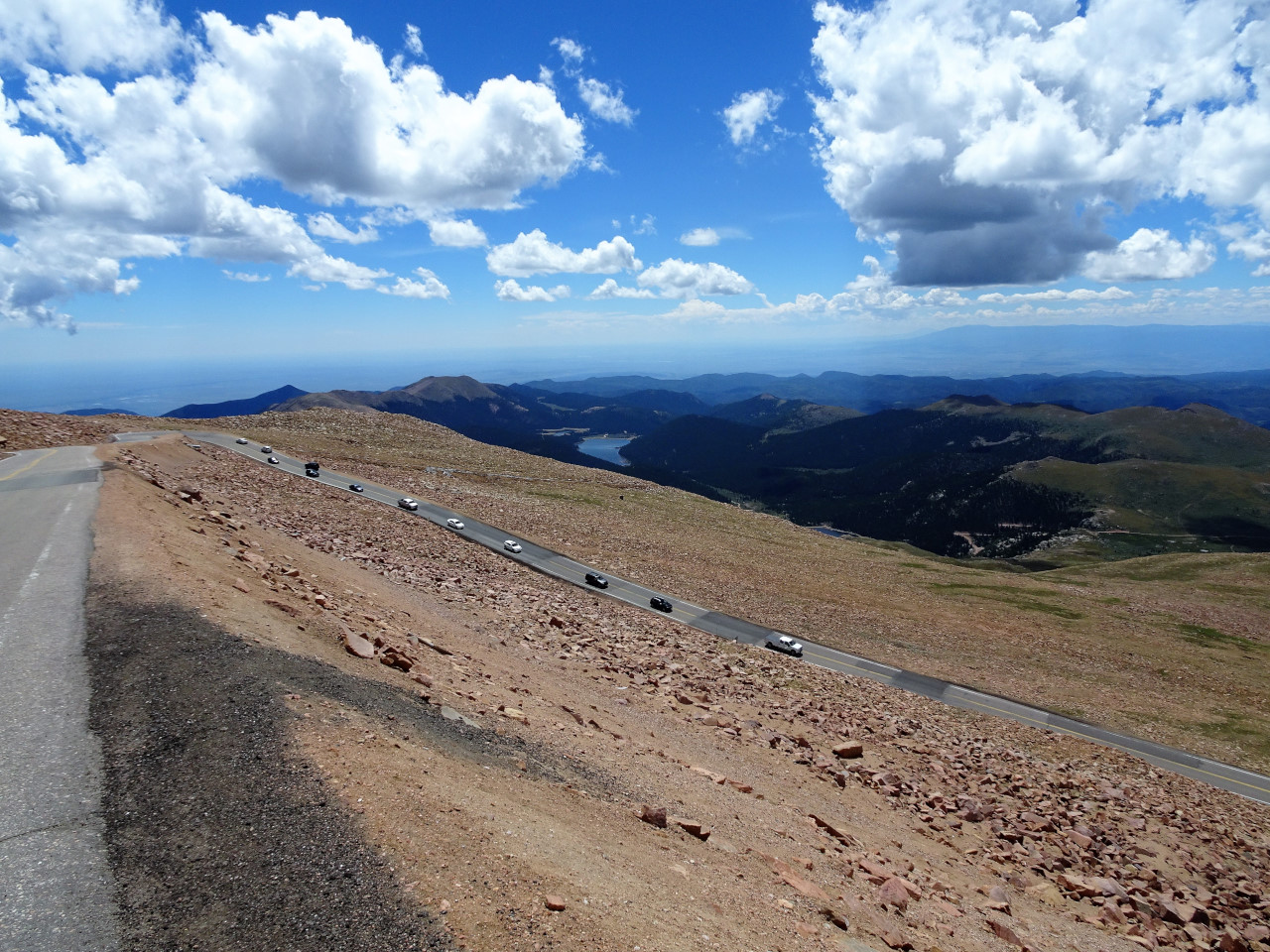 I was so exhausted that about half way down I felt myself going to sleep. I pulled over, put Freds kick stand down and fell straight asleep – I still had my helmet on with my head resting on my arms across the handlebars. I can't ever remember being so stuffed in all of my life. About 10mins later I woke to the sound of a womans voice who was asking if I was alright. Turns out that she is a nurse and was on a drive with her husband for the day (both are locals). Her stopping and checking also reminded me that there are good people out there.
The sleep was enough to get me going and I continued to ride Fred back home;
Once home I went and had a 20min nap to try and shake off the fatigue. After waking up I was able to catch Helen (wife) via skype before she went to work. As usual she was of tremendous support.
Speaking of support, when Dave and Sonia arrived home from work we went thru it and they were gold. Both had numerous experiences with CPR given their training/employment. I was shocked when Sonia told me the story of her first CPR incident where she saved a mans life. She was home alone when she heard a car crash nearby. She went and found the crash site and pulled the driver out and with CPR saved his life. The same guy tried to sue her as a result of the incident for pain and suffering! Words fail me on that one.
So the sun still came up this morning and I was able to get this blog done. I look forward to the next adventure but would have no trouble if my travels were to get on the boring side for a while.