Well the next morning I had a pleasant surprise when I checked my pending credit card debits – I had been charged twice for a single night. Ok so I go and see the day shift manager who tells me that I will have to email the issue to her boss. Email has been sent and to this point I have no reply. Dam! I thought that I recognized the manager from when I was in Delhi! Parked outside the rear entrance are these 2;
Sad part about the Mustang is that I could see small dents across the bonet and also animal tracks on the roof! My boss back home would be totally dismayed!
I fire Fred up and call in on the local Chadron PD where I meet Lt Rick HickStein. I have a chat with Rick and the troops who are a good bunch of blokes. Rick rides a Harley and invites me to do a ride with him if I get the chance down the track.
Back on Fred up and only go 2klm up the road to the bike shop. I see that its mainly for the agricultural market. I have a chat to the workshop manager, Bob, and ask him if he can do the oil change without charging me $400. Bob speaks to the owner and we get the green light;
Bob is a great fella to talk to and loves working on motorcycles full stop. He gives Fred a quick once over and tells me that the front brake pads are critical re replacement. No dramas Bob – Fred has a rear brake! I also meet young Dayde who works in the shop and is sponsored to ride motocross.
Fred gets his oil and I go up to the register expecting the worst. I get charged a total of $38:33. Bob tells me that they all love what they do and working for the family. I can't thank the guys enough. No wonder the family business is in its 3rd generation. Gold. Away I go again;
I pull into a small country town, Hemingford, and end up speaking to the local uniform officer, Ryan. We talk motorcycles and Ryan tells me how he previously worked in a motorcycle shop. He nearly fell over when I asked him how he got on with Bob. My guess was right and they had worked together. Ryan couldn't speak highly enough of the family business and Bob;
I have a bit of a look around town and decide to go into the local diner.
It was a surprise because it had a great vibe and the local farmers inside cracked me up. I strike up a conversation with this crazy chick (Frankee);
I find out that Frankee loves working there and helps manage the place. The owner has only just died of cancer after a long battle – she doesn't know what's going to happen long term. I really hope for every ones sake that they keep going because its a great spot.
The reason why the locals cracked me up is that I tried to have a conversation with an old farmer who was sitting at a table beside me. He had his overalls on and was basically the real deal. All I could get out of him was a 'Yeeeeep' and a 'Ahuuuuh' in 10 mins of trying. Men of few words in these parts! Frankee had me laughing with her very distinctive accent and she laughed at mine. Again it was just fun meeting such a bubbly and happy person who reminded me so much of my daughter. I had to take a picture of Frankee as she told me that everyone thinks that she looks like Miley Cyrus but in her opinion its only when she is hungover!
I get going again and I find myself riding along side of a freight train. When you are touring around you find ways of entertaining yourself and one game I now play is to see if I can get the driver to blast the whistle. Today I top scored as the freight train had drivers at each end and both let rip. I have come to the conclusion these guys get bored as well and like a laugh!
I keep on riding along. The landscape is reasonably flat and appears to be good farming land;
I get to a very small town and discover this on the side of the road;
I was already way behind schedule (not that I have one) but couldn't resist not stopping. I go inside the workshop and meet Jason – a real character. Jason is retired and is now spending all of his time restoring cars. He does it all himself apart from the interior and paint. I tell Jason my story and he hints that he 'previously' made moonshine for the locals. Ha. A real bootlegger! I take a few more photos;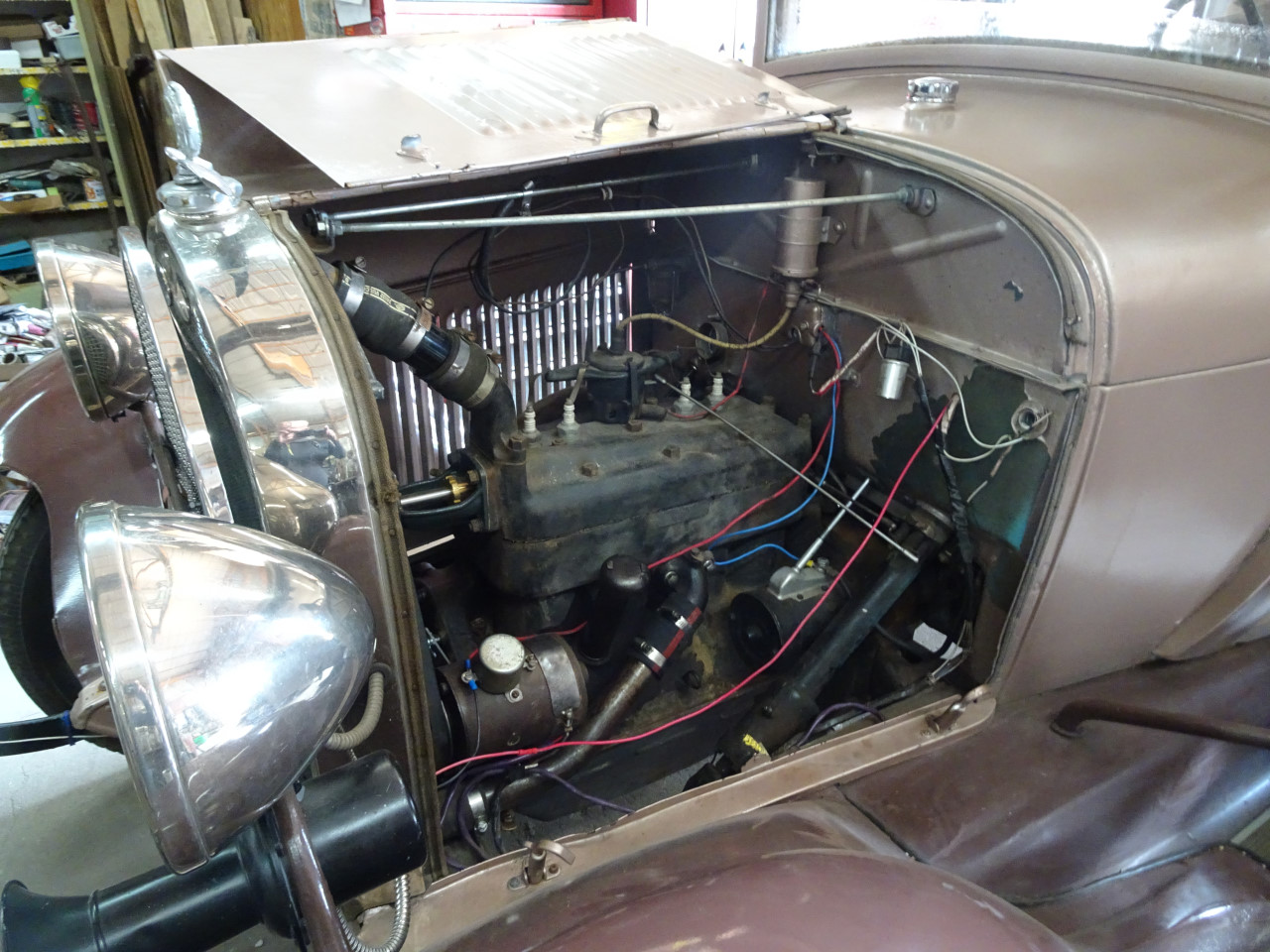 So another 10 minute stops turns out to be much longer but it was a lot of fun. I grab Jasons details so I can email him the blog link as I thought he would be interested in the car 'finds' that I have made.
Time is now slipping away and I push on;
I get to Kimball which is another small town. I fuel Fred up and have a red bull to fire myself up (I never usually drink that crap but I was feeling pretty tired). I take a few photos of the town;
I happen upon the local PD office so I decide to go in and end up having a chat with the Chief. Turns out the Chief is on his way to Sturgis and invites me to come along – I take a rain check as I am going the opposite direction. The Chief is ex-armed forces and had been to Australia during his service. He is an avid motorcycle rider and owns a Harley. He tells me he grew up near the black hills and knows the complete history of the rally and every road/track that there is to ride on. I grab his particulars and promise to catch up with him down the track.
I am now way behind as I had just over 100klms to Cheyenne and then a further 30klms to the Airbnb. I set off and make Cheyenne and stop to pick up supplies (my Airbnb host advised me that there were no shops near the Ranch);
I get a few things from Walmart and head back out on to the Highway. I only get about 10klms up the road and the heavens open up with an almighty thunderstorm. I get absolutely saturated and the heavy rain kept up for the rest of the ride;
Fred and I finally get to the Ranch – Safe at Home!