So the day finally arrived and I loaded Fred up and got going. Thank god for the Garmin GPS and the helmet blue tooth. I think I would still be on one of the freeways going around in circles otherwise. The freeway is about 7 lanes wide and the amount of traffic flowing is incredible. I decided that I wanted to get off the highway so I went via a smallish town called Barstow that is part of Route 66. I had read that they had a Route 66 museum.
Would have been even better if the Museum had been open! Only open on Fridays and the weekend.
However not all a loss as I called in and had a chat to the California Highway Patrol that had an office in Town.
I was able to swap a patch over. Now I am not a collector by any stretch but its a pretty cool patch to have.
From Barstow I then rode up to Baker and then headed onto the Kelso Visitor Centre. Just after you leave Baker you enter the Mojave National Park and start really to get out in John Wayne country. So I get to the visitor centre and its an old Railway station that has been converted into a Park Ranger headquarters that has displays etc. For the life of me I can't work out why they had a Sapol office display there?
From the centre I then road 30klm before going on the dirt for another 30klms where I pulled up at the Hole in the Wall campground. I enjoyed the dirt riding as the bike was all over the place like on marbles – mostly due to me being too stuffed to let some pressure out! 450klm on Fred for my first day riding is my excuse.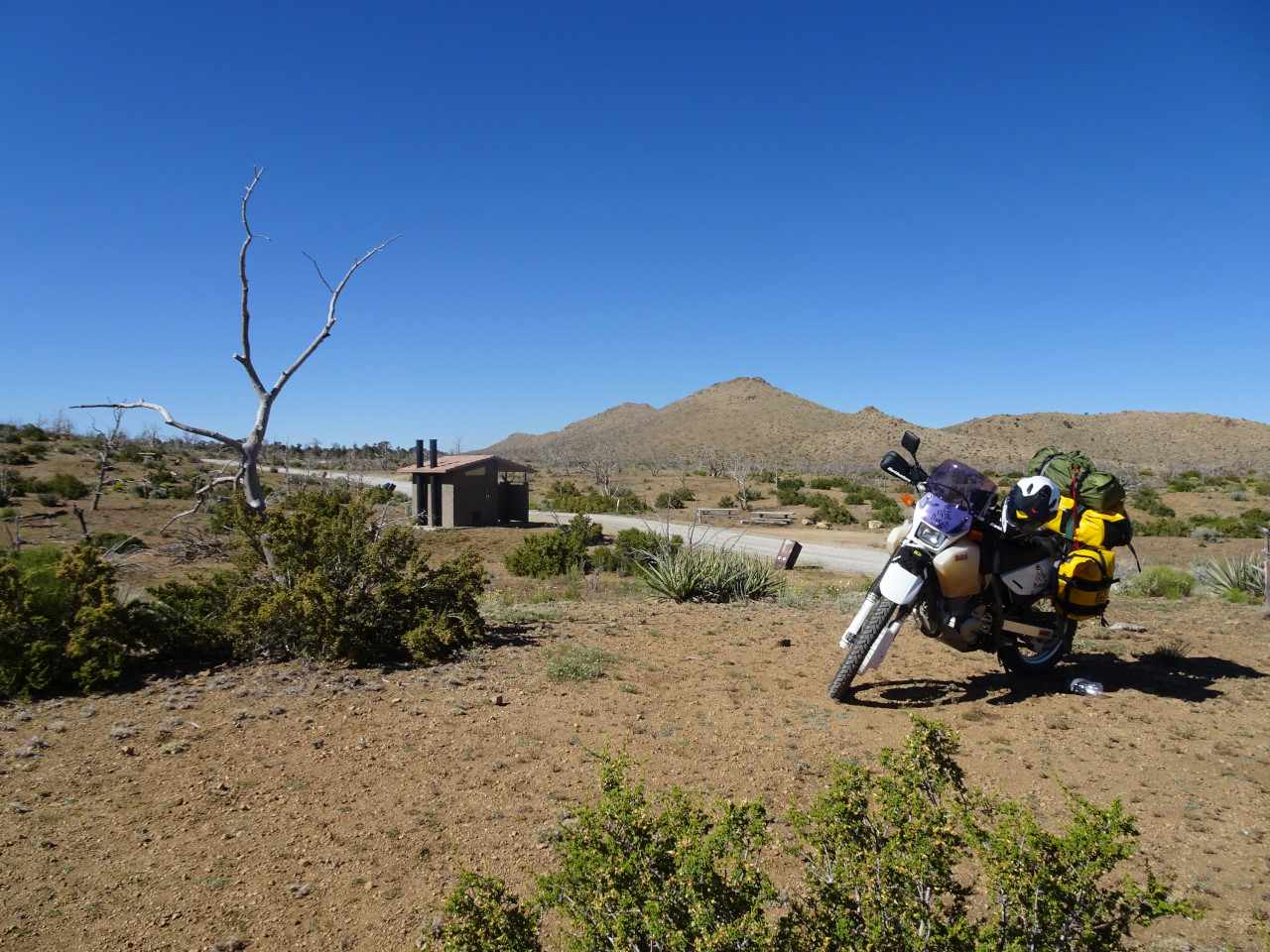 Absolutely by myself – with my very own long drop toilet. Anyway out comes the NASA designed space age tent that I can park my motorbike in if I want to. Now most people would think that before I went on a holiday like this I would have put it up etc. Fk that, that's for pussies. No instructions but managed after a while. I would have recorded it on my Gopro but I think I only have 8hrs max recording time.
Had a great sleep and got up early. I was packing up when a guy pulled up in his monster truck and 60ft long mountain goat caravan. He was interested in what I was doing and made the comment, "The way you are going about that you must have done it a thousand times" My ego stopped me from telling the truth and simply smiled in acknowledgement – as if I was a 53yr old boy scout that was born in a tent. The worst bloody thing was that when I was stuffing the tent back into its bag I discovered that the instructions were on a large patch sewn inside. &*%$#@*
Off I went and went thru some magnificent country to get back on Highway 15 to Las Vegas.
I had a fun moment when I was riding next to this massive freight train. I stood up on the pegs and gave the driver a big wave – he responded by blasting the whistle (such a boy I know).
Just after you enter into Nevada there is a massive Hotel/Motel – I decided to stop there and have bacon and eggs in the 60's style diner. They also had a movie vehicle display that included 4 cars from Fast Furious 7, the Deloran from back to the future and these 2;
The batmobile was from the 1960's and the other was from Grease.
So after breakfast I refueled Fred and made my way to where I am staying now in Las Vegas. Today's ride was a bloody magnificent 160klms.