As hoped I get off to an early start and it's a fun ride;
I come across some magnificent weirs that are in the Colombia river beside me;
I travel along enjoying the morning scenery and I go across this bridge which is known as "Bridge of the Gods" – I found it hard to get a good picture and this one does not really do it justice in so far as how big it is;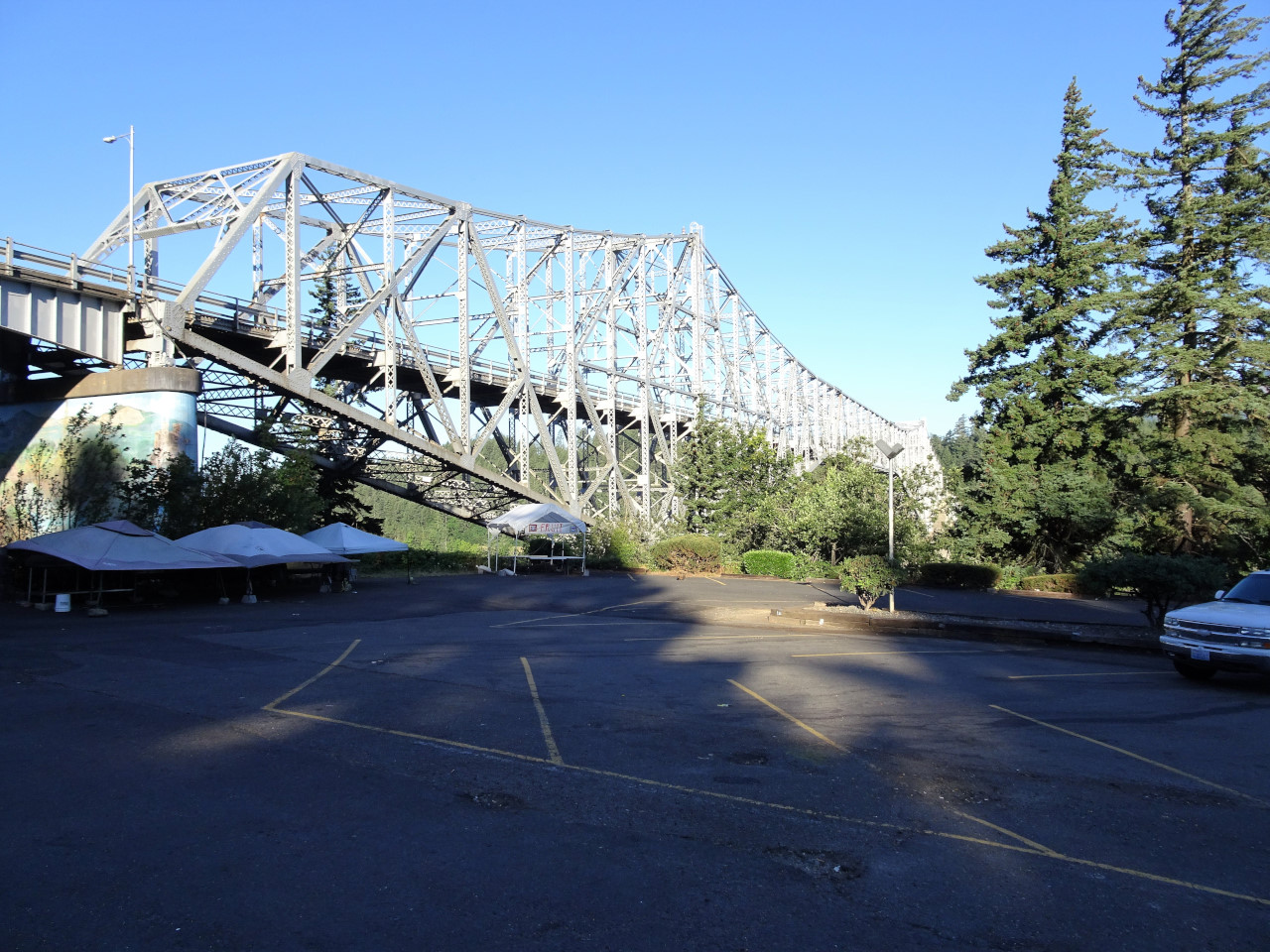 A bit further up the track I pull in and get petrol. Now I knew something was up when a guy came over to start the pump for me. I asked him where I was and he told me that I was Oregon. I had changed states when I went across the bridge. I laughed and we both agreed it's not a bad holiday when that happens.
Next to the servo is a diner that has my old nickname from a long time ago (and no my nickname was not diner);
So off Fred and I go, now happy in the knowledge of what State we are in. I keep seeing some amazing weirs and can't help but keep taking photos;
By now I am starting to feel a bit tired so (you guessed it) I pull in to a small town and take a 30min nap by the lake;
I ride across the river and back into Washington State again. I pull up in Kennewick to get a coffee and for a split second I thought that I should go to this instead as I am feeling very unfit;
Thankfully the moment passed and I went into Starbucks (mainly for the internet) instead. Ha. What was amazing is that I was treated to an airshow put on by a stunt pilot flying a replica tiger moth over the city – spectacular with the barrel rolls and stalls!
I keep going and it gets hot and its hard work to churn out the miles. I finally pull up at Sprauge – a small town that is dead on the 500klm mark for the days ride. I set up camp at the local lake;
I strike up a conversation with a couple and their adult daughter who are also camping. I learn that all 3 are on disability pensions and are out for a short holiday to get away from 'it'. The sad thing about the family is each of them would have been easily over 18 stone which is most likely why they are on disability. Dad (Al) is missing all of his front teeth and can't afford to get it fixed.
The family is camping right up against a very stagnant part of the lake (due to reeds) and I caution them re mosquitoes. Al tells me they will be fine so I leave them to it. Fred and I go to explore the town which is only 3klms away and I think we hit the mother load re classic vehicles;
I go and have 'supper' at the local diner 'Vikings' (home of the famous Viking burger). Inside the diner are about a dozen patrons that were all well overweight and some of the food they ordered would make your head spin.
I ordered a chicken breast burger without any extras – they must have thought I was weird as they served it with a packet of chips for me to take home. Ha. I go back to my camp and settle in for the night.
I get up the next morning and while I was packing up, Al came past heading for the toilet block. I asked how they went last night and Al lifted his trouser leg up to display at least 30 ugly mosquito bites! I just hope they don't get something like ross river virus that we do back home.
I will end this blog here so its not too long winded but will launch straight into the next one.