Time to update my blog – I am thinking of doing 2 so people don't fall asleep reading 1 long winded one. It's 6:30pm Sat night and I am in Laramie, Wyoming. Laramie was one of my all time favourite tv westerns growing up.
I have to go back a step because I forgot to mention this story in my last post. On my way to Gypsum I was getting a bit stiff and sore so I decided to pull off the highway to get a coffee at a small town called Parachute. Now I ride around a loop and find this store;
I think its a drive thru coffee shop and ride around it to park Fred so I could go inside and rest. Well there is no entry door and its Fort Knox. I ride over to where I see a woman standing on the footpath and ask her how do I get a coffee there. She bursts out laughing and tells me its the first and only drive thru dope shop in Colorado. Then it clicks – tumble(WEED), parachute (HIGH). I told her lucky I didn't ride up to the intercom and ask for a Large Colombian gold! Ha. So off I go to where she directed me to get a real coffee.
So back to leaving Gypsum. I ride on the Interstate towards Denver before turning off about 100klms up the road to head towards Granby. Straight away the climate changes and the temp drops to a wonderful crisp clean cool air. I am riding past the winter snow resorts;
I pull up in a small town called Silverthorn which in winter is a full on ski resort town. I check and the temp is 30'F cooler than Denver. The Colorado river runs right thru the town and its just amazing. Anyway its breakfast time and I stop at this joint.
The service is excellent and it is an experience in itself. They have the largest Buffalo head on the wall that nearly lands on your table. By this stage Fred is enjoying celebrity status as everyone wants to know about him – they couldn't give a stuff about the rider! ha. I ordered eggs on toast and turned down the hash browns, sausage, ham, bacon, biscuits/gravy side orders.
Off I go and ride about 5klms to edge of town where traffic is banked up for about 30 cars due to road work. Without thinking I go on the verge and around all of them to get to the front. As I arrive a woman (traffic nazi) runs in front of me holding a stop sign and nearly shoves it up my nose. "Where the fk are you from?" she yells at me. I slowly raise my visor and yell back "New Zealand" – she clearly has the shits on with me and I am at a loss at what is wrong. At this stage a jolly big fellow comes up to me rolling his eyes. He says to me that you can't do what I did in Colorado. No dramas I say. He then says can you turn around and go back to the end of the line. I negotiated with him to just move off to the side and let the banked up traffic thru. "So you are from NZ?" He then starts telling me that he spent 6 months there years ago and expects me to talk about the various things he is on about. I have never been there! I say to him "Sorry can't hear you for the traffic" I see a car has waited for me to re-enter the now flowing traffic so I am outta there! Up yours traffic nazi.
I have a great ride and was along the river for most of the day. I must admit this sign made me think;
I get to another 1 horse town called Hot Sulpher Springs and see this Motel sign;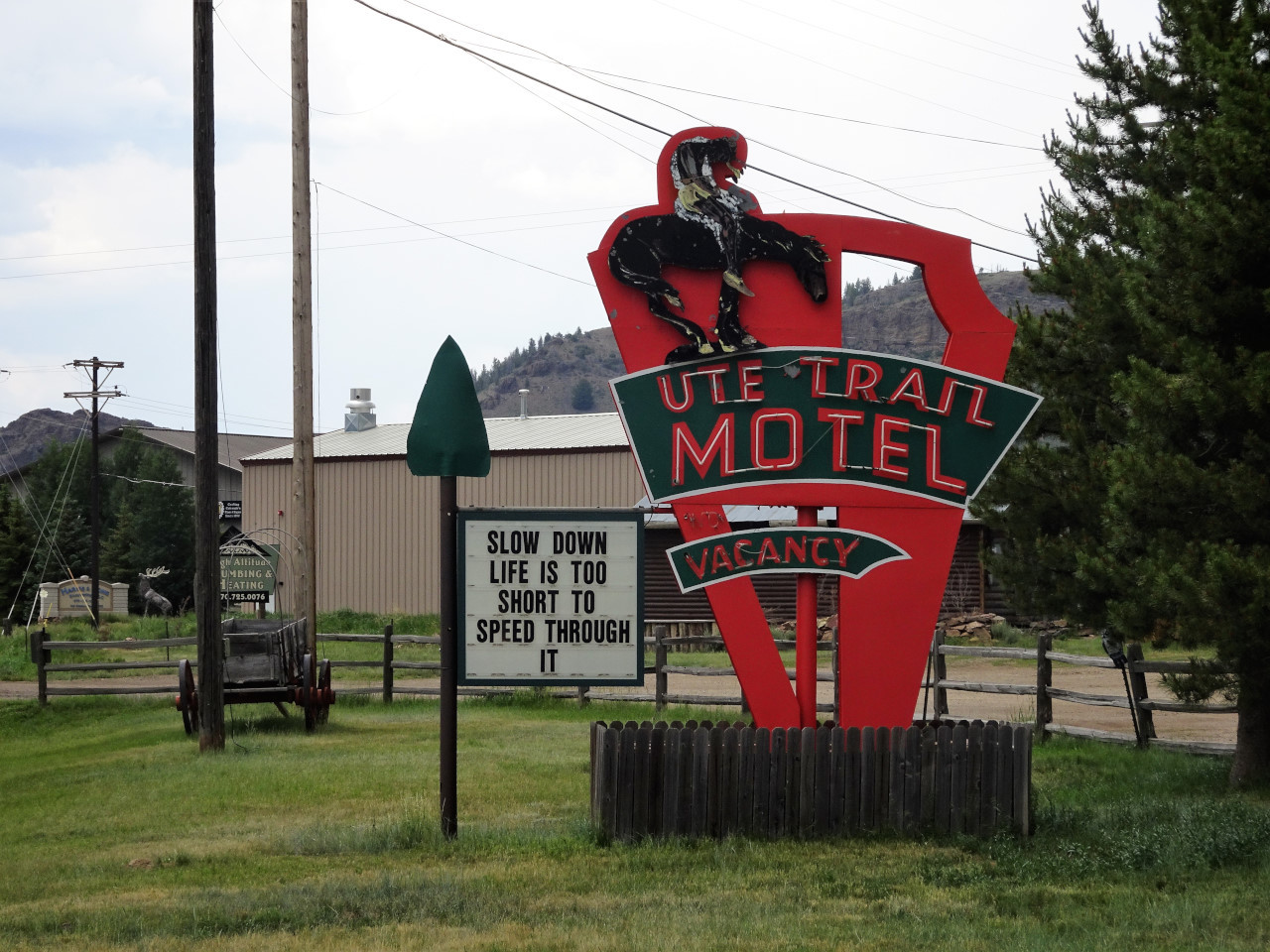 I was just plain tired so I decide to camp there the night. I am so glad I did because I went for a walk and found this gun shop that was basically just in an old house on a side street;
I go in and spend the next hour or so talking to the 84yr old owner. He was classic – he was chewing tobacco and would take out his false teeth and spit a big dirty stream into his spittoon. Just like the movies. He also wore a sidearm. We spoke about guns and he said that he had no worries selling me the military type semi-auto rifles but could not sell me a handgun because I resided outside of the State. He also bemoaned how the laws were so strict!!!
This gentleman did me such a favour. He took the time to write down the route that I should go over the Rocky Mountains and then on to Laramie (I had planned to go to Cheyanne) – he said I would find the road outstanding and it kept me off the Interstate and was far better. Ok I said and shook his hand – thanking him for his advice.
So back to the Motel I go to bed early. Just about then the heavens open up and there is a massive downpour with loud thunder and lightning. So glad my tent was on the floor without me in it!
In the morning I am up early and this is what greets me;
Yep fogged in – but not for long. I have another coffee and it clears. This is what greets me for the next leg;
I am ending this blog here and will do a Part 2.