Well it was time to leave Carl and Suzi in Vegas and head to the Grand Canyon. I had such a fantastic time with these guys that I could have easily stayed longer! Hopefully I will catch up with them at Sturgis as they both love an adventure.
Now my stay in Vegas coincided with a heat wave and temps were in the high 40's. I got up at 4 am and was on the road by 5 – the temp was still bloody hot and I couldn't wear a jacket or gloves. I stopped at my first real trucker stop and had a breakfast that could have fed a third world country – just like out of the movies where you sit at the counter and the waitress keeps filling up your coffee.
I decided to go to the North Rim of the Grand Canyon – reason being that it is far more pleasant re landscape and temp. The South Rim also gets far more tourists as its closer to Vegas. Unless you book months in advance you will not get a cabin or campground site right on the North Rim. I was able to get a campsite at Kaibab campground which is about 25 klms from the Rim. I am glad I did as it was a great spot.
Even though the ride was a bit hot I really enjoyed the landscape.
So after I rode about 450klm I got to the campsite and set up camp. Thankfully I got the tent and everything else set up much faster. I got back on Fred and rode up into the park;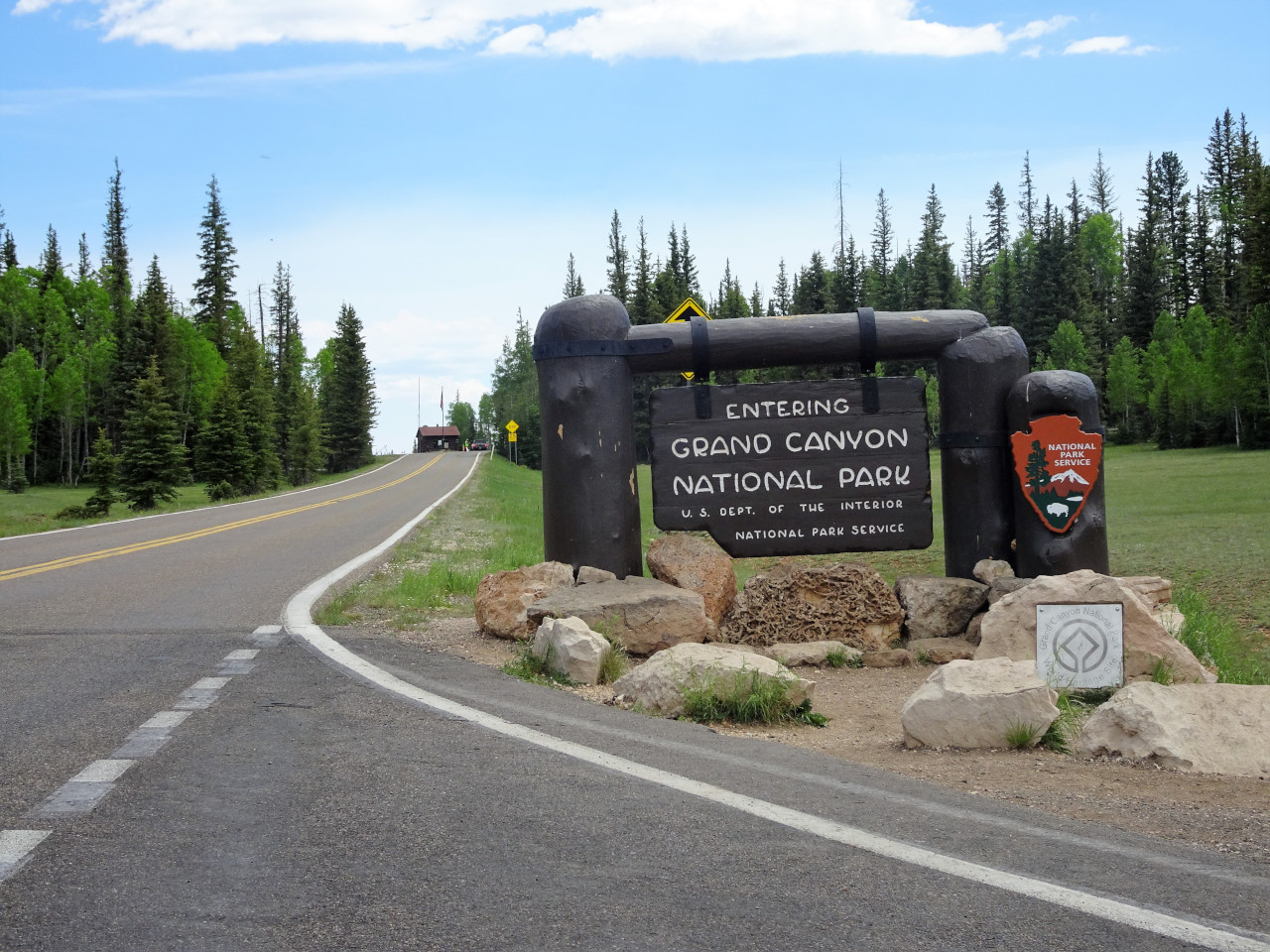 So I ride up to the Ranger Station and buy my US Park Pass – well worth it given it costs $80 USD and lasts 12 months from the time you buy it (entry to one park is $30 USD). On I go and just have a bit of a look around;
I go back to the campsite and found the front fly entrance had about 500 flies, bugs and other crazy shit I have never seen before in it. So I ride to the local general store which was just across the road and ask for some fly spray. Say what? Ok then, something the kills bugs. So they sell me this can of ultra high velocity bug killer that costs and arm and a leg. Guess what, its like bloody sugar to them and they love it! The sun goes down, bugs go away and the can gets tossed.
The next day was truly sensational. I got up early and went on a ride that took me on a 120klm round trip that took me to Cape Royal lookout. Took heaps of photos and had the best day – the vegetation is so close to the road I was hitting it with Fred's mirrors. The air was cool and crisp – just perfect.
I rode back to camp late in the day, expecting that I would be under bug attack. When I arrived I saw that a storm had come thru and dumped a fair bit of rain. This was fantastic as it cooled everything down and sent the bugs packing! I cleaned up and walked next door (cabin campground) that had a store and restaurant. I made myself at home in the lounge area just in time for an astronomers convention. I listened with great intent on a lecture about the sun. I even went out into the night and took my turn with the group looking thru their big ass telescopes. Ha.
Up early again, packed up and off I went making my way to Denver. I wanted to head North to escape the heat. I found the ride to Utah was really enjoyable and the landscape was fantastic.
I stopped at old 60's type diner for breakfast and loved it. They even had the right music on.
Riding thru Utah I went thru some small towns and again found a few old cars just sitting around waiting to be rescued.
And this one;
I was going thru one small town and saw a sheriffs car parked in a depot – I rode in and spoke to a great lad and swapped patches again;
I kept on going until the heat started to get to me. I managed to do 370klms but had to pull up. I stopped at a small town called Salina – small but had several large highway side Motels. The reason I stopped was that the next township was over 160klms away and I didn't think I had it in me. So I booked a room in one the Motels and I am sitting under the air-con writing this blog!
Tomorrow I am heading on a 500klm ride to Gypsum – that will leave me about 2.5 hrs ride from Denver.