I have borrowed a term (in god we trust) that the Americans love to use – it's even on their banknotes.
I ended my last blog saying that I was lucky that there was no fog around when I was about to leave Brams house – well that was correct until I rode out of his driveway! I went down to the local supermarket to stock up of some gear and saw this sitting in the carpark;
I have no idea what it is but it had the classic big block note when started.
I head up north along Route 101 – I had to go back over a fair bit of road that I had already done coming the opposite way but it was still a great ride. It was cold in places and the fog was again out;
I get to the Oregon border and have a photo. I also revisited the cannabis shop but this time there was no lady pulling a jumper over her head.
As I get further up the coast the sun is out and fog starts to clear and the scenery is awesome along the coast;
I was told about this café and took a detour to have an early lunch. Food was fantastic and the coffee hot;
Some of the stuff that I see whilst riding is downright weird;
The further north I go the better the scenery gets – I could seriously stop every 100 metres and take a photo;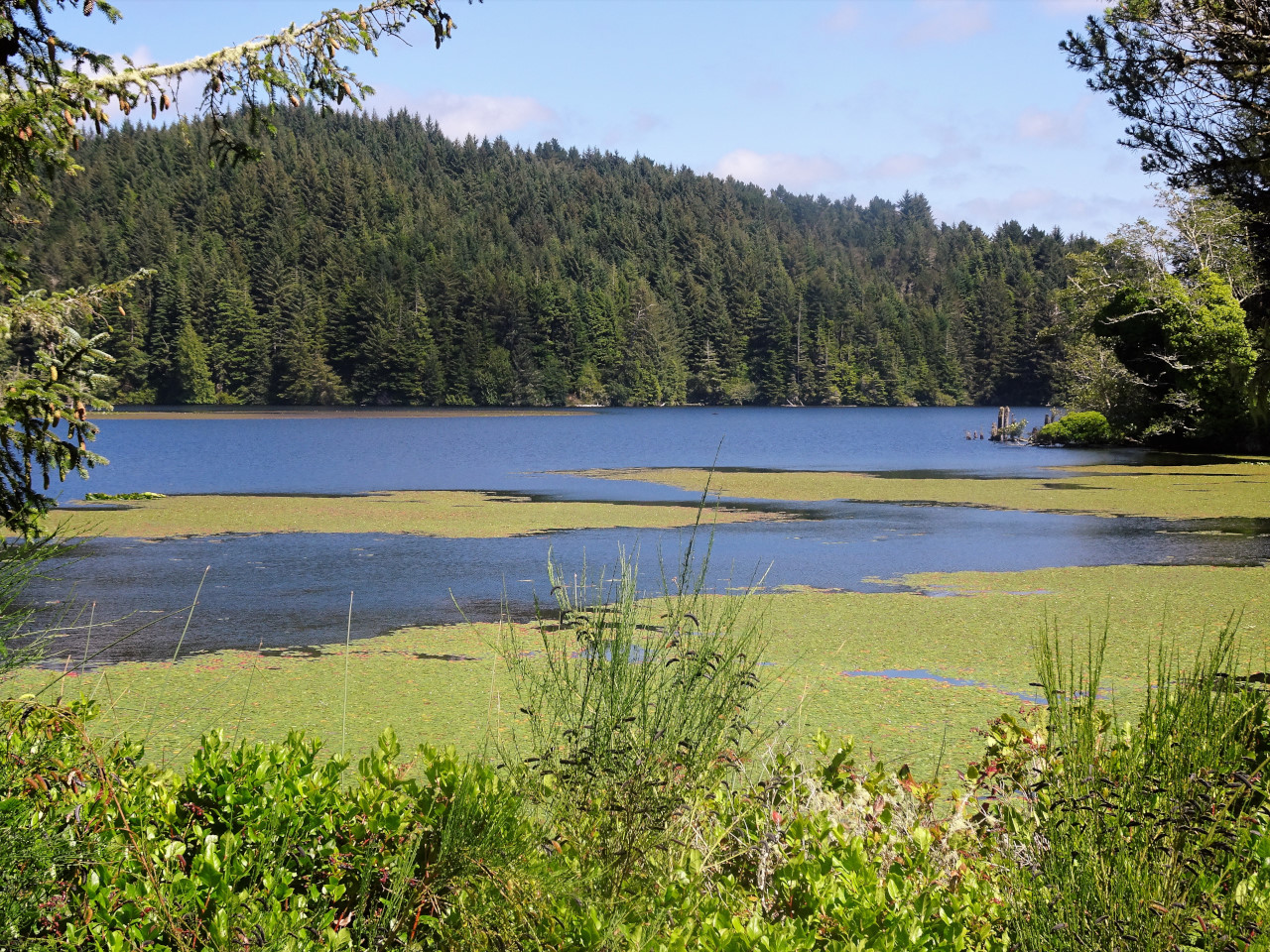 I only go just a bit further up the road and the traffic is completely stopped and I wait for about 50 minutes before it slowly gets going again. I then come across the reason and it's a bad accident. It looked like a car and truck towing a camper had a vicious head on. Both cars are completely totaled and all that left of the camper is the base with the rest of it mangled in the forest. It would not surprise me if there were fatalities.
I get thru the traffic jam and Fred and I click over about 400klms for the day so I start looking for a campsite – given we are next to the coast (and this time of year) everything had a full sign displayed. It didn't help that we were looking a bit late in the day.
I get to a small community and see a large church. I pull up out the back where there is a large grassed area and a perfect place to camp;
I don't think the church would mind helping with a campsite given the amount of work that certain priests have caused me over the years!
Next morning I am off early and still making my way north along Route 101. Scenery again is fantastic;
This vehicle was being towed behind a colossal RV – I originally thought it was a hot rod but I have since seen others exctly the same so it must be just a retro look;
The very next town I see this old girl. I actually think Mick had one when he first started as a Detective;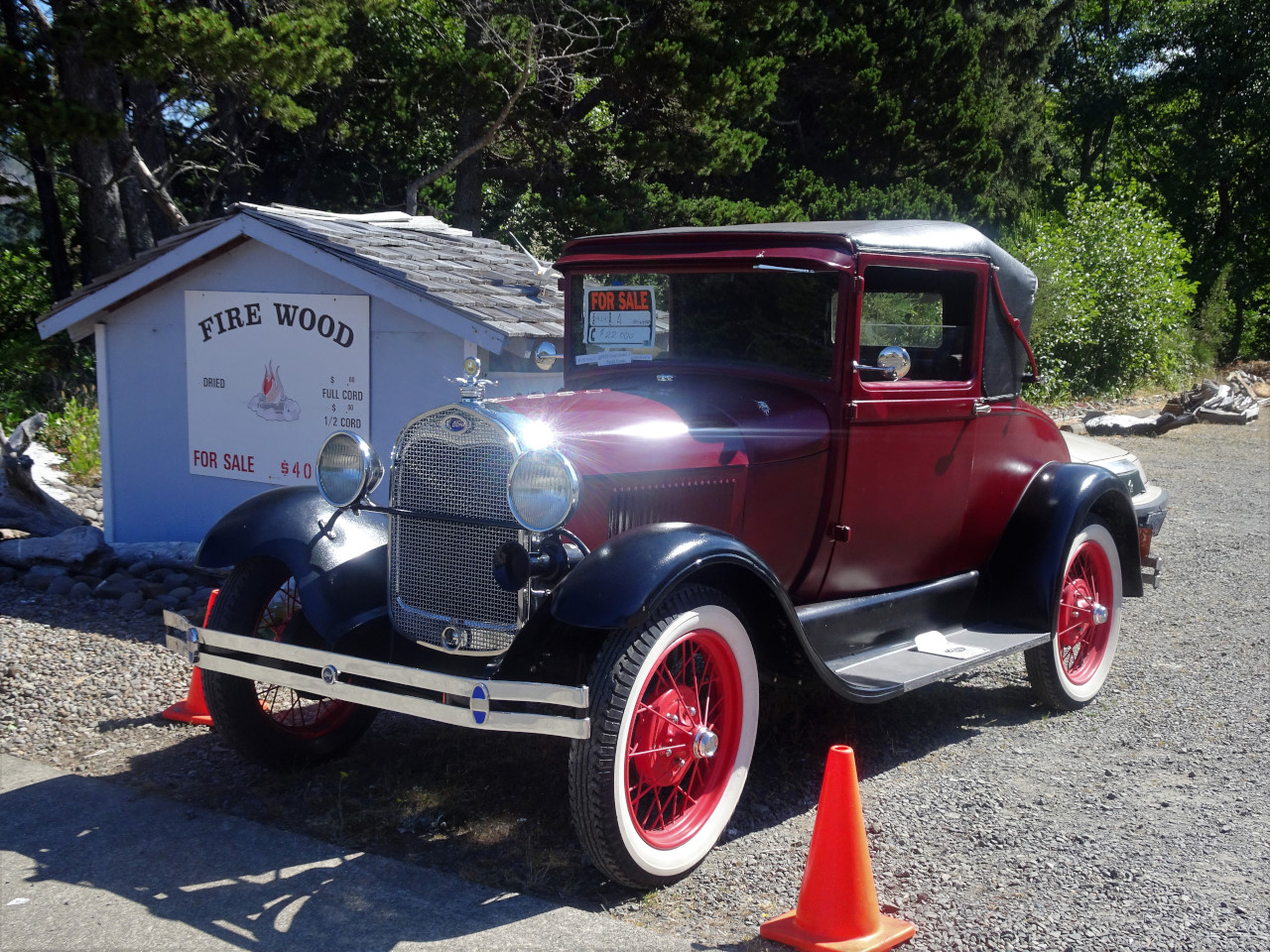 I went through some very popular tourist type towns along the coast but if you keep on heading north the road goes a bit further inland. Here you see some amazing dairy country and even experience the smells that go along with it! I go thru one such small town, Cloverdale, and see these 2 bad boys sitting in the main street up for sale;
By this stage (if able) I would have bought about 40 project cars, a truck, classic fuel bowser and even a plane! I keep taking heaps of photos as I travel along;
A bit further up I just happen across this on the side of the road the directs you to an air museum;
The museum is in a huge aircraft hanger;
On the road, just before the museum is the sheriff's office and prison. I call in and while I am waiting in the foyer this guy comes out of the toilet area and starts talking like he works there. So off I go and tell him my story about my travels etc and then finally ask him what he does. Nothing he says, which I can understand as he just finished a long prison stint and was reporting re his parole – good grief I can pick em! I had to ask what he did to get the prison time and he told me he stabbed a guy in the neck but it turned out ok as he didn't die!
So I leave my new best convict mate and head over to the museum. It turns out that the US Airforce had based its blimps there during the 2nd World War and their job was to fly around the coast keeping a watchful eye out for enemy submarines – I did not even know the US used blimps in WWII. There were originally 3 x hangers but only this one survives intact although the concrete entrance pillars still there for the others. The size of them up close is very impressive and this one was built in 27 days!
Now here are a couple of pictures inside the freight plane (itself large) that is on display outside the hanger;
Had to get the compulsory one of me with it as well;
Inside the hanger is just unbelievable. Heaps of displays to look at as well;
They also have a model section that would bring out the boy in all of us – thousands of models and they are even specific to bases and conflicts. The next photos only show a small fraction of what is in the room;
I show great self-control and manage to leave the museum without having a burger, fries and coke combo at their café. I head in to town and stop at the small Police Station that is closed but knock on the door. Out comes a great girl (Julie) who digs up a patch for me. We have a chat and I find out her husband works in the Sheriff's department (the one I visited). She has 3 kids and gets about 2 weeks holiday a year!
After a good chat, Fred and I head off back along Route 101 and go thru some amazing smaller coastal towns;
I even managed to get a photo of a vintage steam engine that was heading the same way;
Now I finally get to Astoria – this is where you cross over the river to leave Oregon and enter Washington State. I call in at the local Police Department and end up talking to a uniform Police Officer. He tells me that he hunts deer with a bow and right into it. Whilst talking to him I make comment how magnificent the front lawn of the station is and how good my tent would look on it. His reply was that the lawn was due to the Firies next door that needed something to do when they finished polishing brass. Ha (Jack would get on well with this guy!)
The bridge between Oregon and Washington State is something else as it starts very high, drops low and goes on forever;
I get over the bridge and continue following 101 around the coast. Time is marching on and I need to find a camp spot but they are very few and far between due to the vast amounts of water;
I see a sign that shows a small town about 15klms just off the highway. I take a chance and as luck would have it I find another church that has a patch of lawn out back;
With the lawn comes a rabbit plague!
I ride down the local servo and fuel up and grab a few things. I head back to camp and have a good night's sleep until the rain came!!!
I going to stop the blog here as its getting a bit long and will continue from the next morning where I become a drowned rat.