After Graceland Mick made the tough decision that he was pulling out of doing Route 66 with me as he simply could not drive a car for the miles he would have to do.  It was real disappointment all round but with a bit of luck he will be able to do something else to fill in the time and we still meet up in Los Angeles.
Mick and Jack decided to stay on in Memphis (Jack just loved the fact every place had a photo of Elvis) and together they will fly back to LA.  Mick is working out whether to change his flight and fly home early or try and do something else until I get there however it really depends on his knee.
My plan in having an easy last month of my trip has gone out the window!  I thought that I would be cruising along on Fred with all the luggage with Mick and not worrying about breakdowns etc.  In truth, it doesn't worry me and I feel more disappointed that Mick isn't doing Route 66.
Friday morning and I pack Fred up and try and find some motivation to get going.  It's hard leaving Jack and Mick after having a laugh together.  We have done a lot in a short time and I know we will joke and talk about it for time to come.
After breakfast with the boys I head off in the general direction of Chicago.  To get off the Interstate I call in at Brownsville and then go the back roads to Jackson.  I call in at the local PD in Jackson and meet this pair;
The girl to the left (in track top) is the Deputy Chief's assistant and wanted to get a photo of me so they could put it up on their info board – I only agreed if she got in it as well
From Jackson, I rode to Huntingdon and it was great to riding off the beaten track thru the country side;
I found this old County Court house in Huntingdon;
I had lunch and a laugh at the local diner – the staff loved the Aussie accent but I was just as amused at theirs.  The food in the smaller towns is way better than on the main highways.
I kept going until stopping at a Visitor Centre that was just outside of Dover.  I had seen signs indicating 'Fort Donelson' a National Battlefield during the American Civil War;
I was glad I called in as I was the only visitor in the Centre and the Ranger was looking for something to do.  He gave me a run down on the Historic battle and then set up a 20 minute video for me to watch;
Now better informed I set off and did the self-guided tour of the battleground and had a ball.  The way it worked was that you used your mobile (cell) phone to call a number and as you reached each checkpoint you entered the checkpoint number and got the narrative – brilliant.  More photos;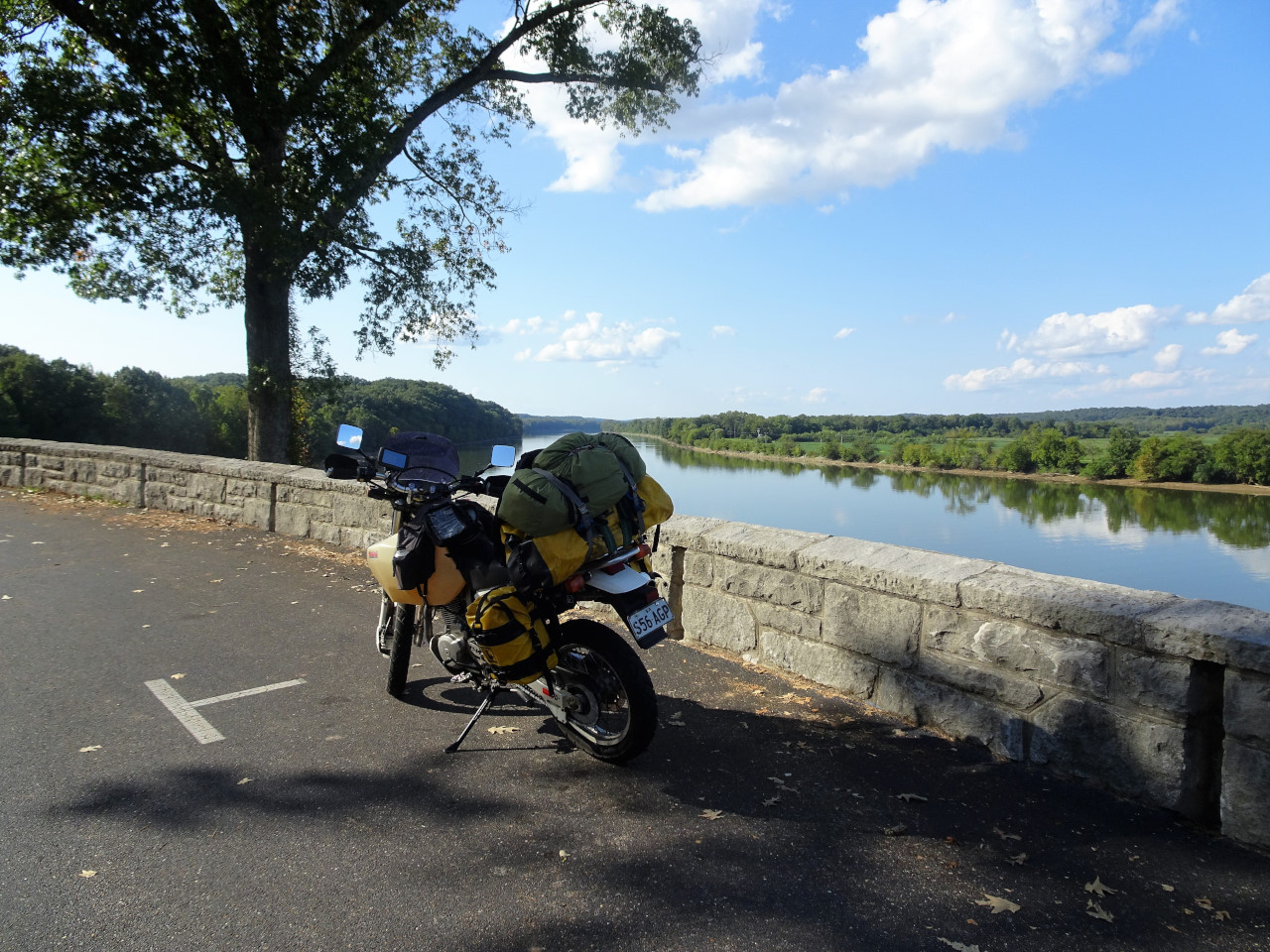 The battle took place February 1862 and was the Union's first major victory of the Civil War which opened a way into the heartland of Confederate territory.  This is where General Grant famously earned the title of 'Unconditional Surrender' as were his terms for the surrender of some 13,000 confederate troops.
I later call in at the Dover PD and I am just in time as they were closing.  I meet the Chief and the local Mayor (what is it with so many female Mayors?).  I have a chat before heading off and arriving at my accommodation for the night;
The host is great young fella (Stefan) who is in the army and based at Fort Campbell – home of the 101st Airborne Division.  The base is massive with over 25,000 troops and covers 102,500 acres of land.  Stefan is not a career soldier and is hoping to crack it in Nashville – he leaves me the run of the house while he heads off to do a gig.  I have a laugh at how he keeps the canopy on his truck;
Next morning, I head off and within a few miles I am over the border and in Kentucky.  I have a look around Hopkinsville and take a few photos;
My next scheduled stop was Owensboro – I  took some photos along the way;
I was in Kentucky corn growing country and the humidity was over the top – I felt like I was riding in a sauna.  I stopped at this little store and to get a drink;
It was total hillbilly country as there were about 4 locals inside sitting around a table smoking – 2 didn't have shirts on and all had their baseball caps back to front. Ha.  I know they were speaking English but I have no idea what they were saying!
I keep going and just out of Owensboro I find what I was looking for;
The Gateway is to the Pleasant Grove Baptist Church Cemetery where I knew Nicky Hayden had been buried.  Nicky was one of my favourite MotoGP / World Superbike riders and all round good guy.  He was killed earlier this year in an accident where he was hit by a car whilst training on his bicycle.  It is hard to believe that it was only last year that he signed a photo for me when I caught up with him in Sepang – 35 is way too young to die.
I had been worried that I may have not been able to find his grave easily however I was in luck as I spotted an old guy who turned out to be the local Stonemason (Tony).  Tony was out at cemetery and pointed me in the right direction.  He told me the funeral was massive in numbers and the biggest ever seen in the county.  He also said that 'Nicky' was a good boy from a good family and the whole town was still in mourning.
After paying my respect I headed off and called in at Owensboro PD.  It was Saturday which meant that they were likely to be closed.  Really the only reason I wanted to get a patch from this department was due to it being Hayden's home town.  I was surprised to find that the front office was open.  I went in and spoke to a uniform officer and told him why I was in town – he contacted his Sgt and low and behold they dug up a patch after a 10 minute search!  Thanks boys!  I gave them a Sapol patch as Jack had brought a few over for me.
From the PD, I made my way out of town and stopped for petrol at a very appropriately named gas station;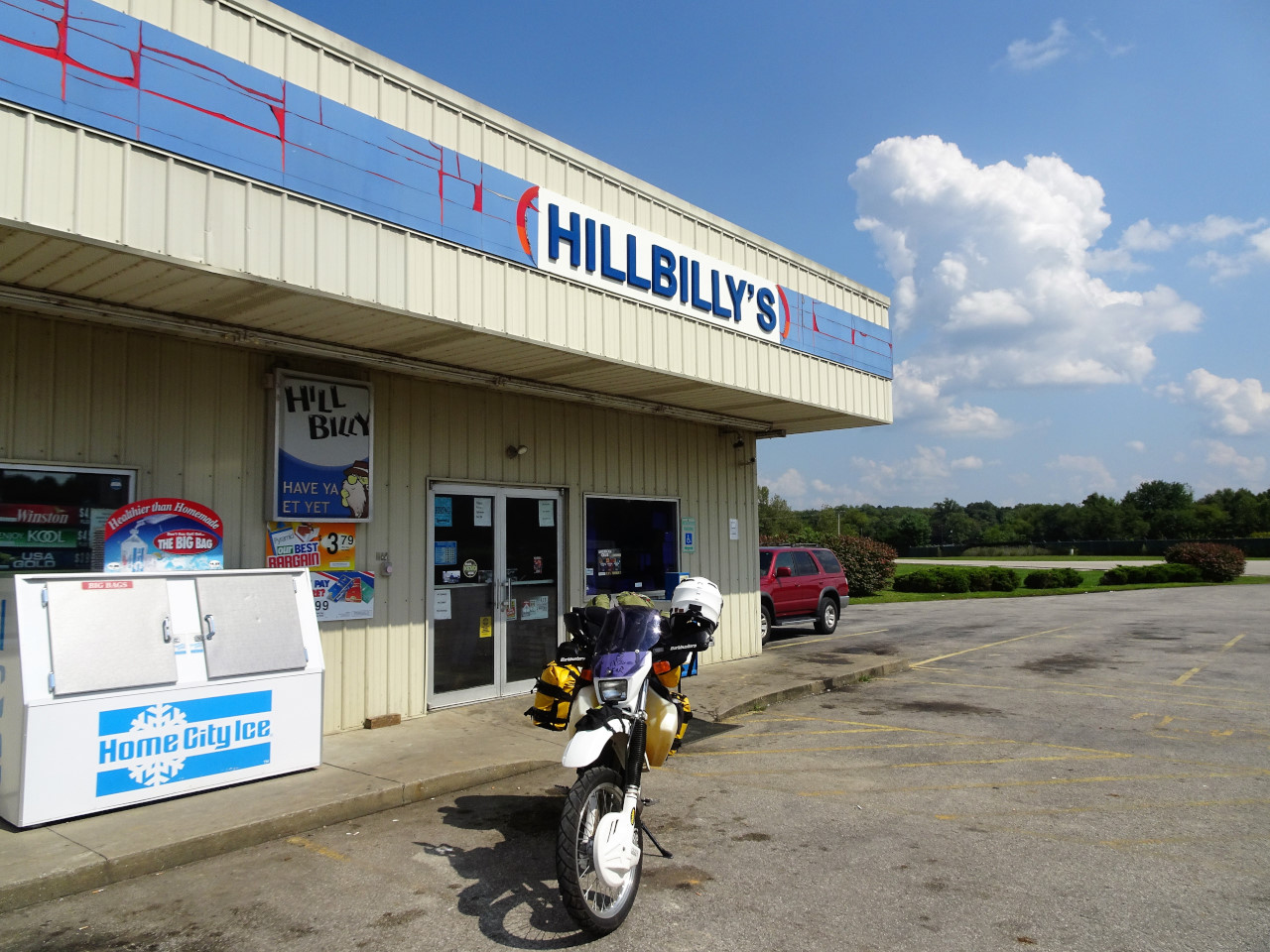 After refueling Fred I continued on until I saw a sign to Santa Claus (I had by now crossed over into Indianna) – I never hesitated in turning off to see if I could find Santa at home;
It was hilarious as the whole town was decked out for Christmas.  I stop at the local grocers and have lunch (half expecting to be served by Santa's elves).
From Santa Claus I had a great ride thru the country side to my accommodation – the house looked like something out of 'Gone with the Wind'.  The farm was about 10 miles south of Corydon;
My room is on the second floor and has a balcony where you can sit and look out over the property.  The room itself is magnificent.  Another day done.