Even though I was up early I was late in actually getting on the road. I went next door to another great old fashioned diner and had breakfast;
I go back and farewell my new mate Bill who thundered off on his Harley. I pack up and drop the room key to Waylon and he tells me to make sure that when I go to the battle viewing points that I do so from the start which means driving out 5 miles to the end of the viewing road to where it all began (this proved very important). Fred and I get moving.
The little big horn battleground was only 30klms up the road and I pull in to the park area – I was able to use my National Park pass which saved me another $15 (cars and RV's are $25);
I go to the ranger visitor centre and was lucky enough to be in time to hear the Ranger presentation that covered the entire battle. It was great as you sit outside and the Ranger points to specific hills and tells you exactly what happened. I discover that what actually took place and what I saw in movies etc were poles apart. I did use my Gopro to record the presentation that went for 30 mins but unfortunately I forgot that you must take it out its protective case (case acts to eliminate noise) and later found that I did not pick up any sound! Doh.
At the back of the centre is a large graveyard – these graves contain soldiers killed in other battles (Civil War) that were exhumed and put in a central location. Speaking of which if you had asked me whether the battle of little big horn took place before or after the civil war I would have said very confidently "before". It was actually after.
I purchase a self guided map from the store inside the centre (you can also use your phone to hook up to an audio tour) and got back out to the carpark to get Fred. In the carpark I run into a few guys that are talking about their travels and they are all on the way to Sturgis. One of the guys is Irish and he had on the riding chaps and looked the part with his tats, plaited beard, and girlfriend on the back of the bike. He comes over to me (make that Fred) and asks me questions about my bike. I tell him the story and they all could not believe that I had nearly done 12,000klms in 2 months. Ha.
I get on Fred and ride to the end of the viewing road and start the self guided tour;
I had not expected that the landscape was unchanged from when the battle took place. To read about each step and then be able to picture it was amazing. White markers identified where the troopers were killed and later buried. I found out that the officers were exhumed about 12 months later and their bodies handed over to the relevant families for burial. Custer is buried at West Point. There are a very few Indian markers as the tribes recovered the dead and performed their burial ceremonies elsewhere.
The big thing that I learned was that the often portrayed image of Custer standing up in the middle of his men shooting and killing Indians that circled around him is false. The Indians simply were able to remain in cover and bombard the troops with lead and arrows until none were left alive. They then moved in and stripped the bodies of all clothing and removed anything that was of value to them. Nothing romantic about that!
I finish the tour and head out of the park – once outside I stop at the Crow Indian Trading post and pick up a couple of stickers and have a look around;
So by now my intended 30min stop had turned into nearly 3hrs but it had been well worth it. I jump on Fred and hit the road;
I leave Montana and cross the State line into Wyoming;
I absolutely loved my time in Montana – the ever changing landscape, vastness and the people. Definitely going back there at some stage. I continue along and the scenery remains postcard perfect;
I call in at the Police Department in Sheridan – as luck would have it I speak to Sgt James Hill who spots Fred and straight away identifies him correctly as a Suzuki DR650. Reason for this is James has one himself and goes on a decent ride each year with his dad who has a Kawasaki KLR650 (I can picture my mate Bailey smiling as he reads this as he has one).
I continue on and get to Buffalo. It was getting late in the day and I resisted the urge to press on and made myself call in at the PD – I am so glad I did as they gave me this one;
There is something unique about the patches in Wyoming and they are far more interesting then the ones back home. I do a quick ride around the town and wish that I could have stayed longer as there was a lot to check out. I still wanted to get another 100klms done to ensure the next day was an easy ride so I press on.
I arrive in Gillette at around 7:00pm and then make the discovery that Wyoming time is another hour ahead so its actually 8! No photos now folks as I find a camp spot, get sorted and go to the supermarket in record time. I have an ordinary sleep as there was a lot of noise around me.
Next morning I have plenty of time so I call in at the Gillette PD and have a chat to the Chief's assistant. Next stop was the Post Office where I posted stuff home. At the post office I get served by Carol who strikes up a conversation with me about my travels. Carol tells me that her husband has just retired and they live in the mountains which makes her travel a fair way to work every day. Turns out they have a bunk house and I get her email address in the event that I am passing by that way.
Earlier in the morning, after I had well and truly packed up and was about to take off, I could not find my motorcycle gloves anywhere. I did a bit of a search but no luck. Luckily the gloves were about shot and I was thinking of getting new ones anyway but now the purchase had become a priority. My GPS found "Lakeside Motorsports" and I called in and ended up buying a new set of fly motocross gloves. For some reason I much prefer to ride with this type of glove than the heavier road ones.
Fred and I finally hit the road and its a casual ride up the highway;
About 50klms in I ride past a guy and his teenage son stopped on the side of the road. I turn Fred around by crossing the dirt embankment between the highways and go back to see if I can help. As I pull up the guy (Luke) is laughing and tells me that there is no way he could do that on his Harley (I could have sworn Freds petrol tank puffed out hearing that). The Harley has a rear flat tyre and although I have slime repair it can't be used to fix it as it has broken the bead with the rim. At a guess I would say that Luke has ridden it going flat for a while. Anyway all is ok as they have water and Luke's brother is coming with a trailer to pick them up and is only about 40mins away.
Off we go again and I pull up in Spearfish and visit the local PD. There is ever increasing motorcycle traffic the closer I get to the Black Hills area and I see a lot of Harleys in and around town – a lot of people stay in Spearfish as its within a reasonably short ride to Sturgis.
At the station I meet Pam and she is a real character. She lived a lot of years in Alaska before moving with her husband to Spearfish. I tell her how unique her accent is and she tells me that even she has trouble understanding her husband as he has the 'Tennessee mumble". She tells me a very funny story of how when they were dating she thought they were going down to the hardware store to buy paint but he was actually going to the clothing store to buy pants! Paint and Pants sounded the same. I take a couple of photos around town;
I get to the start of the Black Hills National Forest and straight away the scenery is spectacular;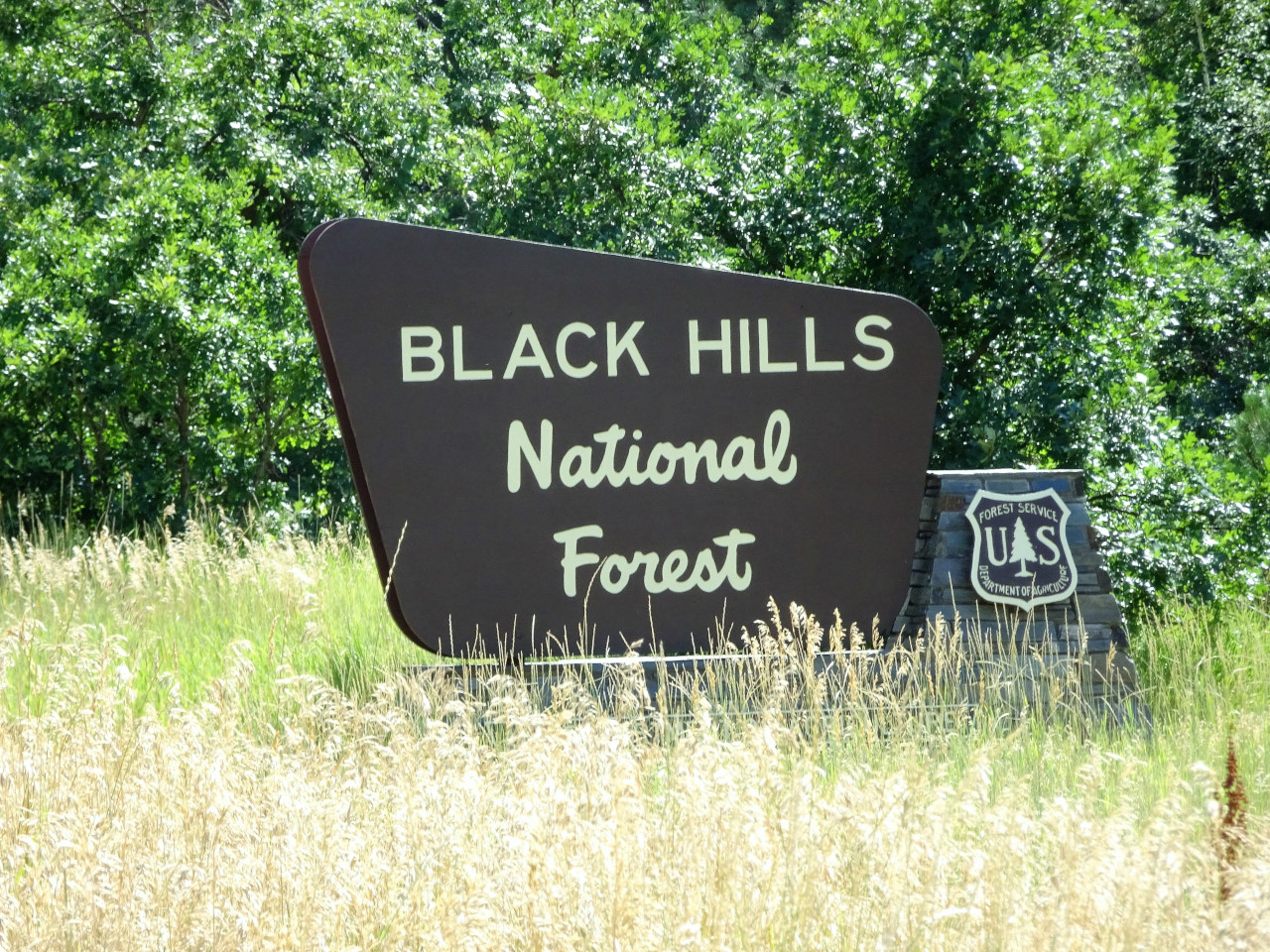 I find yet another animal I have to look out for!
I arrive at Deadwood which gives me a surreal feeling. Deadwood is the quintessential wild west boom town and is the burial place of Wild Bill Hickok. Hickok was shot in the back by Jack McCall as he played poker. I hope to go and have a look at his resting place. The Deadwood western tv series was also one of my favourites;
I have a quick look around town and some of the old buildings are fascinating. I intend to go back and spend time having a proper look later.
I continue up the road heading for Lead where my campsite is meant to be;
I arrive in town and stop and try and get my GPS to recognise my campsite address but no luck. Past experience tells me that its not the GPS that has it wrong but me. I was outside a small brewery/bar and went inside to get directions. No-one else was in the bar apart from the 2 bar girls who were very helpful in working out where I had to go. They both knew the place and told me how to get there. They got me an ice water as well! I was so impressed by them that I bought a brewery souvenir hat!
I ride out of town and find the right road which takes me to the campsite. No wonder the GPS couldn't find it! I had spelled the name of the place wrong and also the name of the road on where it was. As it turns out it is by far so much better than I expected;
The place is run by Dan who is a building contractor and put everything up in 6 weeks. Dan tells me that they put a walking/bicycle trail that runs in the forest near his house and he realised that there was no accommodation for anyone using the trail. The setup is right up there as the best I have had on this trip as the grass is thick (comfortable sleep) and the amenities are great. Hot shower / toilet / well stocked kitchen – all good. The place is more like staying in the forest than a campsite – given that its 11klms out of Lead, there is no constant Harley rumble to keep you awake. It also has a fire pit (Dan supplies free wood) and barbque / entertainment area. This place is good for solo people like me, families and also blokes on tour going to Sturgis.
Dan owns a Harley and tells me that even if I spent a month here I would not touch the surface. 100's of miles of hiking trails etc. He then tells me he has to go in for non-invasive day surgery next week for a gall stone. How much do you think it will cost him for a 40 min hospital procedure? $25,000 USD – bloody heck. I get on the net and give him the link for the International Hospital in Bangkok where he could have the operation and a holiday! Dan was very unimpressed when I told him it would only be in the 100's for the cost of me getting it done in Australia.
Later in the afternoon the animals come out;
Now this has been a long blog but that is due to the morning rain – it is now getting towards lunch time but the rain has cleared and I am good to go!