I am drafting this blog from inside my tent at a hidden gem of a campground just south of Fort Dick, California.
This morning I got off to a late start as I was fogged in. I took a few photos of my luxurious accommodation;
Yeah it was rough but I have stayed in far worse in India and Vietnam. One of the other guests surprisingly had a very nice car;
Whilst waiting for the fog to lift I took Fred down to the servo and pumped up his tyres. I am looking forward to putting some road tyres on him once I wear these down a bit more.
I set off on Highway 1 which goes right along the coastline. Just about everyone I spoke to said it was a must road to do and it certainly was;
I rode past the Oregon sand dunes which are very popular for dune buggies and the like. As you can see in this photo there is one buggy on the top;
There are heaps of places along the strip where you can hire just about every fun sand toy that you can think of. It's great to see that activities like this are encouraged. I keep going and cross over a few old bridges and the McCullough Historical Bridge is one of the bigger ones;
I stop for lunch at Ridleys Supermarket in one of the country towns and pull up in the carpark. Most of the supermarkets make monster baguettes and sambos that are great value and nearly healthy. Because its Sunday one of the female staff members is outside doing a "grill" and is cooking massive chunks of beef and half chickens. She tells me that I should try the tri-tat (not sure if that's correct) which is basically a large roll filled with a kilo of roast beef. I give it a go and its superb even though I nearly make myself sick from eating sooooo much.
As I am riding out of town I see this old girl sitting waiting to be rescued;
The ride becomes a mixture of riding thru forests that open up for periods where you are right on top of the Pacific Ocean;
I cross the state line back into California and guess what the very first shop was about 10cm in from the Border? Yep, a dope shop;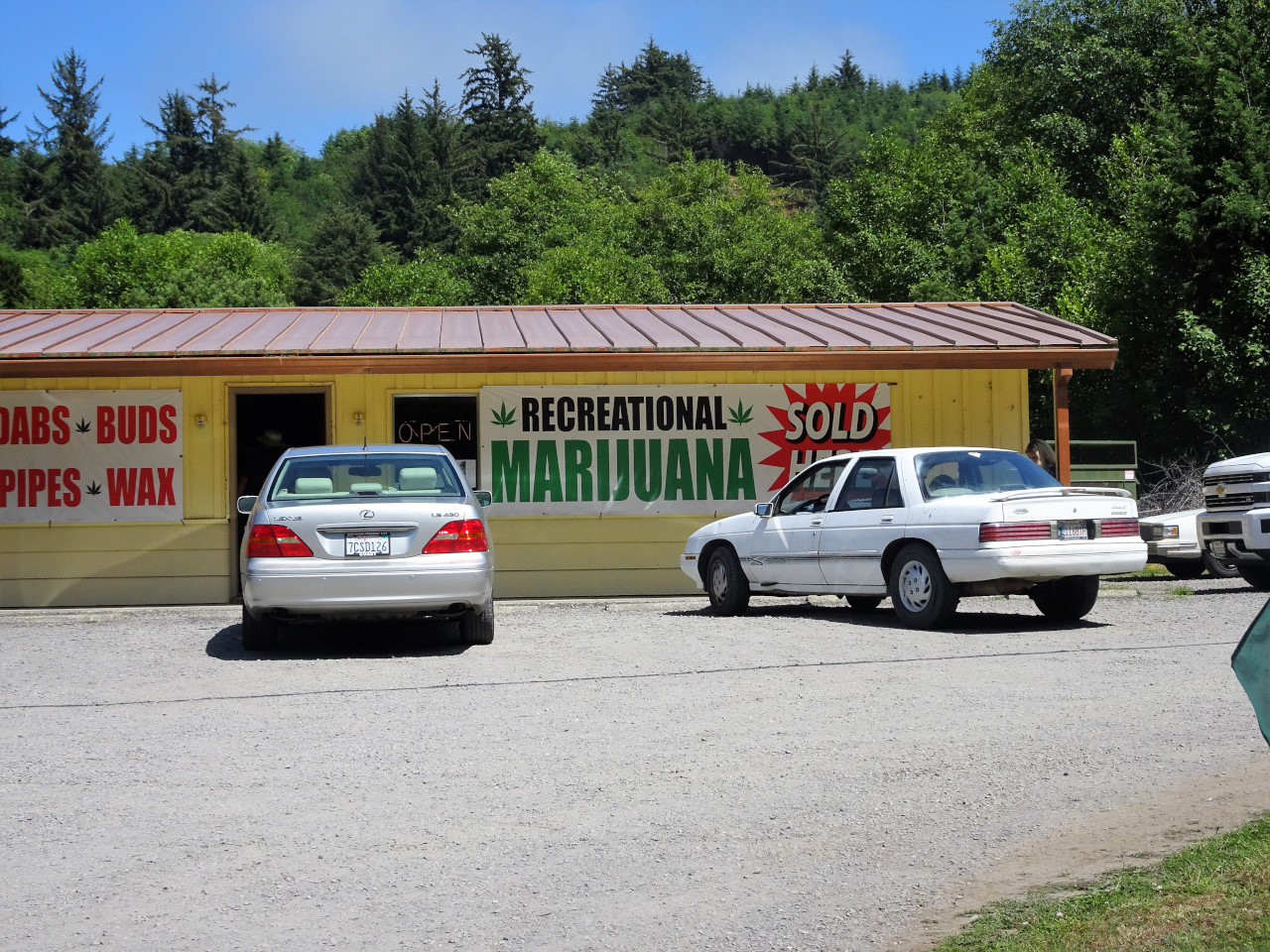 What was funny is that when I was stopped to take the photo's an old girl came out of the shop, saw me, pulled her jumper over her head and ran back inside the store….must have thought I was the paparazzi!
By this stage I have had enough and start looking for a campsite – I missed a turn off that my GPS had displayed as I wasn't paying attention – it had identified a RV park at Fort Dick and that's what I wanted to get to.
Given that I am a far better navigator than any electronic device I take the next right and end up in a small town. I see a Mexican guy loading ice into the back of his truck and ask him where there is a RV Park. Down the road he tells me, past the gaol. I keep riding and find quite a large gaol that just happens to be out nowhere in the country. I keep going and can't find this RV park and the area starts looking a little bit rough.
At the next one horse town I see a guy having a beer with a mate sitting outside his shed. I stop and they give me directions that take me to a free campsite in the Forest right next to Highway 1. I am very thankful but was slightly disappointed a not getting a beer offer!
I find the sign and turn into the forest and ride a few klms where I discover the 'hidden gem'. I set up camp and all it fine. It's funny how wrong turns and getting lost can ultimately find you a better spot!