I am typing this blog sitting in my tent trying not to be eaten by mosquitoes. I have made camp in a one-horse town called Drummond in Montana. I need to go back a few days as I have fallen a bit behind.
I left the house around 8am on Saturday to make the 11klms out to the motocross track. I didn't think it was worth being there when the inside gates to the track opened at 7:00 am given that I had a paddock pass that could only be used from 9am to midday. The paddock pass cost me $20 but you could buy a full day one for $50.
Traffic was banked right up for about 3klms outside the track – surprisingly most spectators were in cars and very few on motorbikes. This was good for me as I could just go right around the outside and pass the lot! I parked Fred right up next to the track in the same spot as the previous two days.
Now I thought what I had already seen up to this point had been pretty good but the pro riders were just on another level. The pace and the ease that they ride around track is astounding given that I would be happy just to do a lap without falling off. These guys manage to do practice, qualifying and 2 full races on the same day.
I took a few photos during practice including Marvin Musquain – one of the top 450 factory riders;
And a few others;
After the main guys finished I went over to the paddock area and had a look around at the teams. As you would expect they are well set up. It's hard to believe that they basically get there the afternoon before and are gone soon after the race day is finished to get to the next round;
I then run into this guy (Tray Canard) who had just announced his retirement after a few bad injuries late in his career. For anyone to get a ride with a US factory team you know how good they are at it. I told him what I was doing and he asked if he could come along. Ha.
Really top bloke who I saw later standing signing autographs for hundreds of kids that took him hours.
I check out this bike which belongs to Eli Tomac who is currently leading the 450 championship;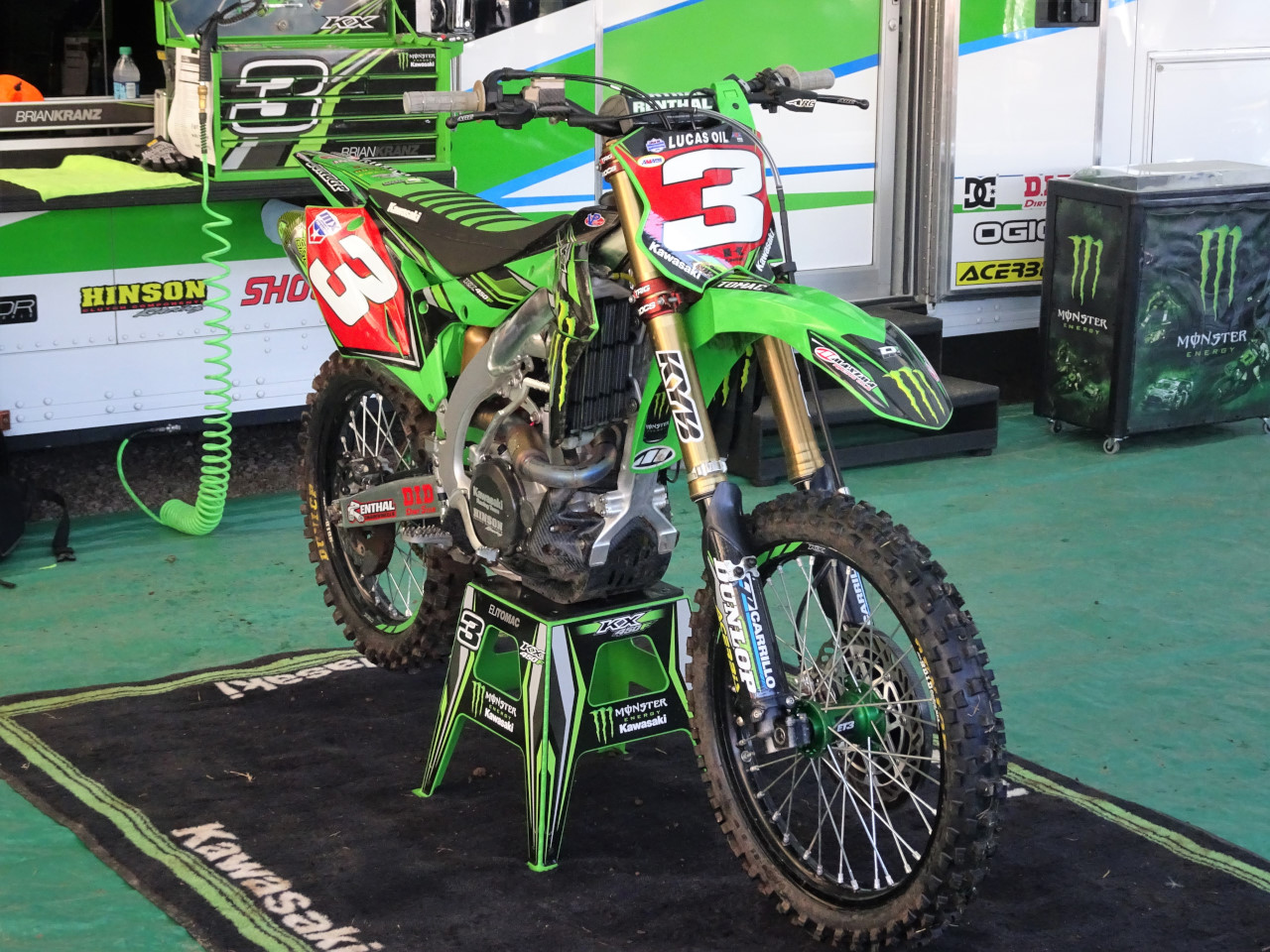 And I get Marvins as well;
I finish wandering around the paddock and head back and take up a spot for the races. I sit next to a guy who turns out to be a Police Officer that lives about 200 miles up the road and comes to the races every year.
During the races, I take even more photos;
At the end of the last race I didn't muck around and jumped on Fred and went straight home. I had decided earlier that I would leave the next morning (instead of Monday) to start the 1900klm journey to Sturgis. Allowing an extra day would hopefully make the trip more enjoyable instead it being a torture test to get there. The added benefit was that I would be out of the house a day earlier!
Once home I got organized and packed just about everything there was so I would get off to a flier the next morning.
Would I go to Washougal Motocross again? Absolutely – one of the best international motorcycle events that I have ever been to and the closeness to the action is unbelievable. I would however camp at the track now that I have been and checked it out. Plenty of good tent sites available among the trees that offer a degree of privacy.