At the end of my last blog I had a great camp until the rain came (around 4:00am).
I wake up to the sound of rain and its still very dark outside – it must have been raining for some time as I could see a bit of water laying on then ground sheet in the front fly area of my tent. I get up and check my gear and find that the compression bag with all of my spare clothes is wet as well as my helmet, gloves, wallet and boots. Great….
The rain continues but slows down to a drizzle. Up I get and pack up in it. Luckily enough the church had a concrete area that I was able to shake most of the water off the ground sheet and the tent. I decided right there and then that packing up in rain totally sucked! It was easily my latest start to a ride day and don't get underway until nearly 9:30am.
I ride only about 100 metres to the local supermarket where I buy the brightest yellow rubber gloves ever produced (at least I am colour coordinated with Fred's panniers). I have a coffee there and a chat to a couple of the Managers who had just opened the store up. To their amusement I had to pay with wet money and then I was on my way.
I go a couple of klms and stop at the Washington State Patrol base – here I speak to the clerk (Nikki) who is a great lady and we have a bit of a laugh. She tells me that normally a station like theirs only services one county but they actually do two because of both counties are small in size.
I knew I had to do about 350klms at least so that I could make it to my Airbnb at Issaquah the next day. I could see that the sky was very black over where I had to go for Route 101 – I had a choice to take a more direct route that would avoid the coast and most likely any rain. Nikki had told me that it would definitely rain during then morning but clear up in the afternoon.
I decide to continue on Route 101 and take the long road around the coast to enter Seattle from the North. I am glad I did as it proved later to be well worth it.
I am about 40klms into the morning and the heavens open up with a storm – Fred and I take shelter under a tree on the side of the road but still get fairly well saturated. The rain stops after about 15 mins and off we go again.
Along the Route I take a few photos including this one of a historic town hall;
I just had to take another photo of a truck which was parked in the carpark next to the town hall. I just can't get over their size. If you were to try and lift something in the back of it you would have to get a crane;
Further up the coast I go and pull in to a very small (but interesting) town called Cosmopolis and end up having lunch at the Luna Rana coffee house – easily the best sandwich/coffee that I have had on the trip! The owner rides a touring bike and couldn't do enough to get me set up on wi-fi etc. Really good service and top bloke!
I ride another 5klms and go over the bridge at Chehalis River. On the other side of the river the town becomes Aberdeen and then Hoquiam. Hoquiam appears a pretty rough and poor area (Kurt Cobain country). I call in on the local Police Station and meet deputy chief Wortanen. He had been to Brisbane twice whilst attached to the Military and loved Australia. As I ride thru the area I take a couple of photos;
The dark clouds come back early afternoon;
It starts pouring rain again and I pull in under a veranda that's attached to an old store – there are old car wrecks everywhere and it appears that someone has some sort of rough wrecking yard at the back. The weather worsens and I am thinking that I may be stuck there and have to sleep in a shed or similar. I go around the back and there is no-one to be found. I wait about 30mins and during this time I was entertained by about 5 humming birds who put on a show under the veranda. The rain finally eased enough to get going again. Amazingly another 30klms and the road is dry and the sun is out! It really depends where you are in the mountain ranges as to what weather you will get.
At about 4:00pm I find a cleared site which is used when roadworks are undertaken in the area. I decide that its good enough to stop at and I set up camp;
Now what is really cool about this site is that it has a creek that runs right beside it and I could hear it from my tent;
I wake up early the next morning and get underway in good time. I ride up the road 30klms and stop in Forks for breakfast. Here I meet a couple who are on a short holiday, Sam and Julie. Really nice people who are on a bit of a camping holiday. They live on a farm where Sam provides an animal farm experience program for disadvantaged young city kids and Julie runs a Wedding Reception facility. I get an invite to stay with them if I get anywhere near their farm on the east coast (hope I got the location right).
Off I go and continue on Route 101 and right thru the Olympic National Forest. The forest is spectacular to ride thru and even had an area of natural rain forest only a few klms off the main highway;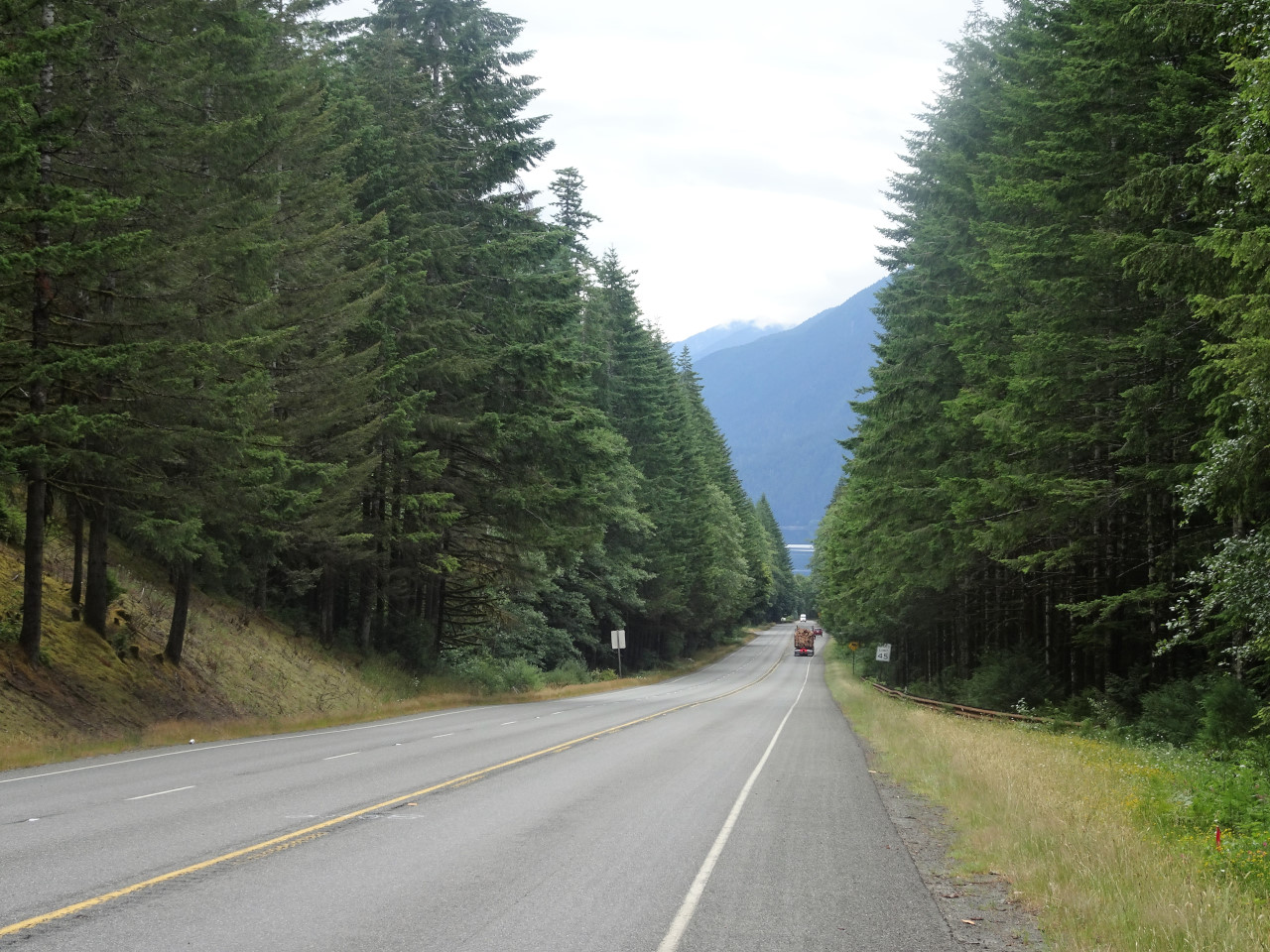 I reach Lake Crescent and its stunning – took me at least 30 – 40mins to ride around it due to its size;
Further on I reach Clallam Bay and found myself stopped at traffic lights behind this classic;
I rode next to the driver and asked if he would mind pulling over for me to take a photo – he told me to follow him as he was only going a short way up the Street. I followed him and pulled up next to him in the carpark of an Italian type restaurant – 4 guys were standing outside waiting for him. The owner of the car would have been at least 75 and had more gold jewelry around his neck than a black rapper. It was obviously a get together for retired Mafia bosses! He tells me that its a 1970 Chevy El Camino that he bought brand new. He had only recently got a new paint job on it. I take my photos and off I go again.
I keep going and get directed by the GPS to where I have to catch the Ferry to get across to Seattle – you can take the road but I thought the ferry would be a better experience. I arrive at the ferry with perfect timing – enough time to catch the very next one that was about to leave ($9). Motorcycles go on first so around the outside I went and up to the front of the line – ha. Love that. Ride straight on to the boat and go and get a coffee.
Its a reasonably short trip across the water and again motorcycles take priority and get off first. I swing by the Edmonds Police Department and have a chat with the girls at the front desk – they make a phone call and tell me the Chief would like me to wait so he can see me. About 5 mins later the Chief comes out and takes me back inside to his office. We have a good conversation and he tells me that he (and wife) accompanied his friend Burt Bacherach to Sydney a couple of years ago when Burt performed with the Orchestra in the Opera House. They all had a ball and loved how they were looked after – I later sent my email to the Chief as he is very keen to come to Adelaide and sample our wine. Very much look forward to it.
I get to the expressway and think I only have to travel a bit up the road and it wont take long. I had booked another Airbnb so that I could rest up for a couple of days and chill out. The accommodation was located at Issaquah which was only 30 odd klms away.
I get on the expressway and traffic was just downright bad – bumper to bumper all the way including the 3 or 4 tunnels I went thru. I did my usual trick in going down the centre and around the outside but it still didn't help that much.
I arrive at the accommodation and the host (Elizabeth) opens the door and appears surprised when I tell her sorry for being late due to the traffic. She tells me that I have arrived a day early! No way – I check the dates/days and I am sure I am right until I am told that I am a day ahead of myself. LOL. Luckily for me Elizabeth had a spare room and there were no dramas – the location is outstanding and I would have wanted to stay longer in any case. The house is located near the base of the Cascade Mountains and I am surrounded by large trees – it makes me feel that I am in a forest retreat!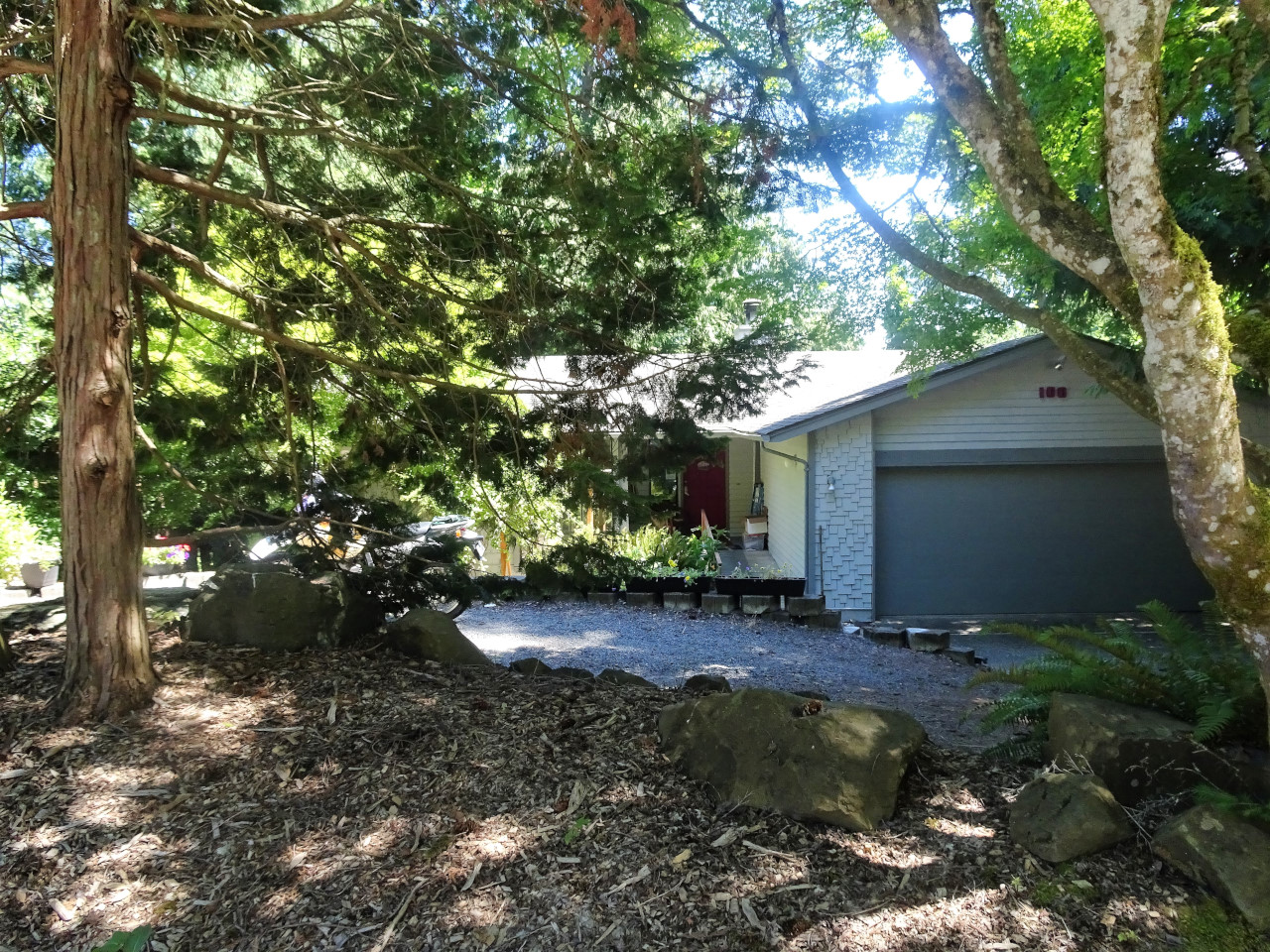 Elizabeth invites me for 'supper' and tells me she has an old friend, Earl, coming over as well. Now Elizabeth is an amazing woman – she is 70+, spent her working life as a minister and helping the disadvantaged, etc. I find out later that she backpacked thru the UK when she was only 16! I get to meet Earl who is a sprightly 97yrs young. Still sharp as a tack – we talk about how he visited Australia twice during WW2 and his other exploits. He was an engineer and worked in the US Airforce on every type of plane you can think of – including B52 bombers. He told me a funny story how his plane was lost off the coast of India and they only made it back home when they spotted railway tracks and followed them.
The next morning is clean up (myself/Fred) and maintenance day. I take the following picture of the main street when I go to get some groceries;
I had thought of going into Seattle for a look but have decided to chill out here as its so good.