*I may have forgot to send out the email re blog update for my last blog so check before you read this one.
I leave my luxurious Hotel as late as I can – I get up the road and find about 15 motels that would have been half the price! I stop off at a couple of small towns and have a look around. I arrive at my Airbnb a bit after lunch. Its located in a small place called Prunedale which is located 12klms from Salinas. Laguna Seca race track is located between Monterey (on the coast) and Salinas. I had earlier tried to find accommodation in Salinas with no luck and Monterey was too expensive as its a real popular upmarket coastal city.
I arrive at my Airbnb and find that the parents of the hosts are staying on the property in their van as they are both retired and in between overseas trips. I get introduced to Dad (Mike Keller). Now remember how I said in my last blog I got a off track and ended up going past San Quentin prison? Well get this – Mike retired 16 years ago as then warden for San Quentin prison!!!! I could have fallen over – I spend the next hour talking to him about infamous inmates such as Charles Manson, Sirhan Sirhan (assassinated Robert Kennedy) and many others. Now Mike tells me there is a big gang problem in Salinas and cautions me not to go in to the township at night – not that I would be a target, just that I might get a stray bullet!
I unpack Fred and ride into Salinas where I call in at the local station. They confirm the gang problem saying that there are 2 Mexican gangs that are continually at war. They go on to say that Salinas ranks in the top 5 of all places in the USA for murders re percentage of population and that they have had 24 murders already this year. And I was going to stay there! Locals refer to the town as the "ghetto".
I leave Salinas and ride up the road to Monterey – totally different and a really nice place. I then ride back along the coast to my accommodation. What surprises me is how heavy the traffic is around here.
Next morning I am up and off to the track. There are guys at the entrance road just off the highway – I pay $110 that gets me general admission for the 3 days. Its good value as it gets you into all of the general areas, grandstands etc – just not into the corporate areas. It also includes paddock access for the whole the 3 days however the paddock is massive and takes up most of the inside area of the track. Just heaps of stands / displays and the like.
The track is very different from Phillip Island – very undulating and really spread out. I park Fred in the general parking area and walk about a klm to the actual entrance gate. From there is a long walk to get to the inside area of the track. I have a look around and buy the usual stuff;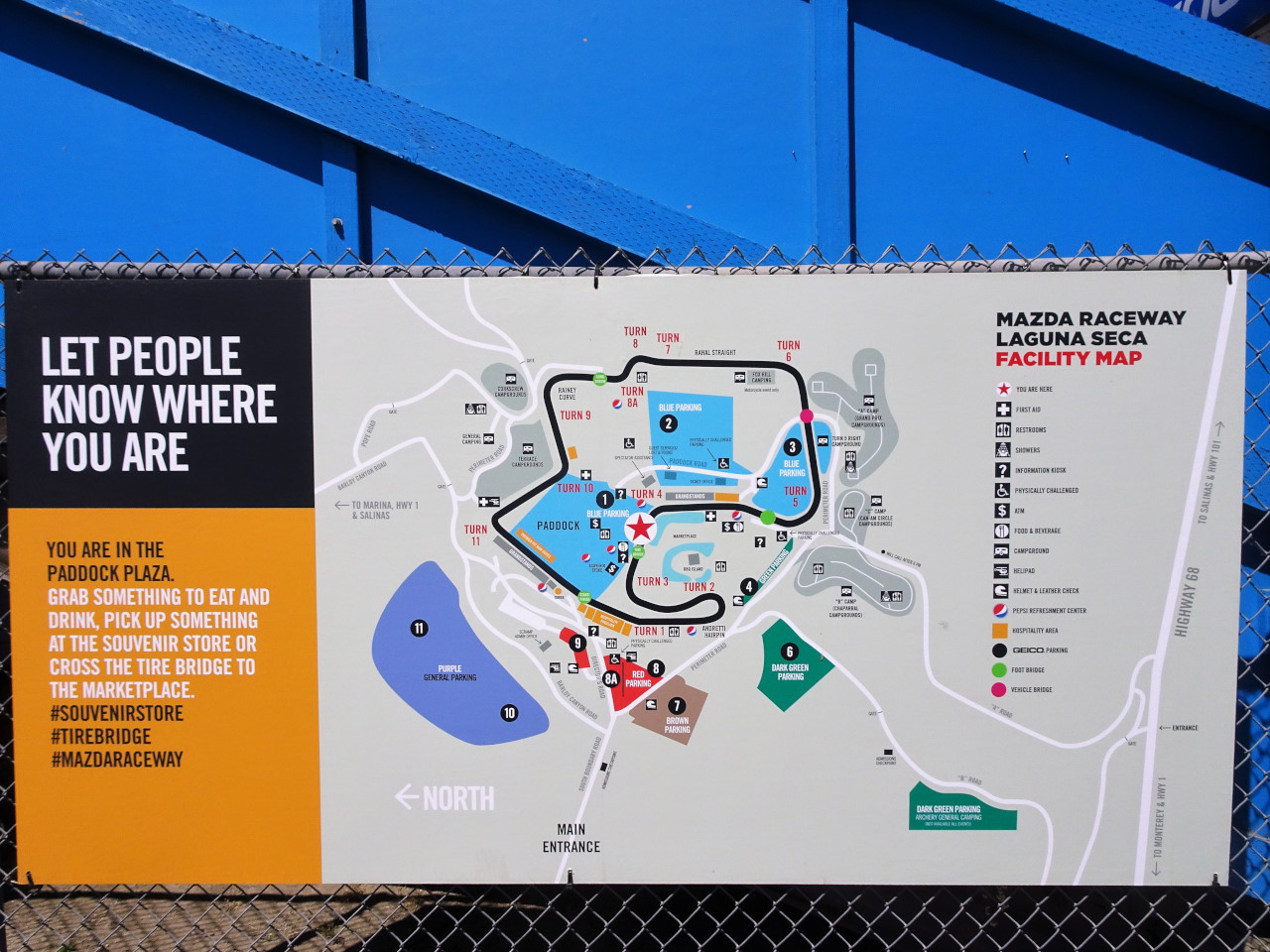 I go to the Indian motorcycle stand and I see what I think is a modern reproduction of a classic indian – no its a 1948 original. I talk to the salesman and he tells me a guy rode it to the event and then agreed to let him put it in his tent on display. The bike looks straight out of the showroom;
I go and sit at turn 4 and watch practice and managed a couple of photos with my little travel camera;
The heat is something else and the only shade is up on top on the hill at the world famous corkscrew. I catch a golf cart ride up there and sit under a tree for the rest of the day – watching the bikes go thru the corkscrew only reinforces my admiration for the courage of these guys;
Basically you come in blind to a sharp left, have to flick it right, as you are dropping down you are going around a right sweeper and then flick it back left to get around the left exit corner. What amazed me was how big a drop it was.
At the corkscrew you can see over the whole track but are too far away to actually make out what was going on;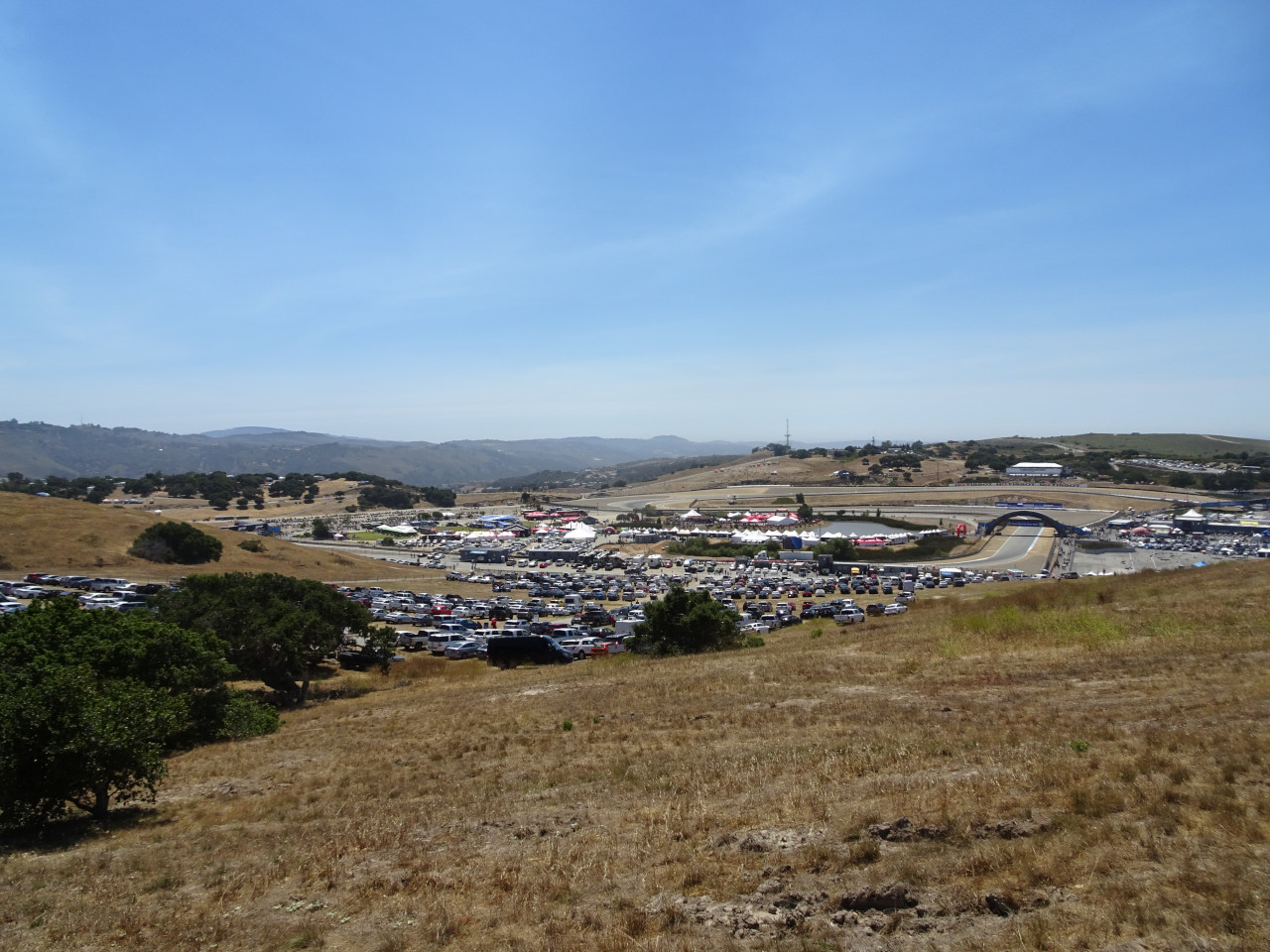 The Superbikes finish and its only local racing so I decide to head home. I was about to wait for a golf cart to go down the hill but saw a media photographer about to get on his scooter and got a ride with him to the bottom of the hill – this still left me on the wrong side of the track to where Fred was parked about 2klms away. I see another golf cart in Kawasaki colours coming my way and a grid girl is driving it. I hitch a ride with her and she takes me all the way around the track to the entrance leaving only a short walk to Fred. Gold. I ride home picking up some groceries along the way.
Next morning I virtually repeat the above however get up to the corkscrew much earlier as the heat is worse than the day before. I watch practice, qualifying and then the 1st race later in the afternoon. Whilst sitting there I meet Joe and Adrianne – Joe is from the UK, retired and a motorcycle tragic like me. He goes to all of the Irish Road racing including the TT etc. I get his contact details as its likely we will hook up at some stage with either him coming to Aust or the other way round. Adrianne is from Boston and offers me accommodation if I make it that far. Both just really great people.
I also get talking to an ex-marine, Deric, who is absolutely ripped for a bloke who is only my size. He used to race bikes years ago – now runs a gym after leaving the Marines. He tells me about Alice's Restaurant which is near where he lives in Scotts Valley California – its a famous motorbike hangout as the ride to get to where its located (forest area) is sensational. I will try and catch up with him to take a ride out there.
So after drinking 10 gallons of gatorade and water I head home. Chaz Davies won the first race and I was lucky enough to see his sensational overtake in the corkscrew from 3rd to 1st which set up his win. This time out though I walked from the top of the hill to Fred – no free rides! I did notice these parked next to each other in the carpark;
I also saw these 2 along the way;
I get up this morning and make a tough decision not to go out to the track for the 2nd race. I had a cracking headache and realise that I am dehydrated even after drinking so much. Also there was nothing of real interest in the local racing to me and the 2nd main race was not until 2pm and goes for 45mins. The thought of going back out into the heat was too much. I thought it much better to chill out and recuperate by pumping water into me. It also was a chance to catch up with the people here at the Airbnb whose company I enjoy.
So would I go again? Unlikely now but I am stoked that I have been to the corkscrew. Definitely spoilt in Australia with Phillip Island. At Laguna Seca the heat is just oppressive due to how its located between the hills and there is no grandstand shade – your view of the track is a distance back and you don't see much of the track from one position. You can't walk around the track and spectators can't get to every corner.
The other negative I found was that not having a World Supersport race like other rounds made it seem a bit empty unless you are a local that follows Moto America and could get into the support races.
If I did come back it would be doing the corporate gig – pay the money and be under the aircon with a big screen!