I had originally planned to ride from Fort Smith to Memphis in the one day which would have meant a 460 klm ride.  I had to change those plans as my hamstring injury makes riding Fred hard work.  To show that I am not as soft as what everyone out there is thinking, check this out;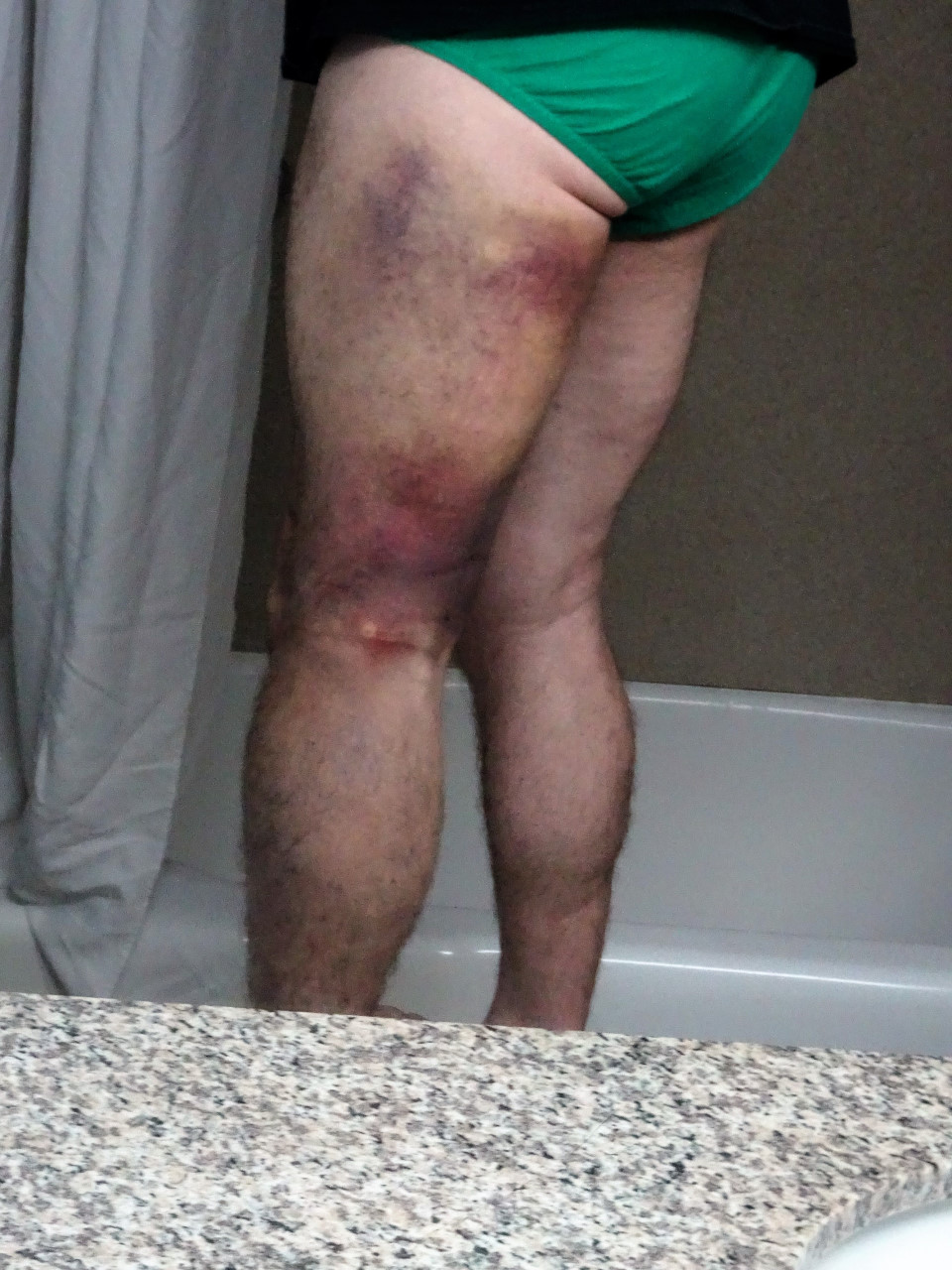 I took the photo of it in the bathroom mirror – it is my right leg that has the injury.  I must have slightly torn the muscle and because I had no ice it bled out a little.  Anyway, enough of showing my bum.
I leave the Airbnb and have decided that the run of the last few that I stayed in has been pretty ordinary.  This one was a joke also as it was plain feral.  I think people are getting in on the band wagon of trying to make money and putting up anything for travelers to stay in.  To a degree I have been forced in the last week or so to go with them given the weather, distances traveled and now my injury.  This is the one I just left;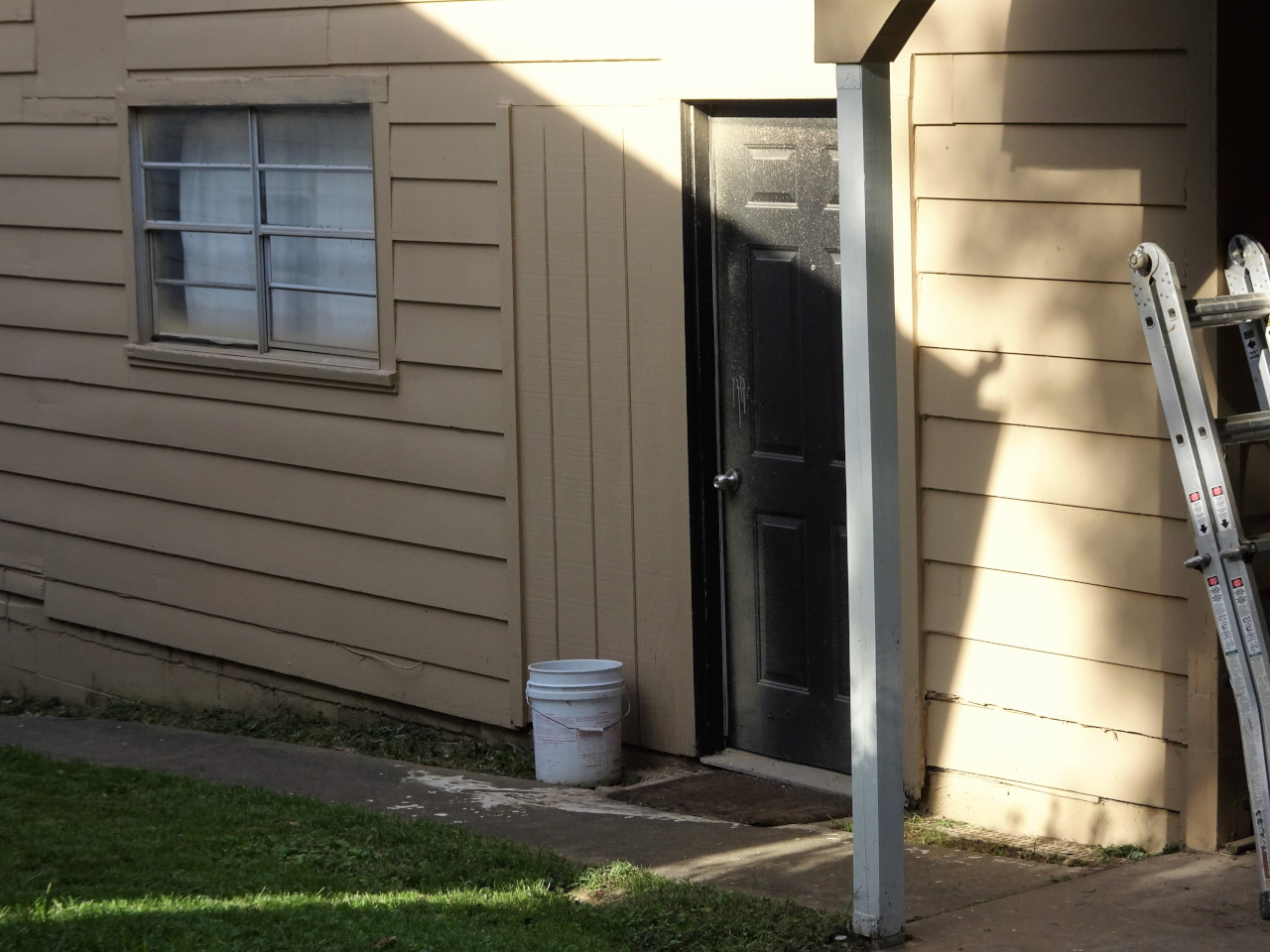 What you can't see is the dust (filth), that only 1 light out of 6 work, and the missing ceiling tiles (holes).  I could understand if I was being a tight arse and spending $5 expecting a $100 motel room but that is far from the case.  I think a good Airbnb in a city location (as opposed to a country bed and breakfast type experience) should be substantially less that a decent Motel room.  In most places you can get an affordable (budget) Motel room around $50 USD including taxes (to clarify – that is using websites that offer good deals).  I paid $40 for this and then you get slugged a cleaning fee + taxes.  I think the last person before me refused to pay the cleaning fee!  So in the end it cost just over the $50.  I have had some great experiences  and met some wonderful people (Carl & Suzie) thru Airbnb but I am giving it a rest for while.  My mate Mark suggested a long time ago I should consider a particular forum thread on a motorcycle rider site to use to make contacts but the issue I have found with that is that I have no idea where I am going!  Perhaps if I get myself better organised I can use it.
I ride into the old part of Fort Worth and take some photos of the historical buildings;
I have been meaning for a while to post a picture of a school bus.  The buses are exactly the same all over the country which makes sense.  I can remember watching various US programs over the years where the school buses all had the same paint scheme as this one – I was surprised to find that it hasn't changed.
I keep taking photo's;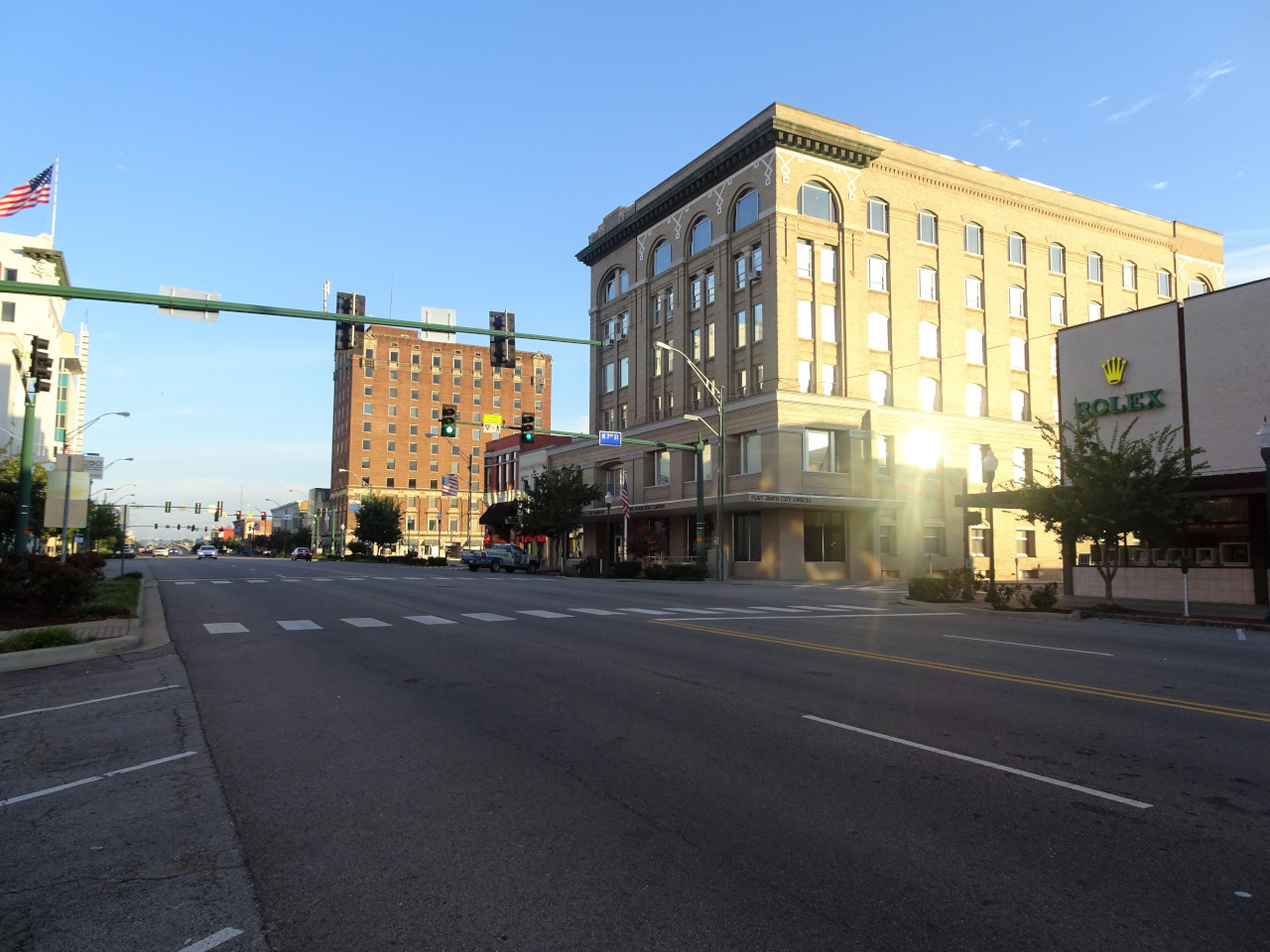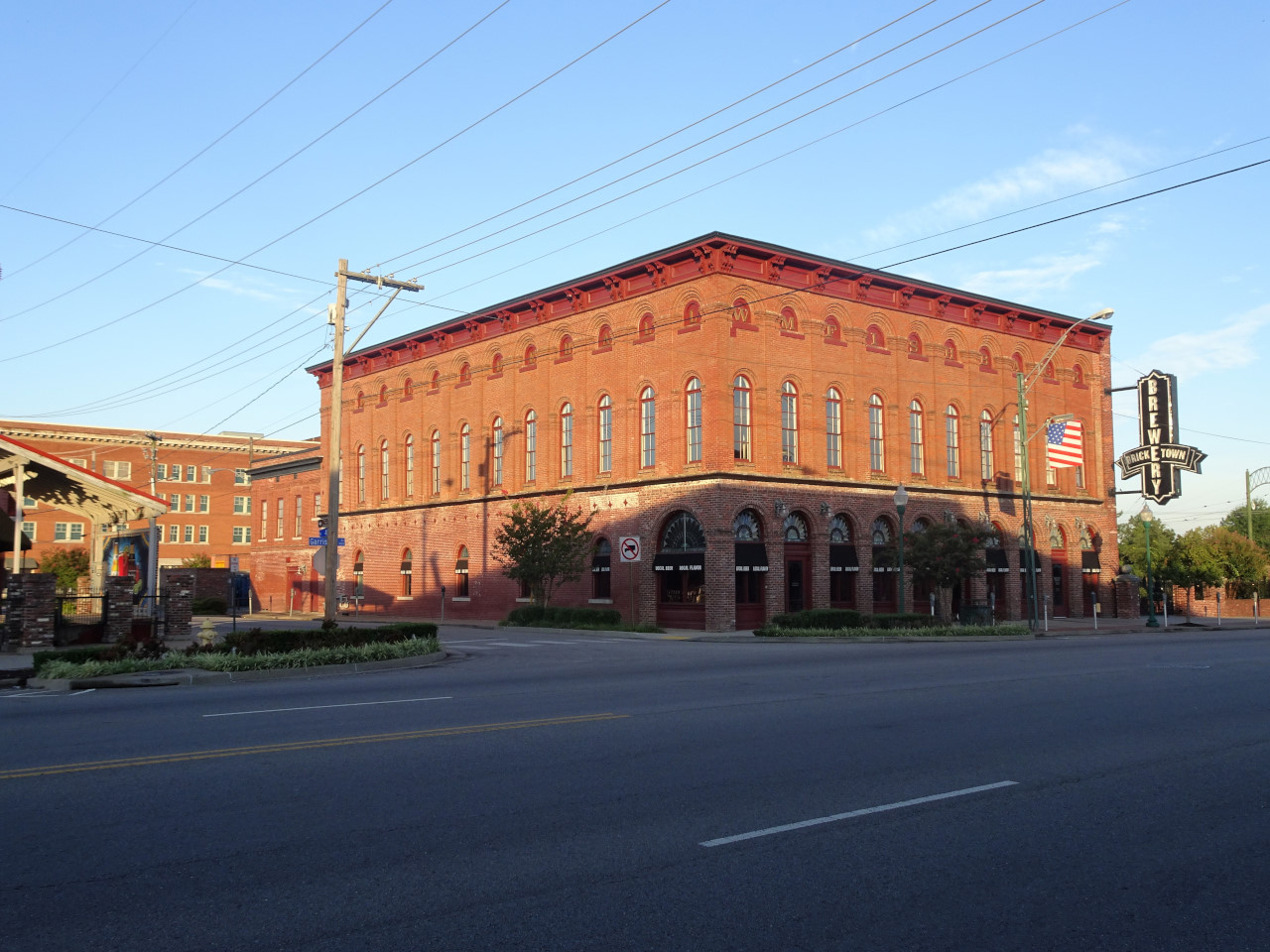 I got a good vibe being in Fort Smith and I know its rich in history given it was the last outpost before the wild west.  Next time I am here I will definitely be staying longer.  I would have liked to have checked out this as well;
Because I had gone back into the city, close to the river, my GPS directed me back over the bridge which took me back ito Oklahoma – talk about a quick visit!
It turned out to be well worth while because instead of heading straight up the Interstate I got to ride along the river which took me past a car wreckers;
I pulled up and had a chat with the owner.  He invited me to ride Fred around the huge amount of cars that he had in the paddock at the back of his shop;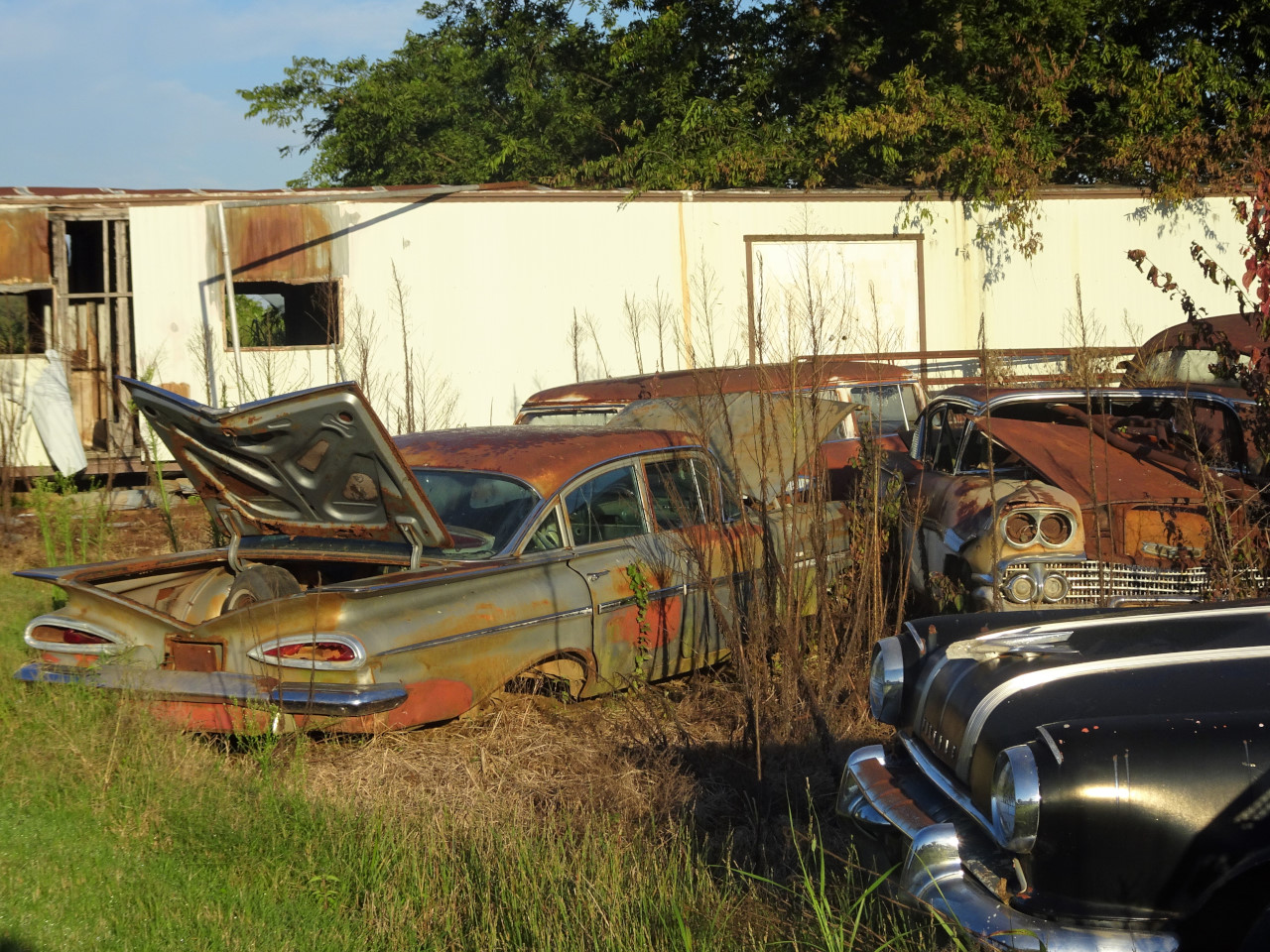 I could have seriously stayed in the wrecking yard all day and the pictures I posted were only a small sample of what was in there.  I got going again and the ride was great given it was a fresh morning and great scenery.  It wasn't long before I cross back over the river and therefore back in Arkansas;
My first stop for the day was at a sports store that was off the main track.  It was located out of Alma and I had been told about it the day before.  It basically caters for the locals who all hunt (guns / bows) and stocks only the good stuff.
I wanted to get my son (Josh) something for his 28th birthday and I think I nailed the right store!
The above AR15 was on sale for $1,000.
Now the above girl on the right, Jordan, is a very serious hunter and owns 10 hunting rifles.  She was the go to girl in the store re hunting/skinning knives and I ended up purchasing a combo that she recommended;
It came with a bone saw (gotta have one of them) and the knife blade can turn around to become a "gutin" knife;
The deal sealer was when she told me her Pa, 3 cousins and her grandfather all had the same!
I ride back into the township and have breakfast at yet another place that had been recommend;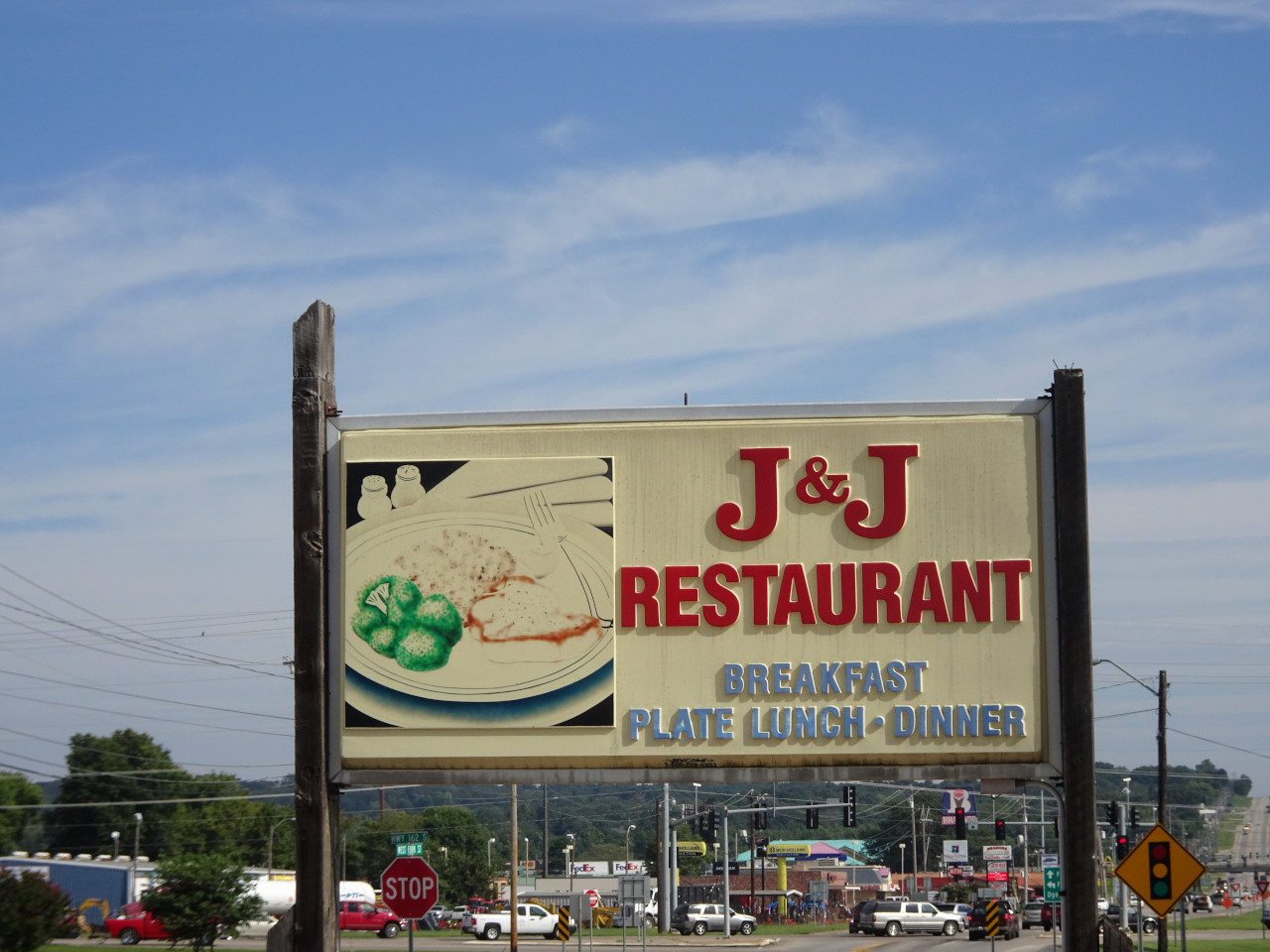 When I placed my breakfast order I was asked if I wanted 'Grits'.  I then found out that Grits is ground up corn meal that has been bleached white.  Most people eat them with heaps of butter or even honey to give it some taste.  It historically was a meal that helped feed people during the depression years and looked upon as a stomach filler.  I politely declined the opportunity.
I head off and was able to ride on a quiet road going thru Mulberry and later I find this place on the outskirts of Ozark;
Its a maternity hospital that has been restored and is available for tours etc (not open when I went past).  I go into Ozark and check the town out;
I call in on the local PD;
After having a chat I rode off and then realised that I had left my gloves sitting on top of my side bag – I looked down and saw that one was missing!  I hadn't gone too far so I did a u-turn and back tracked right back to the PD.  I go inside and ask if anyone had seen my missing glove.  The good news was yes.  Bad news is that a member had picked it up and it was with him as he thought he might run into me around town.  They call him up and I am told he will drop it back to me.  30 mins later I am reunited with my glove (I can't complain about waiting as it was my stupid fault).  I put the wait time to good use and re-adjusted / checked a few things on Fred.
So off I go again and my next stop is Russellville PD – now the ladies in the front office were quite quick to point out that their high school went all the way and won their Division in Football (gridiron).  What was of great annoyance to everyone is that the system changed not long ago and you can only win your division (unlike a knock out series where you can win the whole thing);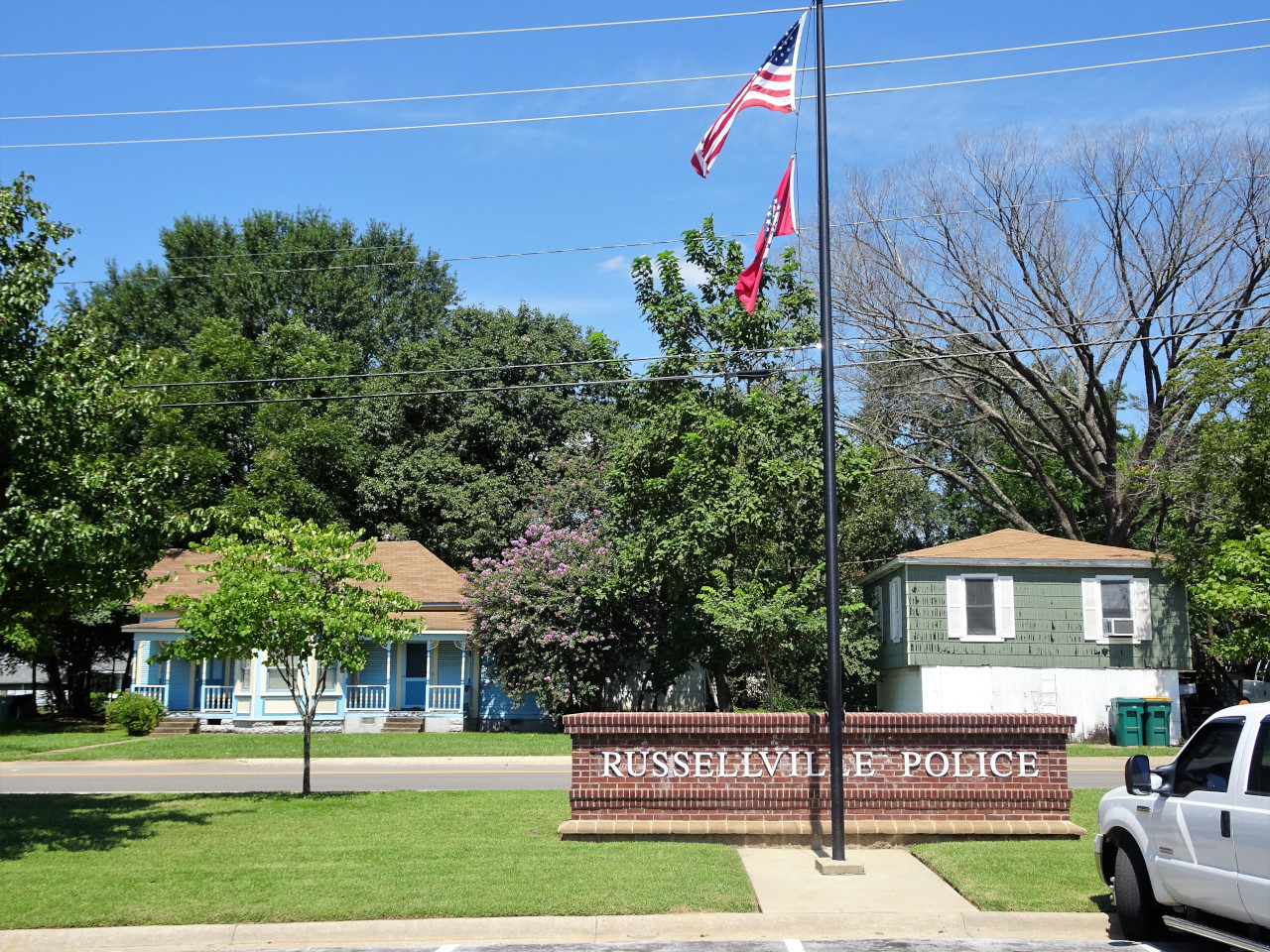 From Russellville I take the back roads to Pottsville which is only 10 miles further on.  I call in on the local PD and have a chat with the Chief (there are only about 5 officers in total).  I have a good laugh with the boys and I also end up giving them a Civil War history lesson on the Honey Springs Battle – reason that came up is that Pottsville is very significant in American History;
Legend has it that Jesse James stayed in the Inn;
I also check out some other historical buildings close by;
From Pottsville I continue on the same back road and call in at Atkins PD;
I have a quick chat with the Chief and then back on Fred to continue on to Conway.  Conway is a bigger town and has 3 colleges (it is actually known as 'The City of Colleges";
By now its getting late in the day and I am feeling the pinch with my leg.  I put my head down and finally arrive at my MOTEL room in Little Rock;
The room is nothing flash but its clean and has all of the amenities.  I quickly decide to book it for an additional night as its cheap at only $47 USD.  The other main reason for an additional night was to try and get my leg rested up.
Whilst I was sorting payment out I met a great guy, Darrion, who owns a Hayabusa and loves his motorcycles.  Darrion was at the Motel all day fixing the ice machine as he is a service technician for heating/cooling (mostly industrial but does a lot of work for Motels).  Darrion is also ex-armed services and has done a fair bit overseas (Iran / Gulf).  We get talking and he invites me out to go shoot some pool but I am simply too stuffed.  We make arrangements to try and catch up the next day.
Mid morning Darrion turns up with his beautiful non-committal friend of 4 years (private joke) and they take me out to breakfast;
We have a fun time and the fact he shouted made it all the better. Ha.  I took the opportunity to ask them both heaps of questions about the History (and modern day issues) of African Americans – I have no problem in saying that I was ignorant of some of the issues we discussed and really appreciated their time.  I will keep in touch and hopefully be able to do something down the track with them both as they are such good company.
I get to bed early but have a lot of trouble sleeping due to the pain from my hamstring.  I get up around 2:30 a.m. and fire up the laptop to see who won the fight of the century.  Firing up the laptop showed that I was online so my wife immediately skyped me for a chat! Ha.  I wasn't awake before I certainly was now.