This blog is the last in my "Road to" series (for now anyway).
I am up and getting sorted when I discover that I left my drink bottle in the freezer overnight which caused the bottom to blow out;
I have about 220 klms to Memphis so there is no great rush.  I get under way and the scenery / conditions are great;
Not long later I come across this factory;
The Remington facility is massive which is no surprise given how much the people of Arkansas love the guns and I am sure they would view it as holy ground.  I keep going and my next stop is Lonoke;
I call in at the local PD – given it was a Sunday I wasn't really expecting anyone to be around but to my surprise the Chief and 2 of his troops were in the office.  I had a good chat with the boys who were very interested in our guns laws in Australia.  Just as I have found it talking to many others in Arkansas these guys loved their guns and hunting.  The Chief himself had 40 handguns in his personal collection and the troops weren't far behind him.
I have a look around town and find an amazing landmark.   I never get sick of looking at the old buildings that are in the small towns which are easy to miss if you don't take the time to get off the Interstate and go and look for them;
I then take a back road to the next town, Carlise.  I was looking for somewhere to have breakfast and unfortunately the place that was recommended to me (home cooking) was not open on Sundays.
I kept on going up the road and stopped at Hazen – here I had much better luck and found the sort of place I was looking for;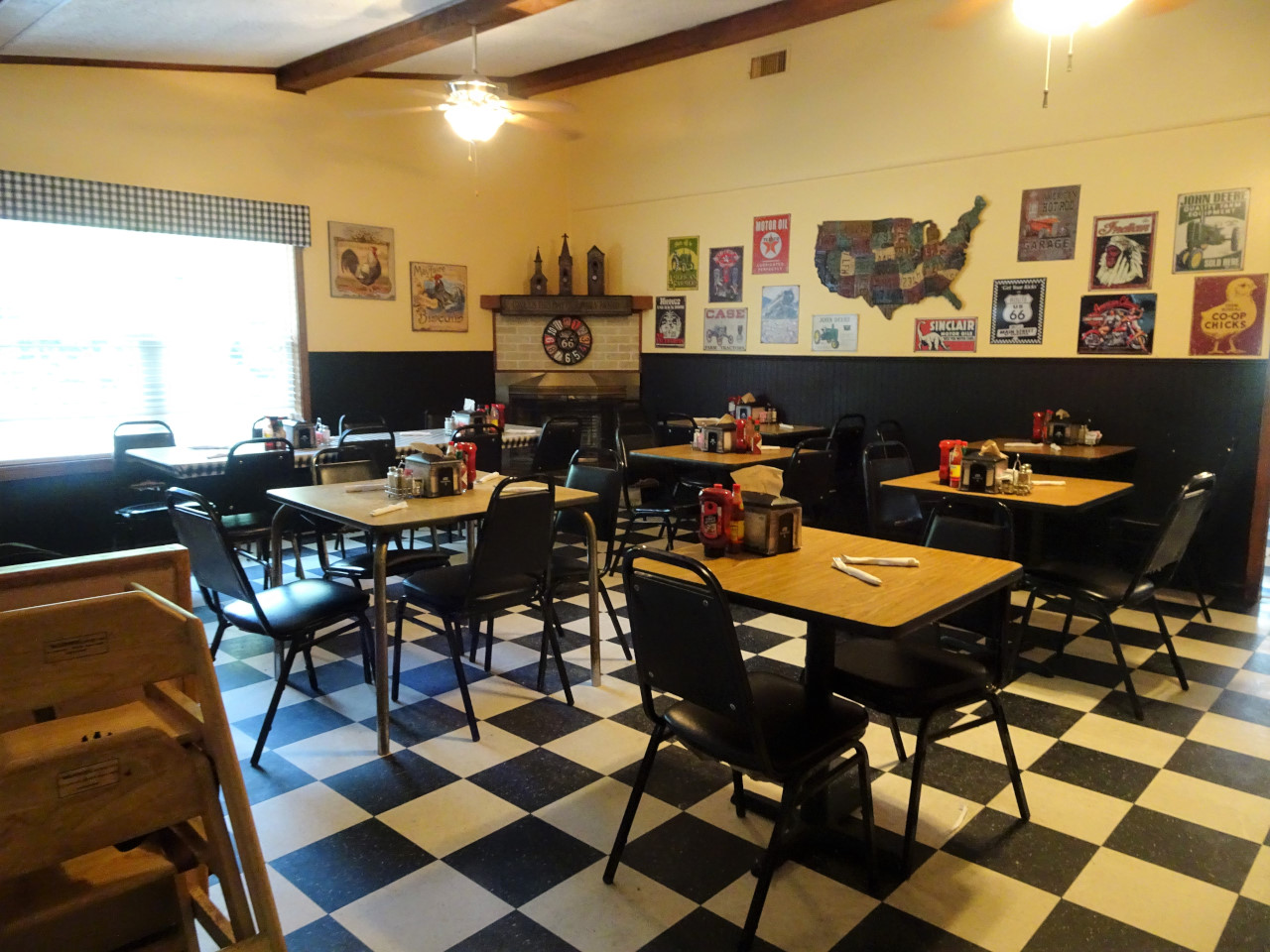 I had a great breakfast and about 10 gallons of coffee.  Fred and I then hit the road again;
I stop at Brinkley and have a look around;
I then kept going all of the way, crossing the Mississippi River and over into Tennessee.
I arrive at my Motel and unpack Fred;
I head out and swing by Walmart to get some supplies which is about 5 klms away.  I should have shopped a bit quicker as the heavens opened up with a big thunderstorm and I had to take shelter under a bridge and wait 20 mins for it to blow over;
I manage to get back to the Motel without getting too wet.  Later on I managed to book a flight to Las Vegas flying with Frontier Airlines.  They are a low cost airline and I have heard from people some really bad experiences but I thought I would give them a go.  I found that there is no direct flight to Las Vegas from Memphis (not that I could find) and all have a brief stop in Denver.  The Frontier fare started off being $150 cheaper but they slug you for everything as an extra and in the end it was only about $50 better.   I have never heard of having to pay for your luggage twice when you have a stopover.  I tried to question this and phoned the contact number but got a call center and the girl I spoke to could hardly speak English so I gave up.
The next morning I had the Motel breakfast – choice of biscuits and sausage gravy, cereal, small cakes, bagels & cream cheese, and toast.  I went with the toast.  One good thing at breakfast was meeting this lovely lady;
The reason that I got a photo was that I could not get over the fact that she was in her 70's!
I found that the Motel was definitely in a great location – just around the corner from Graceland, the Airport, Post Office,  and a storage facility where I could leave Fred whilst I caught up with Mick and Jack (Vegas / San Francisco).
I rode around to the storage facility and my luck held as I only had to pay $24 (admin fee) to get a Unit.  Reason that it was so cheap was due to the 1st month being free!  About 100 metres up the road from the storage place was a Post Office where I was able to post the latest purchases home.
I only just made it back to the Motel when there was another thunderstorm – it kept raining heavily for the rest of the day so I stayed in.  The rain was nothing compared to those who are suffering in Texas re massive flooding.
The next day I had plenty of time to kill so I thought I would ride Fred downtown just to have a look around.  I get organised and go out and try to start him and get absolutely nothing!  Fred has cottoned on that he is being left behind! Ha.  I am pretty sure the battery is stuffed as I had noticed a bit of a drop in power over the last week.  A Motel handyman saw me trying to start Fred and came over to offer a push.  Our first effort had no luck so we tried the second time.
The technique to jump start a motorbike is to get enough speed up and pop the clutch whilst you drop your backside hard down on the seat to make the back wheel have traction and not skid – this will make the engine turn over and hopefully start.  Well we got a bit carried away because when I dropped on the seat Fred fired up alright and did a massive wheel stand and nearly threw me off the back.  The handyman was mightily impressed and thought I had done it on purpose.  I didn't know whether to laugh over the wheel stand or cry over the pain from my leg!
So off we went and had a bit of a look around Downtown Memphis.  I accidentally found one of the main attractions that I will be going to with the boys;
I only took a photo and never worried about going in as I didn't want to spoil the experience for later.  I cruise around a bit more;
I had intended to keep doing a bit more around downtown but Fred really was playing up and only just starting.  I thought I had better not push my luck and decided to drop him off;
I nearly had a tear in my eye as I pulled the door down on Fred (I am losing the plot) given I had ridden him every single day since I collected him back in LA.  I promised him that I would have a new battery for him when I next saw him. Ha.
I then started walking back to the Motel.  On the way I took a photo of where I had seen a homeless person sleeping the last couple of nights;
I can't help but notice the large number of homeless people over here.  I am not sure though if that is simply due to the massive population and therefore no difference to home or there are in fact far more homeless.  Wherever I go there are homeless people begging outside stores, car parks and intersections.
I have finally got my blog up to date and I am killing time waiting to go out to the Airport.  Standby for my evaluation of Frontier travel as I have reservations about it going well!