The next morning, I set off early as I had just about 420 klms to get to Oklahoma City, Oklahoma.  The forecast was for thunder showers and I thought I may be forced to hole up at some stage and lose time.  To say I was glad to get out of the place was a total understatement.  I was up at 5:30 am and so was the host who chose to watch my every move by following me around – god knows what he thought I was up to;
Everything is certainly big in Texas;
The road that I was on is right next to old Route 66 – I could actually ride a fair bit of the day on the old highway.  I found this iconic Route 66 landmark;
It was still early in the morning and I could see a car transporter parked which had a couple of cars on the back that I wanted to check out;
I was a bit cheeky and rode Fred straight across the Interstate and down the grass slope to get to the truck to avoid going the long way around which would have been a few extra miles.  Now here is the embarrassing part.   Somehow while I was taking photos (and not moving) I got my foot caught up in the luggage which made Fred fall over on his side (no damage to Fred as the luggage acted like a big mattress for him).  Instinctively I tried to stop the fall and twang goes the right hamstring.  Now (and still) I am limping around like a cripple.
So, Fred is on his side with fuel coming out of the tank.  I get up and can hardly walk.  I lift Fred and get him sorted whilst all the time thinking that I am providing comedy relief for the truck driver.  I am in agony when I see the driver jump out of his cabin and walk over to me.  He strikes up a conversation and I realize he missed the entire show.  He is a young lad and the real deal wearing a truckers hat that had a fish hook stuck in its brim.
It took all my efforts to have a chat, remount Fred, and ride off without letting him know I had just fallen over and ripped my hamstring whilst taking a bloody photo!  I did manage to get a better photo of the old 4 x 4 tractor;
The reason the tractor was of interest to me as I drove a very similar one some 30 odd years ago when I worked on the family farm – ours was a slightly bigger version.  Maybe that's what caused the incident!
I keep going;
Now I really had no choice to check out this town;
The first house that I see a confederate flag would have to be in this town;
You can see that the town was once thriving given it was right on top of Route 66 and would have had heaps of traffic going thru it.  It still has a Motel;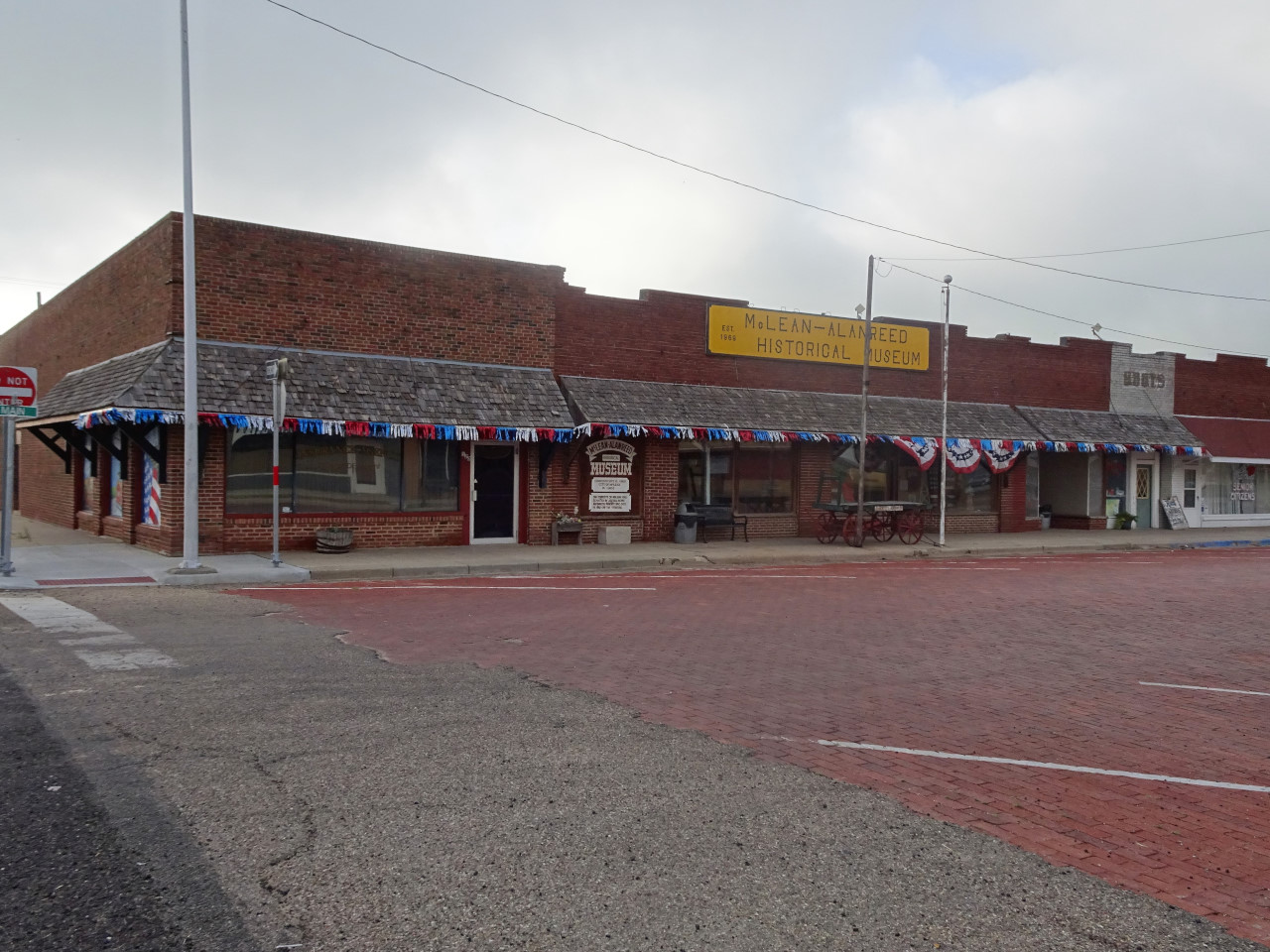 I see that the town has a City Hall;
I go inside and have laugh with the 2 ladies working inside – I don't think they have too many visitors as they were in for a laugh.  The tell me the town was named after a very well to do land holder that came out from England and bought up half the country side.  He later died on the titanic.  I check out the main street;
The town is famed for its barb wire museum (also featured on Billy Connolly's doco);
I would have gone in and had a look but it was still about an hour from opening so hopefully I will do it with Mick later.  I then get on the old Route 66 and have a lot of fun;
I decide to stop a bit later at Shamrock and what a great stop it was!  On the way in I saw this old girl;
I then found this old gas station that has been completely restored;
At this time, I am thinking that I know I have seen the garage before but can't remember in what context.  I go inside and find these 2 crazy birds who are locals and have been friends since kindergarten;
I then get a personal history lesson on the "U-Drop Inn" Tower Service Station – one of the girl's grandfather actually worked there!  It was built during the depression in 1936 at a cost of $23,000 and was the only place to eat on Route 66 for 100 miles.  It was saved from ruin in 1999 when the local bank purchased it and donated it back to the city.  Because of federal and state funding its restoration was completed in 2003 at a cost of $1.7 million.
Now where have you seen it before?  The building was the inspiration for the "House of body art" in the fictional town of Radiator Springs in the 2006 animated Disney movie 'Cars'.
I take a few photo's including where Elvis once sat when he stayed in the town;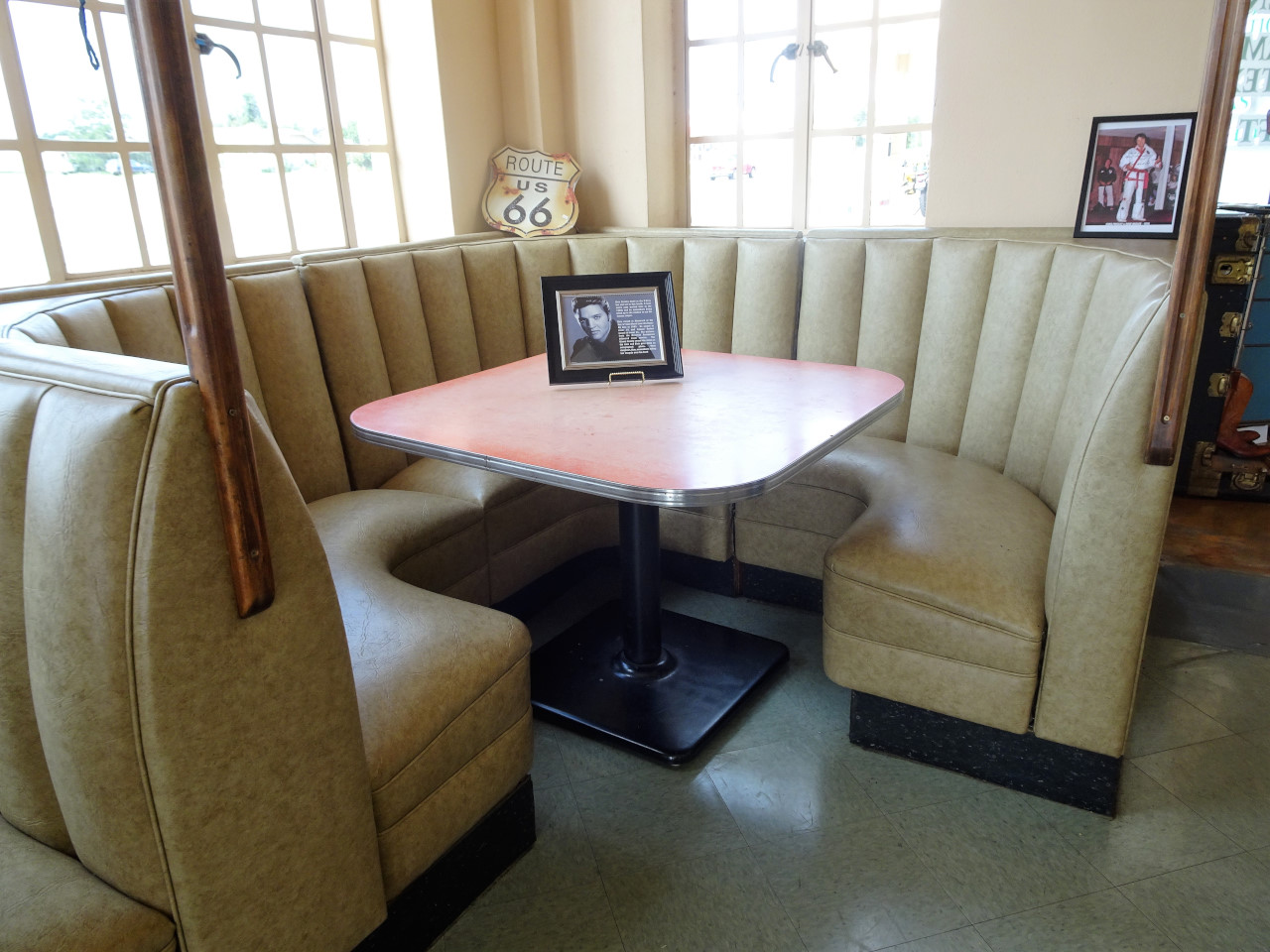 Whilst I was there a tour group pulled up on hired Harleys – I assumed that they were from Mexico given that they were all speaking Spanish.  The men were riding the bikes and their partners were travelling in a bus.  They couldn't believe that I was on my own and riding my own bike in another country;
I promise the girls that I would call in when coming through with Mick and then go and have a look at around the town;
I had to put the above photo in for Dave (FO) and Sonia.  Some of the buildings are classic;
I call in at the local PD and what a circus it turned out to be.  I meet the Chief (Joe) who 'is the law' in the town and would be at home in any television show;
His wife does all of the office admin and basically runs the show.  Whilst I was there another guy (Bill) came in who I find out to be a retired Police Officer and Vietnam veteran from San Francisco.  Bill is a filmmaker and is currently travelling around the country to get stories for a doco that he is doing.  I think he has found a great story in Joe.
Bill is a top bloke and without hesitation invites me to visit his place and stay a few days during which time he will take me out on his boat and sail around the Golden State Bridge – unfortunately the timing is not going to work this trip as he will not be home until September and I will be in and out of SF before that.  I hope to catch up with him most likely next year and take him up on the offer (I also made mention that my good mate in Sydney was a ferry skipper and could take him for a ride around the harbor – thanks Cowps).
I get back on Fred and after a few miles cross the border into Oklahoma.  My next stop is in Sayre where I call in on the local PD and speak to the Chief who is a miniature Arnold Schwarzenegger (no way we could position a gun how he had it mounted for a cross draw on his belt).  We have a laugh and he confirms that I am now getting into real cowboy country.  He suggests I call in at the Sheriff's office and gives me directions how to get there.
I get around to the Sheriff's office and as I pull up I see an 'old' guy with a 10-gallon hat getting out of his truck – turns out that he is the understudy (2nd in charge) to the Sherriff and invites me into the control room like a long-lost brother.  He tells one of the troops to go and get me a patch – there is a bit of a wait and I am thinking they mustn't have one.  Obviously they didn't want to let the boss down as one was produced that still had part of a shirt sleeve attached to it. Ha.
I leave the gaol and take a few photos around town;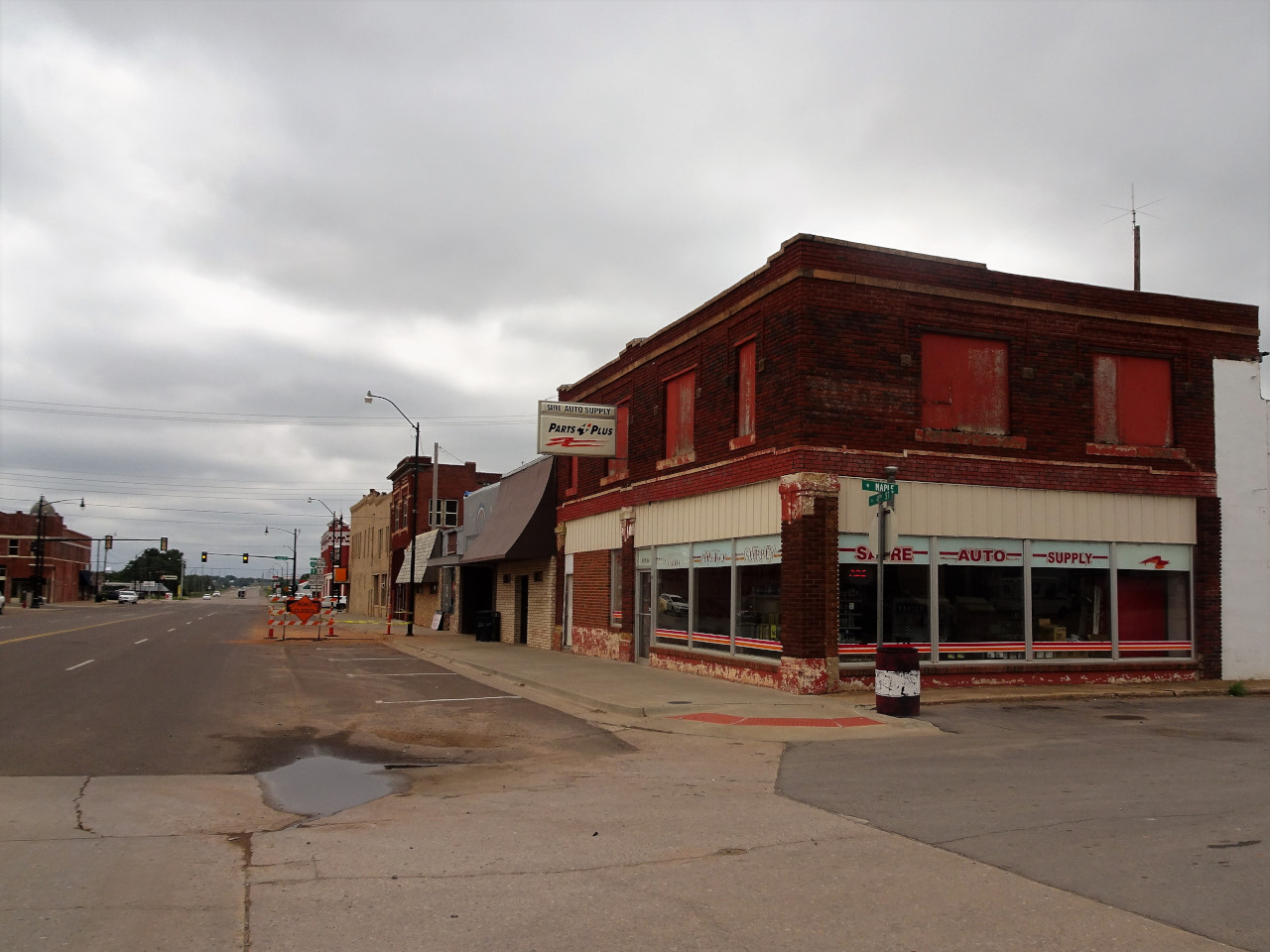 From Sayre, I ride only a bit up the road to Elk City.  I call in on the PD and was fortunate to meet Lt Shane Tuck.  He gives me a tour of the station and tells me that they average over 1,000 arrests per year which is over the top for a town of just 12,000 residents.  Reason for the high number of arrests is due to the young guys who are employed in the nearby oil fields who come to down to live it up – lots of disposable income and youth doesn't mix!
Shane shows off the station's armory and invites me to go for a shoot on their range when I come back thru doing Route 66.  He is quite proud of their range as it's the best one in a '100 miles'.  He tells me that they have every type of weapon (including fully auto) and bullet usage is not a problem!  Should be fun;
I take a few photo's around town before I head off;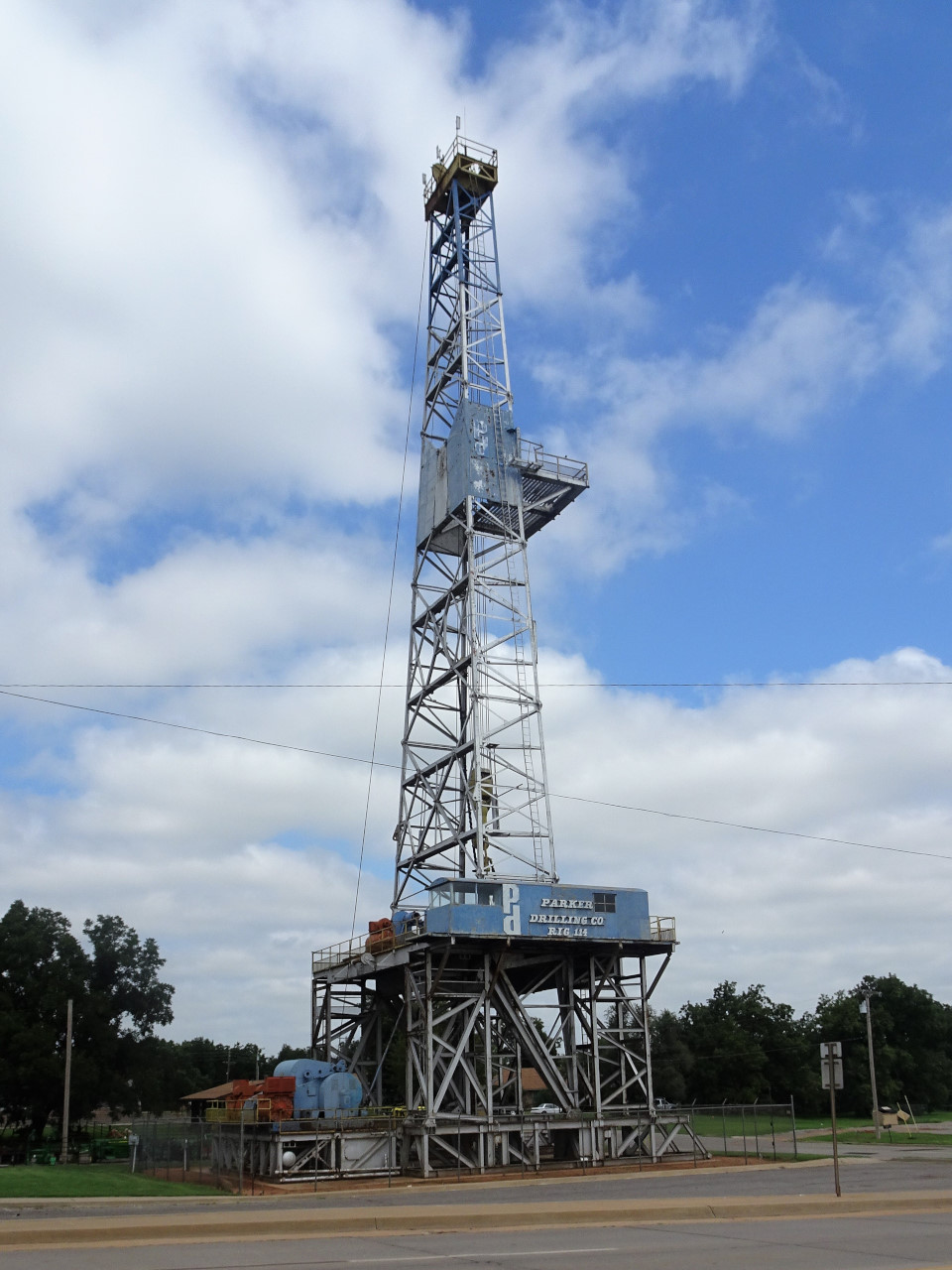 Next up is Clinton and you can see how some things died when the Interstate replaced Route 66;
I call in at the Cherokee Trading Post to fuel Fred up and have a coffee.  It is an interesting truck stop and there is plenty to see while I take a break;
I continue and go via El Reno which is a small town off the main Interstate.  I have a chat with a Sgt at the local PD and he tells me that I am very fortunate that the weather is cool and good for riding as normally in August it's over a 105'.  He also tells me that I wouldn't want to be riding thru there (or Kansas) in April / May due to the tornado's.  The most devastating one in recent times was in 2014 where the tornado lasted for over an hour and had a front of more than 4 miles (plenty of footage on Utube);
By now its late in the day and I keep on going.  I find out the I am in Garth Brooks country;
I took the above photo with my left hand as I was riding along! Ha.
I finally get to where I am staying and it's a relief after a big day.  I go to follow the instructions I have been given and cannot for the life of me find the key pad to open the roller door.  Yet again another 4 phone calls and 30 min delay before I finally get on to the host who directs me how to get in.
I unpack and then go down to the local supermarket and buy a big steak and some  vegetables given I have not had anything healthy for what seems like months.  I get approached in the carpark by James who I give my blog details to.  I checked just now and I am up to 113 followers!  I am thinking that I should be selling real estate….