After the mountain incident I spent the next couple of days catching up on a whole lot of different things. One was to sit down and plan the next stage of my trip so I could make my to Memphis. I will most likely go from Colorado Springs to Albuquerque, Amarillo, Oklahoma City and then Memphis. One task that was not planned was to buy a pair of chemist reading glasses.
I was heading down to the Supermarket on Fred when a lady got beside me and shouted that I had dropped my glasses on the road. I did a u-turn and went back and found that they had been run over numerous times by cars behind me. Doh! I must have left them sitting on Fred's seat.  I continued on to the Supermarket and tried a few glasses on before settling on a pair that any grandmother in a nursing home would be ashamed 0f! I wasn't overly fussed though as I have a new pair at home and the ones destroyed have been on the way out for a while.
Later that afternoon, Jason and I drove out and met Sonia just outside the main Hospital gate entrance at the Fort Carson Army base. We were meeting her as she was taking us on to the base for a free outdoor Country Rock concert being performed by Billy Currington. Currington is a US singer/song writer and quite big in the rock country world.
The concert was to celebrate 100 years of the 4th Infantry Battalion. I didn't realise what a big deal it was until I actually got there. The concert was for the troops and families so I was bloody lucky to get in. The US Army Sgt Major (Daniel Dayley) warmed the crowd up and that in itself is was a treat. He holds the position of the highest enlisted member of the US Army and is the adviser to the pentagon! He acts as the representative of all enlisted members with the Commissioned Officers.   It was obvious the troops love him and to hear them all chant USA USA was fantastic. I will also mention that he looked like a soldier personified and I have no doubt he got to where he is as a result of grunt and not academic studies.
The size of the base is incredible.  It was built in 1942 and covers 137,000 acres (55.5k hectares) of land.  It is the home of the 4th Infantry Division and the 10th Special Forces Group.  The number of personnel and equipment is bigger than some countries – the gates to it are actually sign posted on the Interstate (I lost count after Exit 20).
I should also mention NORAD – the North American Aerospace Defense Command.  The command is primarily based at the Peterson Air Force Base.  What I find interesting is the alternate command post that is located directly opposite Fort Carson and is embedded in the Cheyenne Mountain  – this is ultra restricted and is designed to protect the country (President) from the Apocalypse.  Air Force one can actually land and be stored there.   My mate Bill has been inside when working as a geologist – I think they erased his memory though!
I went about getting some photos;
I had to put in the photo of the toilets because my wife and I are always saying there never is enough of them when we go to Phillip Island (Australia motorbike racing venue).  Clearly the ability to have a clear run to the toilet is as important to the US Army as us!
The amount of gear on display with 'real' troops to explain it was a highlight. Not very often you get the opportunity to have a look close up.
Budweiser sponsored the event and produced a special beer can to commemorate it;
Billy Currington came on and was fantastic. You could see that he was enjoying himself and relished the opportunity to thank the service members for their continued efforts. I actually recognized a couple of his songs as Gavin had been playing them to us for that purpose. I really rated the performance;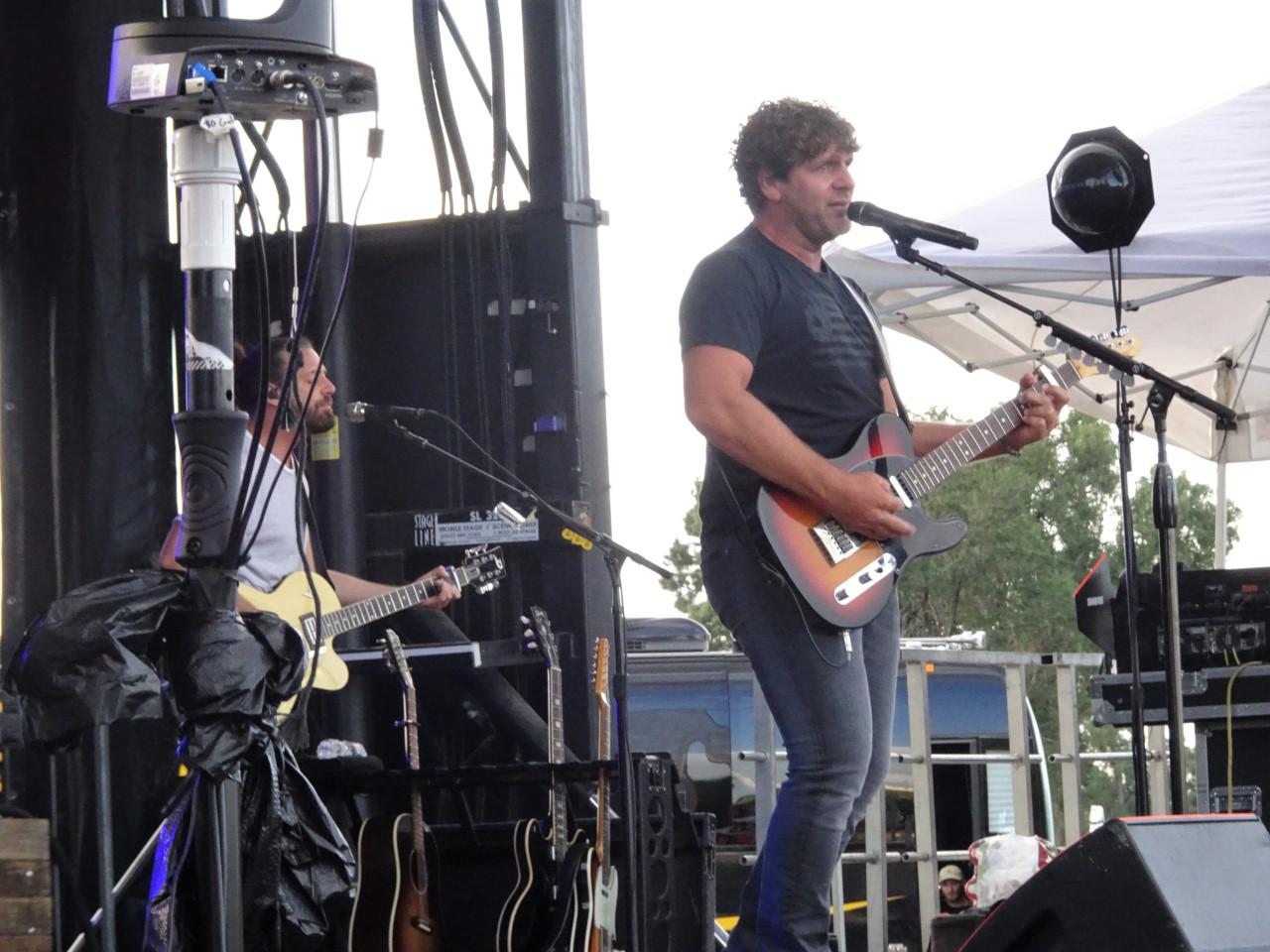 Sonia cracked me up. How did I know that somehow she would get to the front of the stage? Check out the Budweiser shirt she is wearing;
To explain Sonia's t-shirt.   On arrival I could see the Budweiser girls getting reading for air-gun shooting the t-shirts out in the crowd (I think this was banned in Australia as a bird was accidentally killed).  I went over and asked if I could get one given I have traveled all of the way from Australia. Ha. No worries – given a t-shirt and I made Sonia put on!
I also met this dude;
His surname is Robinson and the reason he is laughing is because I told him that back in Australia his nickname would be Robbo or Knackers! Ha.
Just as we were leaving I got a photo with this young lady (Commissioned Officer).  She told me her fiance is a Ranger (I am thinking he is not like Chuck (Walker Texas Ranger) Norris;
At this time I made Sonia into a can lady – you were not allowed to take the beer cans home and they had to stay on the base.  I thought they would make good mementos so I rounded up a few (also some limited edition red Colorado ones) and gave the lot to Sonia to put in the car (I thought everyone/anyone would be too scared to tackle her).  I then hunted down the caps (this is a story in itself as the caps were kept by the bar staff when the bottle was handed over).    Needless to say I was far more ingenious in getting them then they were at keeping them!
I started to head back to the car and was walking past the Budweiser van when I saw Mr Bud (boss).  I went over and introduced myself and asked if he had something I could take back to Australia.  He told me to wait and he came back with a kick ass Ralph Loren Polo top (for Helen) and a baseball cap.  I collected all of my booty and rejoined Sonia and Gavin back at the car.  We had that much crap in the car we couldn't stop laughing!
After the event we met up with Dave and Trevor at a Pizza shop near the base – the food was fantastic;
The funny thing here was that our waiter considered himself to be a beer expert as the shop prided itself in having beers from all over the world.  He was destroyed when I told him that Fosters was crap and the real beer of choice was Carlton Draught (lucky Jack wasn't there!).
He also got a serve from Sonia when he brought out her calzone that  was completely the wrong type to what she ordered.  In true Aussie style I managed to get half of it over on my plate before he took it back.  It may have been the wrong order but it was the best calzone that I have ever tasted!
Back at home we went over our spoils of war;
I was also given a bud lite t-shirt which I politely left for Dave (if I wore that back home I would be an outcast).  To say I have enjoyed my time with these guys is a total understatement.  It has been a blast and one that I will always remember with a smile.  Can't wait to see them again!
Check out this link to Billy Currington;