Next morning I head into downtown Amarillo and take a few photos of the old buildings;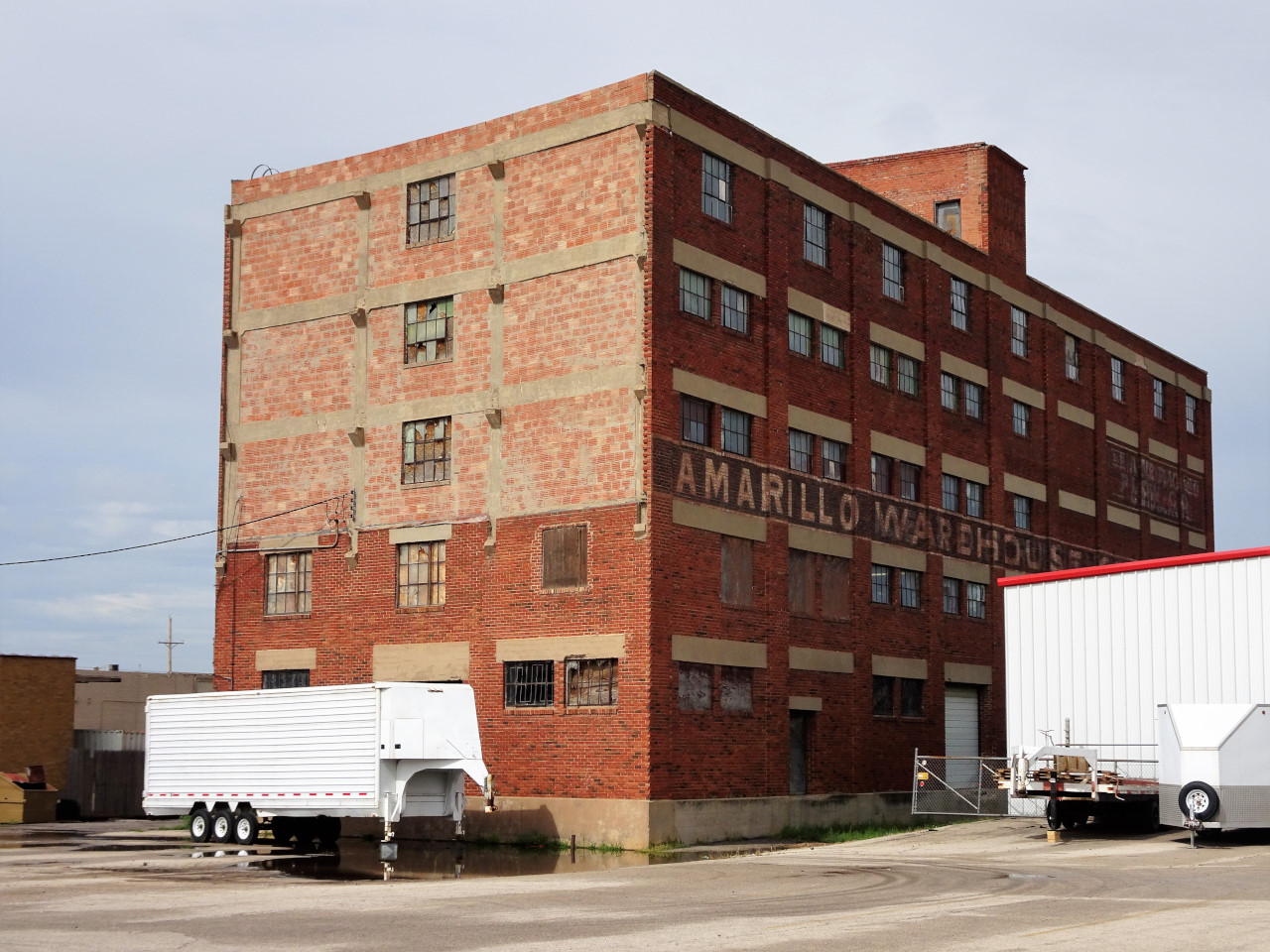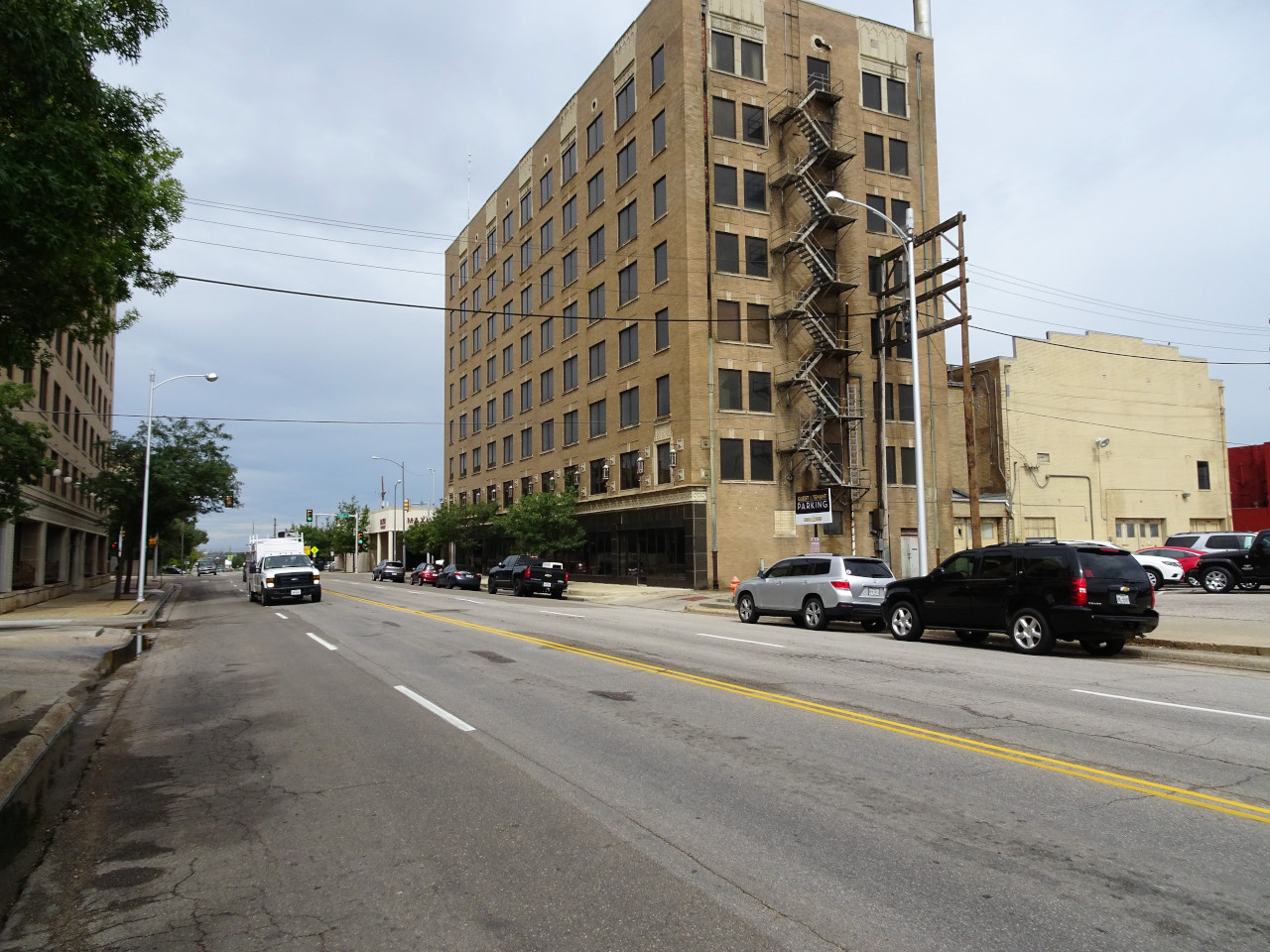 I then head out to a place which I had read about;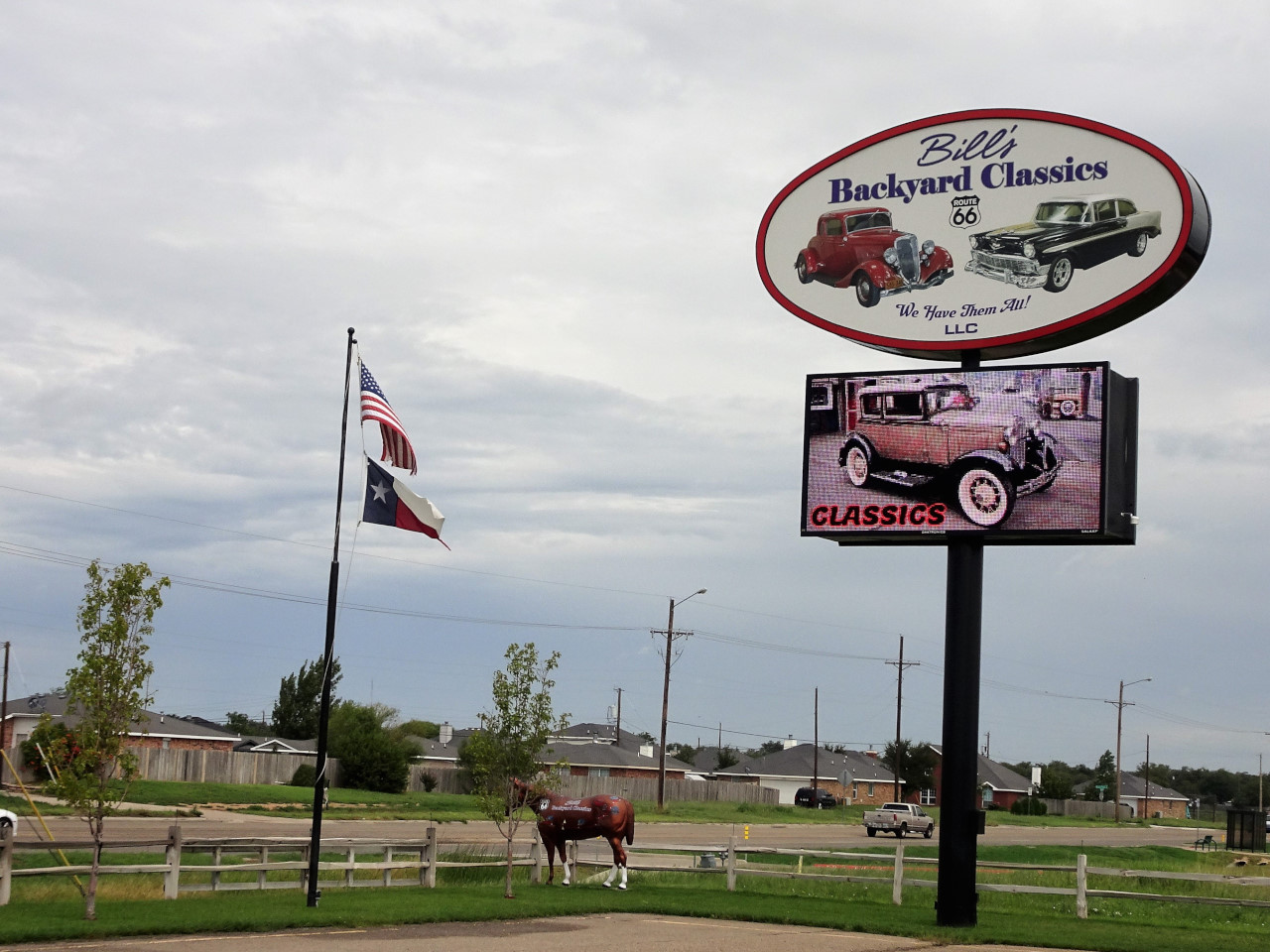 I pay a lad $10 for the entrance fee and he gives me a guided tour of the collection which is spread out in 2 large sheds – sad part is that the owner (Bill Pratt) has run out of room and a lot of great cars are sitting out in the weather.   I get the story about Pratt;
Bill Pratt is in his 70's – he made (makes) his fortune from micro beef technology – putting micro chips in cattle to maximize their growth.  Just over 2 years  ago he decides to embark on his collection and purchased 179 classic cars that were in all sorts of condition.  At the site he has a employees / workshop to work on the vehicles – they don't do paint or interior and send the cars off site for that;
This next car I want to highlight given its only done 15,000 miles and has not been touched.  It was found in the garage of a very old lady.  Usually garage 'finds' still require a lot of restoration given rats get to the interior but this has not been touched and everything is original;
A few more photos;
The above vehicle was sourced from Canada as only about 700 were made.
Now the next car I found interesting – it came with an ashtray that had a self cleaning function – it worked by air vacuum and the ashes ended up in a glass bottle!  Not bad for something made in 1934.
So another 30 min stop turns into well over 2 hours.  I then head off and call in on the local Sheriff;
I have a chat / laugh with a couple of great people and get given a couple of patches and coin.  Whilst I was there the solar eclipse took place as well so it was all happening.  I  saw a couple of guys getting around in what looked like historical prison garb – I thought that they were guards who were doing some sort of photo shoot (they were dressed in the old grey/white hoops).  No way – they were inmates! Ha.  I end up having a chat to them and they both had about 12 months to go.  Same old story – drugs/alcohol behind their offending and now clean you would think they are just normal young fellas.
I ride about 5 miles to 'Gander' – massive sporting outlet store (sporting goods over here is guns / ammo / bows / clothing etc).  The Gander store chain has been taken over by another company and this particular store was being closed down.  I was after a new backpack and was lucky enough to get this one;
I find that due to everything I am doing I am wearing stuff out – the zips on my trusty old bag had given out.  Parked in the carpark was this bad boy;
From the store I headed up the road to the Cadillac Ranch RV park;
Just a mile away is the public art piece that was created in 1974.  Cadillac's were buried in the ground to highlight their tail fins.  People who stop and visit the piece are encouraged to paint graffiti on them.  This piece was featured in Billy Connolly's Route 66 documentary and I was really excited in anticipation in seeing it.   To be honest what I found left me underwhelmed in that it looked like a rubbish dump;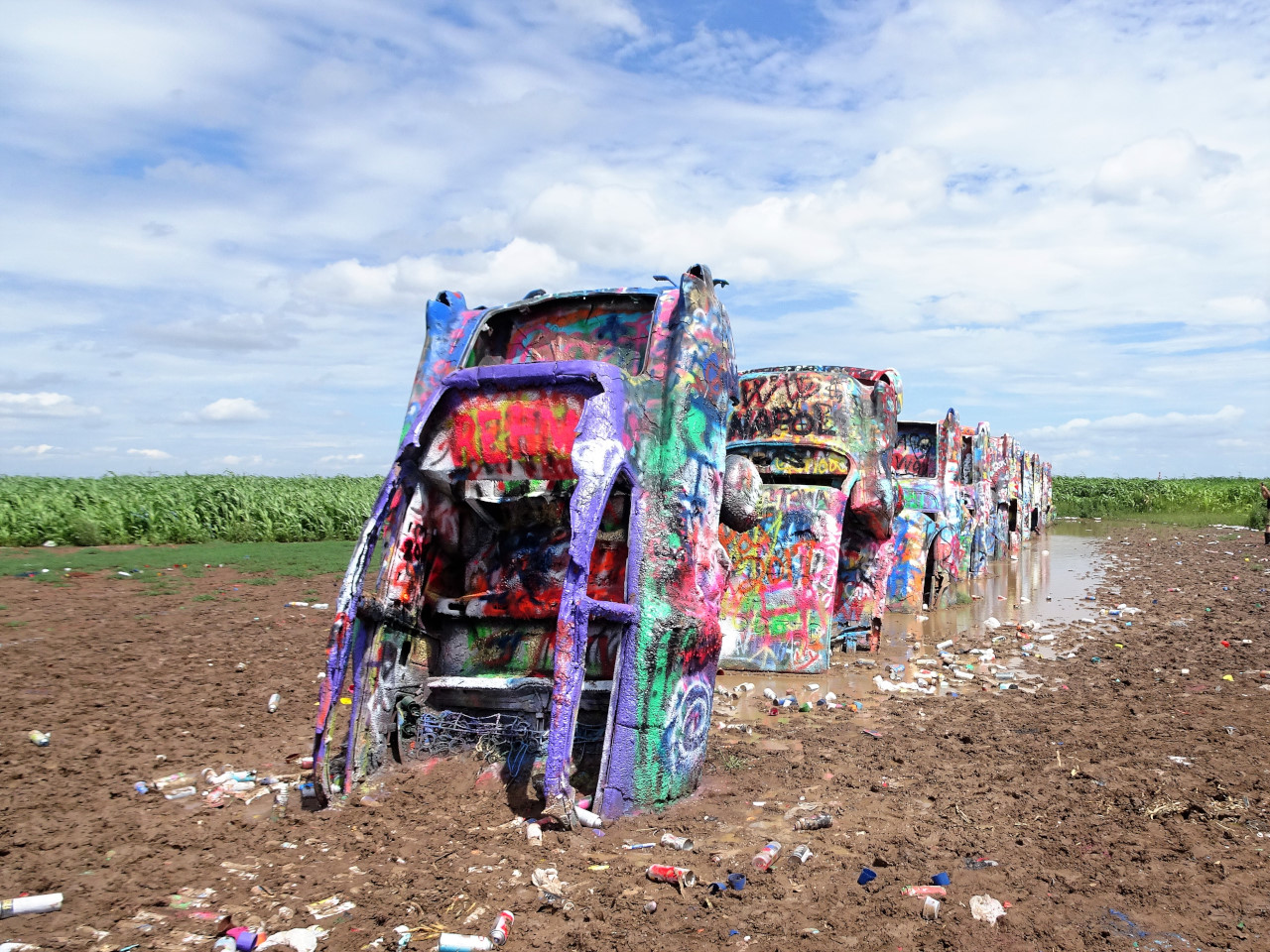 The one shining light that I found was these guys who were picking up the rubbish;
Grant, Gabs and Courtney do volunteer work for START where youth try and make a difference.  The girls are from New Zealand and Grant is from Melbourne (Victoria, Australia).  They wanted me to stay and fill up garbage bags but I negotiated to pick up 3 pieces of rubbish on the way out!  Great kids and good to see them doing such work.  I couldn't help but think though that the local council should be doing something as well given the amount of tourists the piece attracts.   I know with certainty that if Billy Connolly announced a return visit the rubbish would suddenly disappear.
I picked up my 3 pieces of rubbish on the way out and put it on the pile;
People will try and make money out of just about doing anything.  There was a guy sitting in a car who sold pendants that had paint chips from the Cadillac's embedded in clear plastic.  Good grief;
He also sold spray paint cans to the tourists.  He wasn't impressed when I asked him if he thought about giving a small refund if people put the cans he sold into a rubbish bin.  From the rubbish tip I went to back home and sorted out dinner.
The next morning I set off to see a few things that I had not got to the day before.  First up was the Clements State Prison which was located directly opposite from where I was staying.  The prison's capacity is just under 4000 and holds all types of offenders.  It is massive in size.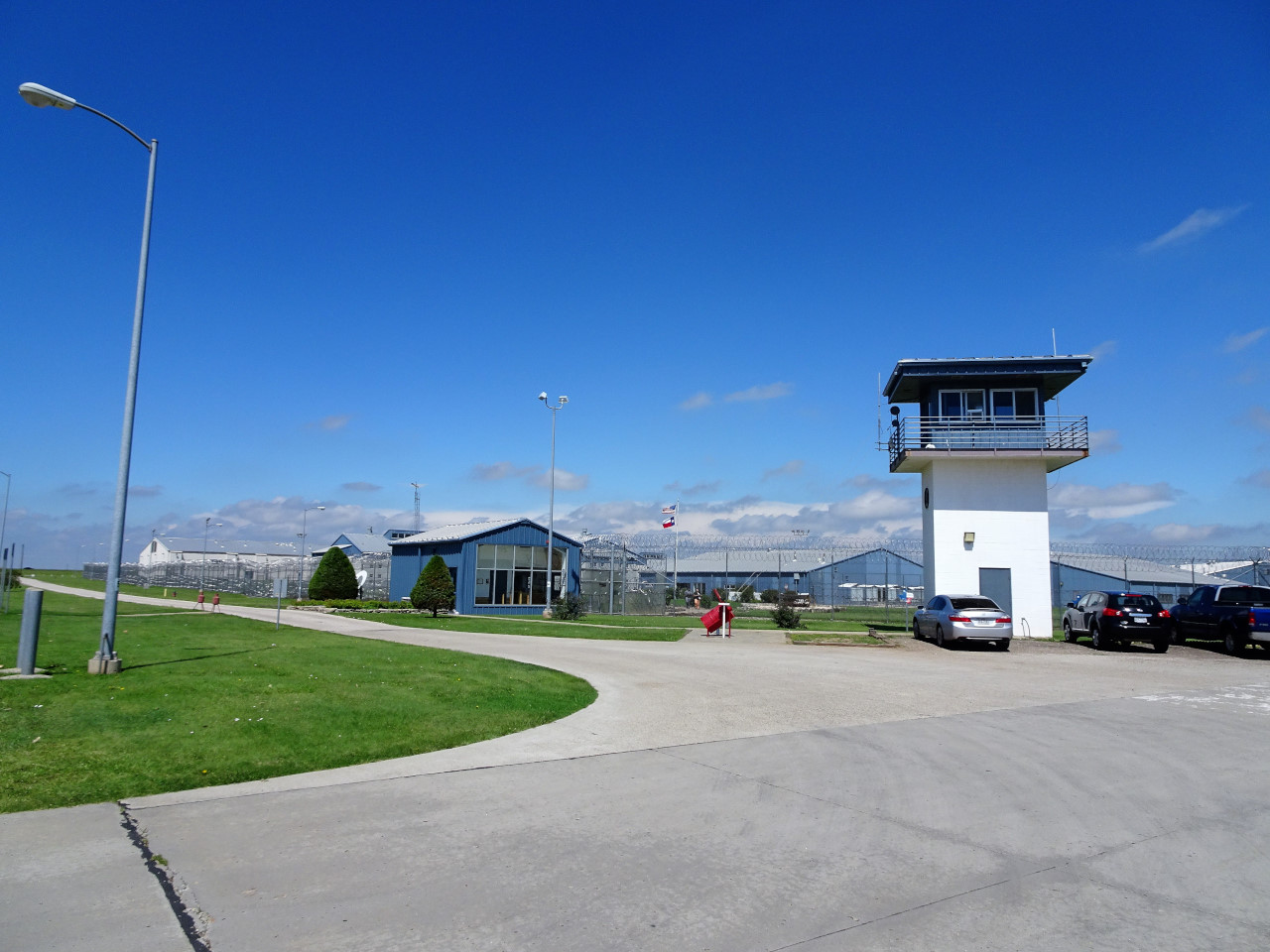 Next I dropped in at the Texas Steakhouse;
Its claim to fame is that if you can eat the massive 72 oz steak (2 kilo) you get it free.  I found the restaurant way over the top and most likely designed for Chinese tourists.   Speaking to the locals most agree that Logans is the best value steakhouse in town.
I go into the Texas Steakhouse and take a couple of photos;
As a result of a recommendation by a young lad, Brandon, who was also staying at the same place I was, I went out and had a look at the Bell Helicopter Factory;
Also out there is a really cool place to have breakfast.  I missed out as I could only get out there after lunch;
You can eat whilst you watch the helicopters being tested – flying overhead and around the place.  There is also other airport activity going on;
I call it a day and head back home to get Fred packed and ready for the next leg.  On the way I found a freight train;
I was lucky later that evening when Brandon looked at my laptop (computer gun and Windows 10 certified).  I had been having dramas with my laptop whenever I got a windows update and would lose the camera function – this in turn meant I could not use the  video function when using skype with my wife.  I may have a good face for radio but my wife does like to see me!
It was a laugh watching him sort it out – he had my laptop on, his laptop analyzing, and also using his phone re net.  Talk about multi-tasking!  After about 30 mins he had it all sorted.
I tossed up whether I should just finish this blog here or put the next bit of information in but it's all part of the experience!  Basically, the guy (host) where I stayed was a total arrogant fkwit.  I am not sure whether it was because that is just the way he is or whether it was a show for me given that I am a police officer (clearly hates them and massive chip on shoulder).  He was loud, rude and spoke to his wife like she was his servant which is a big button pusher for me (his wife was actually a very nice primary school teacher).   We got off to a flyer when he asked why I was riding such a small bike that was useless in the US (insulting Fred is poor form and if Fred heard it he would have dropped petrol on his pristine lawn) and things did not improve.  I tried to be diplomatic but that came to an end when I found him snooping in my room.  Needless to say, our paths will never cross again if I have any choice in it.
So, the initial impression of nice house and a nice place to stay went out the window and another lesson learnt.