It rained again overnight so under the veranda Fred went again;
There was thick fog around and although I waited for a while I had to set off in the thick of it;
My aim was to travel as much as I could on the actual Route 66 road and go thru all of the small towns that had been a big part of it.  Just out of Pontiac I found that the old road was in bad shape and no way you could ride on it;
I call in at Chenoa and take a photo of an original advertisement;
While I was taking a photo I was approached by a local shop owner (Bob) who wanted to know everything about Fred.  He told me that nearly every day he saw motorcycle riders pull up and take a photo (what I just did) but they all rode big Harleys that they had hired in Chicago – he could not believe that I had done over 16,000 klms!  Fred the superstar.
On the way out of town I found this old girl for sale;
There are plenty of signs / advertisements around towns highlighting Route 66;
I am able to do a fair few klms on the actual road;
You see a lot of old stuff incorporated with the new;
I go thru a few small towns until I get to Bloomington.  I pull up at the local PD and speak to the Chief – not only does he give me a patch and a coin, he comes out to inspect Fred.  Turns out the Chief owns a Harley and loves everything motorcycle.  Great bloke and we have a good laugh.
I go through more small towns.  I find proof that Police are 'Normal';
About now I start to realise how hard it is to follow the old Route 66.  I have a guide book but the drama is that often their are multiple roads for Route 66.  You see signs for 'Historical Route 66 – 1920 – 1940' and 'Route 66 – 1940 – 1977'.  I try to follow Historical Route 66 as this takes you through towns where as the other one generally goes around the town.  It gets really confusing when you see multiple signs that point in opposite directions!
So that is my excuse for getting completely lost – I thought I was following the sign posts but somehow ended up way out in the corn fields and even on a dirt track;
Now the absolute joke is where I came out at by total fluke;
I take a few photos around town and even find that there is a two man PD;
I was lucky that the Chief (Chris) was on duty – top fella who even gave me an escort to where Route 66 started again.  Never thought I would be going home with a McLean PD patch. Ha.
My next stop was only just up the road at the next town (Atlanta) as it was time for lunch;
No idea what the hell the giant Hotdog man was all about;
I have lunch in this great old diner;
After lunch I rode on to Lincoln where I stopped at the combined Emergency Services Centre – I was the star attraction and spoke to guys from Lincoln Police and Logan County Sheriffs Office.  Really enjoyable stop and they even gave me a Sherrifs SWAT patch which is a first.  I took  a couple of photos around town;
From Lincoln I rode just about all of the way on the old Route 66 to Springfield.  It is not easy though as its all over the place and easy to miss.  From Springfield I only did bits and pieces – what I am also finding is that it takes double the time to do the klms given how much you waste 'finding' the right road and taking photos etc.
I cross over the State line into Missouri and St Louis city limits;
It seems like ages but I finally get to my accommodation – the traffic coming into St Louis was borderline terrifying how crazy it was.  I just go next door to the Seven 11 and get something to eat.  Later I spend some time planning the next stage to Springfield (there are about 6 – 8 Springfield's in the US).  Hopefully the weather improves so that I can start camping again.
Day 2
Next morning I find no fog or rain but the forecast is for hot day.  I get packed up;
I drive thru the city and after about 40 klms I stop at the Route 66 Visitor Centre;
The premises has changed a lot over the years but originally it was a cafe / guest house on the old Route 66.   The road ran right past it – you can still see the original bridge;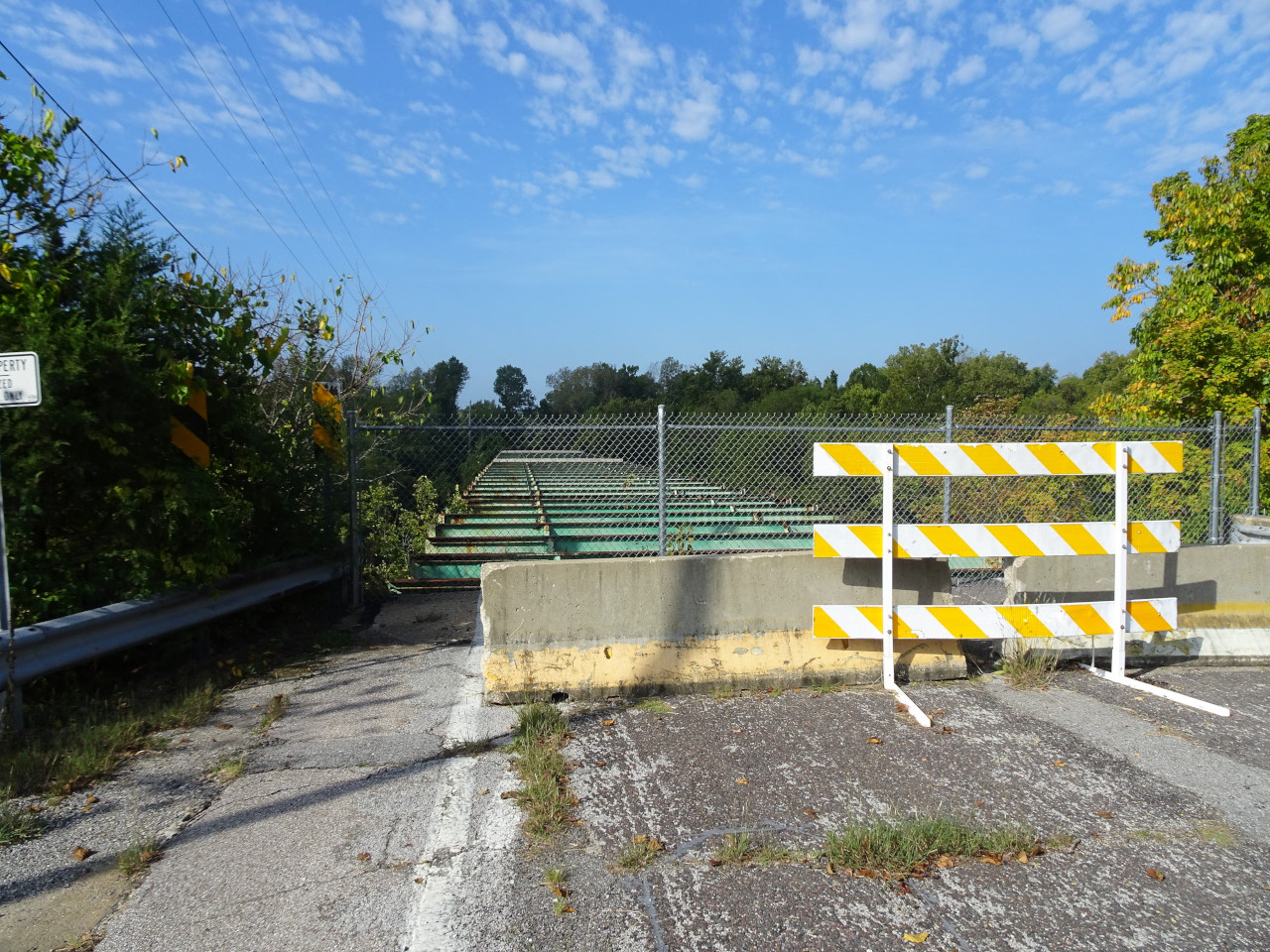 I go inside and the staff are great – they give me a map and directions for how to pick up where it starts again – about 10 klms further up the Interstate.  Its worth having a look out in the display section of the centre as they have heaps of old photos and even a few of the old signs;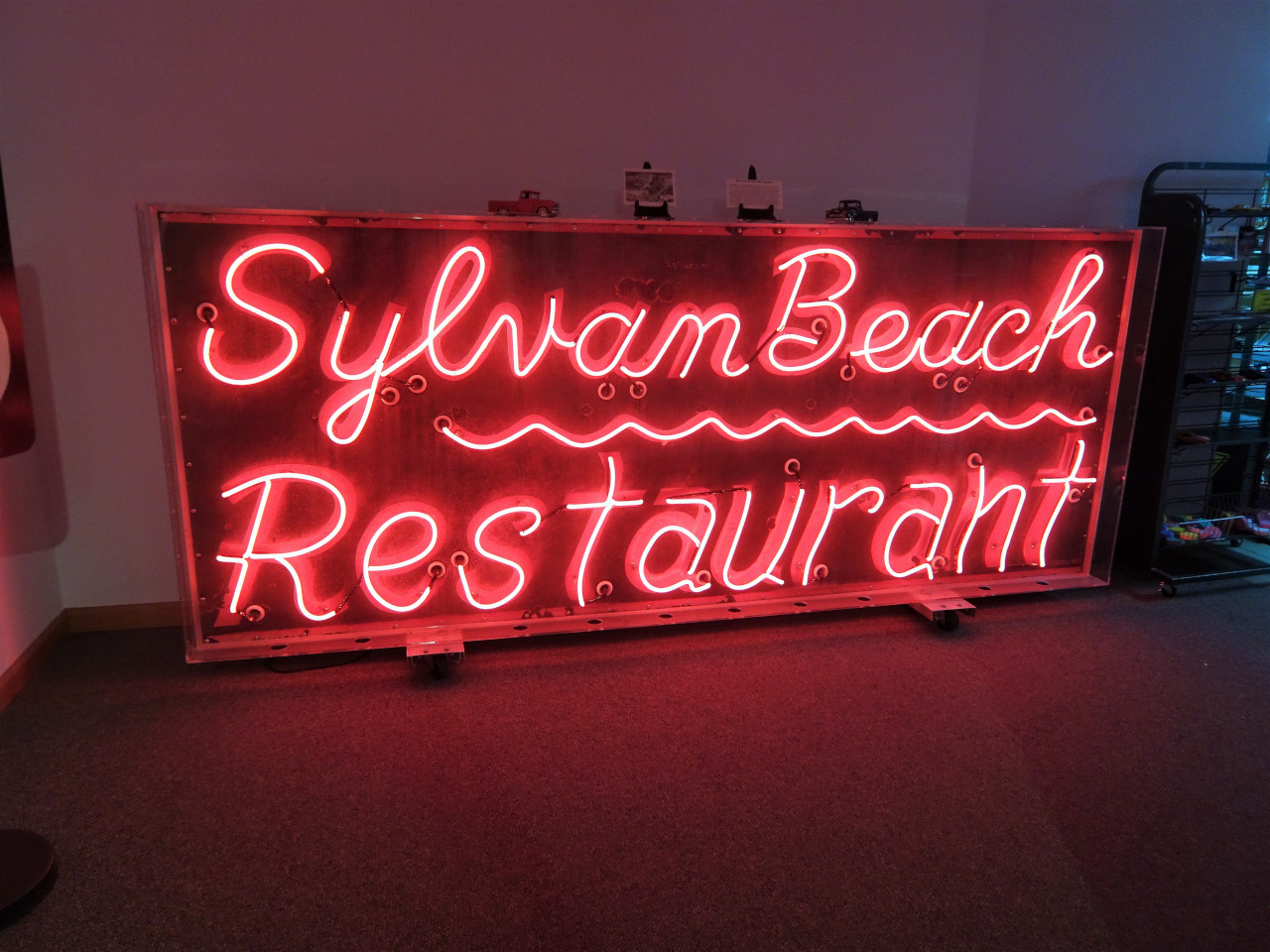 I get going and turn off the Interstate about 10 klms further on – for the rest of the day I ride on Route 66 and the road was quite easy to follow;
As I rode thru St Clair I saw a few great cars sitting outside a auto shop so I pulled over to have a look;
I go inside the shop and find 5 guys (all retired) sitting around having a laugh.  One of the guys is the original owner of the shop when it was a roadside service station – he now uses it with his mates to restore old cars into hot rods;
I have a good chat with the guys and tell them that their shed is nearly on par with mine. Ha.  I head off and my next stop is Cuba – a small town that is known for its murals.  On the way in I stop at the local PD and see this sign in the front window;
The PD was closed for lunch but due to open in 10 mins.  I decided to wait – whilst waiting a big guy pulls up on his Harley with his chick on the back.  They get off and are also waiting for the office to open so we have a chat.  "Bull" is in the 'shit' and has turned up to be interviewed by the local Chief about a certain indiscretion we don't go into.  We talk motorcycles and have a laugh.  We all go in together but I make sure that Bull and his missus go to the counter first and get taken thru before I announce what I do for a job! Ha.
I go into town and have a look at the murals – here is a couple;
This is meant to be a Hot Dog??
Later in the afternoon I find this old garage;
I go inside and speak to the owner (who is in his early 80's) who is the original owner and ran the business as a car dealership called Motors Rolla.  His wife had a shop next door but they closed it when she retired.   He has stayed on over the years selling classics;
I then drive the rest of the way on Route 66 – you can see how it is so much different to the Interstate that's beside it.
I pull up and call it a day.  Tomorrow I head for Tulsa in Oklahoma.