I leave Springfield and get off the Interstate to go thru Halltown so I can pick Route 66 up again.  Halltown was once a thriving with a large number of Antique shops – the only surviving one was shut when I went past;
Only 3 miles up the road is Paris Springs where there is an exact replica of a gas station from the 1930's;
I am really enjoying the ride on Route 66 in the country;
I am just sailing along until I run into a detour sign;
Notice the sign says "Local traffic only" so that means to me that I can get thru.  I keep on going and then hit this;
The workers are building a new bridge and there is no way thru on the main road.  I look to the right of me and see a 'Local' driving his truck down alongside the main road so I decide to do the same.  Instead of going back I just ride down the grass verge and on to the track;
By the time I catch up to the truck I see that its reversing back and can't get thru.  I go around him and stop at the crossing.  I hop off Fred and go and have a closer look.  The workers have got their truck parked on a very rough temporary rocky road over the creek – I speak to a worker who is mixing concrete and he tells me he would shift it but they are in the middle of a mix and can't stop.  I see a bit of a gap but decide that its not worth the risk as if I tipped over its a decent drop to the bottom.  Back I go to the first side road and have a detour on dirt;
I do a rough horseshoe and end up back on Route 66 at a small town where I find this old Post Office;
There is something about small towns and putting things on poles;
I stop at Carthage and call in at the local PD;
Inside I meet 'Chad' who lives on a few acres half way between Joplin and Carthage.  Chad previously worked for Joplin PD but was able to retire after 20 years service and now works for Carthage PD  (not bad for a 41 yr old).  Although he is a local in the area he has been fortunate to do a lot of overseas travel as he was on the US power lifting team when in college.
I decide to go and have breakfast and take a few photos – this town has a very unique city hall which is still being used as a courthouse amongst other things;
I find a great little diner to have breakfast at;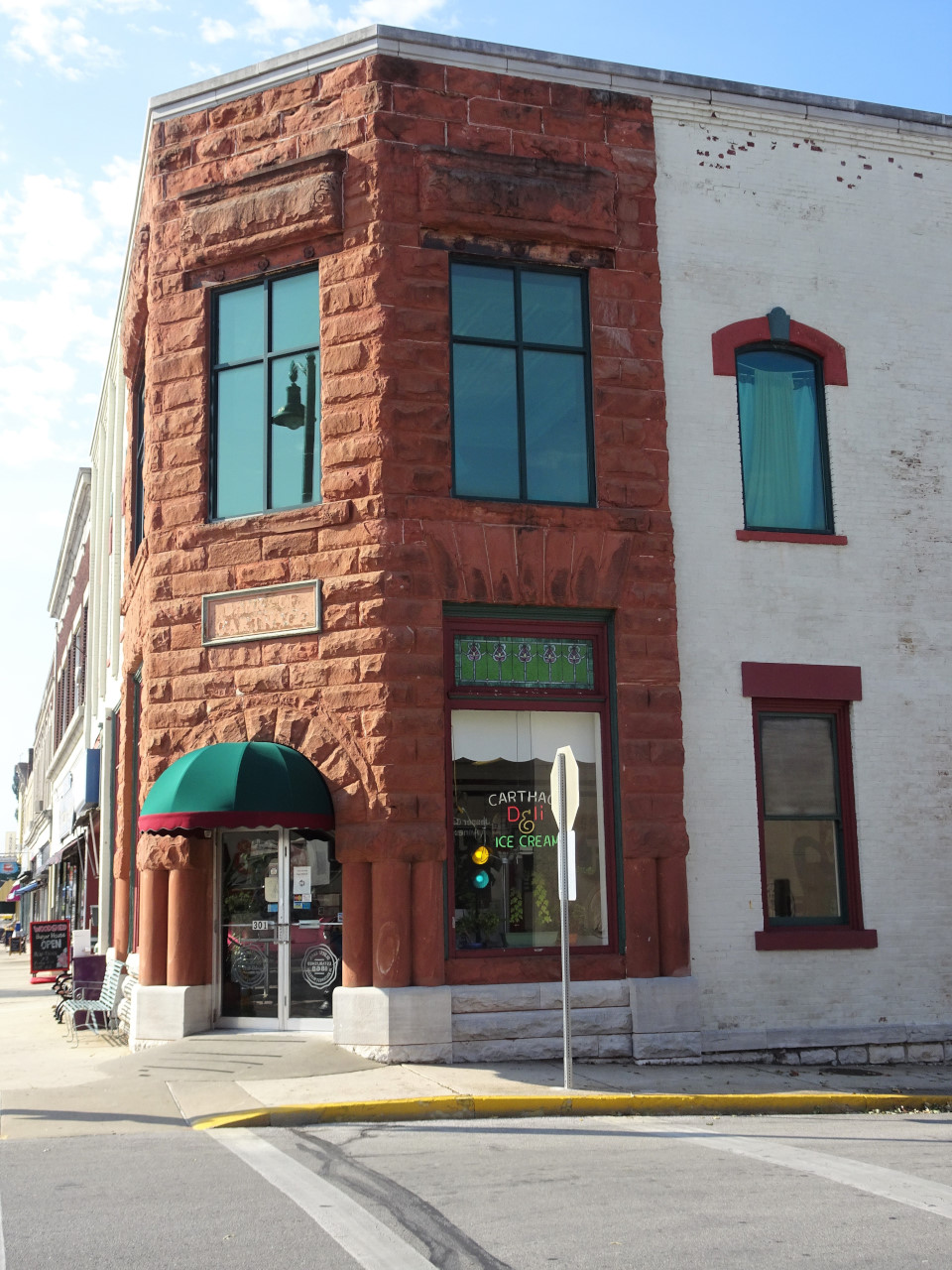 I head off again and go thru Joplin before I cross the state line into Kansas.  Here I go thru Galina and then Webb City;
You only stay in Kansas for about 15 miles so you are really only cutting the corner before you cross back over into Oklahoma;
I continue thru Miami and by now the Route is more like a standard highway – I still find some interesting things though;
I get to Claremore and decide to go and see the Will Rogers museum.  I am glad I did because it was a highlight;
At the rear of the museum is a huge garden where he is interred with his family;
The displays inside the museum were top shelf and even has its own theatre playing his movies and docos;
Telegrams that were sent to his wife after his tragic death in an airplane crash;
He was known for his wit and I think this is one of his best quotes;
               "It's great to be great, but it's greater to be human."
I find this old Cadillac parked outside when I go out;
I now just want to finish the day and head off with about 15 minutes riding time to get to Tulsa.  Just as I enter the city limits I see the State Highway Patrol office so I call in;
I am glad I called in as I met 2 x great lads who I end up talking to for about half and hour.  From there I finally make it to my accommodation.
Day 4 
Since leaving Jack and Mick a week ago in Memphis I have been non stop on Fred each day so I decided to have a day off and rest up (the last few days have been particularly hot).
I get up and check the football (Aussie Rules) results and find that the Adelaide Crows are now into the grand final – not my team but from my home town so good luck to them.
First up I go and give Fred a much needed wash and get just about all of the tar/bugs off him – he would now be at least 20kgs lighter.   After I finished with Fred I rode around to the local PD;
I spoke to a girl at the front desk who wanted to send me elsewhere however a uniform member overheard what she was saying and told me to just wait for a minute.  I saw him pick up a pair of scissors and head out of the office.  10 mins later he came back with 2 x patches that he had cut off and old shirt! ha.
From there I went and checked out a few things that were highlighted in my Route 66 guide book.  First up was the 'Cultural Crossroads" which really is just a cross road that has different shops on each corner;
The diner was decked out in old retro style but I found it totally full of tourists so I did not bother to stay and have anything.  I did find the antique shop to worth a visit as it had a lot of old Route 66 gear;
Next up was the restored and re-erected 1930's Meadow Gold Sign;
Then on to the Route 66 Village where I found a restored Frisco 4500 steam engine and passenger car.  Next to it was a 194 ft oil derrick commemorating the historic site of the 1901 oil strike that put Tulsa on the map;
Just around the corner was a historic gas station;
My last stop on the way home was the 'Cyrus Avery Centennial Plaza' which was built to honor Tulsa local, Cyrus Avery, who is identified as the father of Route 66 given his role in its development in the early 1900's.  Next to the exhibit is the preserved 1917 bridge over the Arkansas river;
I wind up my sight seeing and head back home.  I later get on to Mick and manage to actually Skype him!  Mick is heading home on the 27th as he managed to change his flights to go early.  I have already received an email from Jack who has made it home safely.
Not sure about the next stop but hopefully it will be further up the track.