Mick and I board the plane and get settled in for what we thought would be a quick flight to San Francisco.  I look across the aisle and see a young lady holding a British Bulldog pup on her lap.  I strike up a conversation and find out that she is a bulldog breeder and has traveled to Las Vegas to pick up 2 x pups that are only weeks old – there is another one on the lap of her friend who was seated behind her.  She tells me that you can now take pets on planes for the cost of about $100 but they have to be small enough that they can be put in a pet carry bag that rests on your lap.  It was funny watching the pup lap up his water from a cup she held out in front of him.  In about 5 minutes the pup was asleep and snoring loudly!
The Captain then made an announcement to tell us there is a delay of at least 1.5hrs due to the fog in San Francisco and we have to get off the plane to wait.  About 2 hours later we were in the air and on our way.
We land in San Francisco and I phone the Hotel to organise a shuttle pick up – 'no problem' I get told as the driver will be there in 5 minutes.  Nearly an hour later we get collected and dropped off a the hotel.   I fire up the laptop and work out that a Safeway is in walking distance so off we go to get some supplies.  It was about a 4 klm walk to get there and the big fella was struggling with his knee so he decided to catch a bus back.  We spotted a bus stop across the road and went over to see if it was the right one for Mick to get back to the hotel.
Up to this point we hadn't really spoken to any 'locals' but during our walk down to Safeway I had reminded Mick that he was in the gay capital of the world and he should be 'careful' as he may be a target of attention due to his handlebar mustache (Carl had explained to Mick the significance of having a goatee within the gay community).  So we go up to a very well groomed good looking African American who was standing at the bus stop to confirm its the right bus for Mick.  The guy couldn't have been more helpful and was over the top theatrical in his response to Mick (who he clearly took a shine to) and immediately became Mick's new best friend.
Knowing Mick was in good hands I left him and set off walking back to the hotel.  It was well and truly dark when I arrived back home but I was glad to get some exercise and a few miles in my hamstring.  To my relief I found Mick in the room (by himself) and getting his dinner ready.
The next morning I was picked up from the hotel by the Mayor (Scotts Valley) in her BMW convertible and she took me on a tour of San Francisco.   First up was Twin Peaks where you could get a view of the entire city;
There was a bit of fog around which was usual however you could still see Alcatraz;
While I was up at the lookout I checked this guy out;
The guy actually works for the company and was in San Francisco to see if it was feasible to set up the hiring of these small electric cars for tourists to get around in.  The idea is that you use them like a bike hire and when finished leave them at a charging station.  You can actually get 2 people in them but in reality they are very limited in space so large people wouldn't be able to use them.
From the lookout we then went down to Fort Point which is sensationally located directly under the first span of the Golden Gate bridge;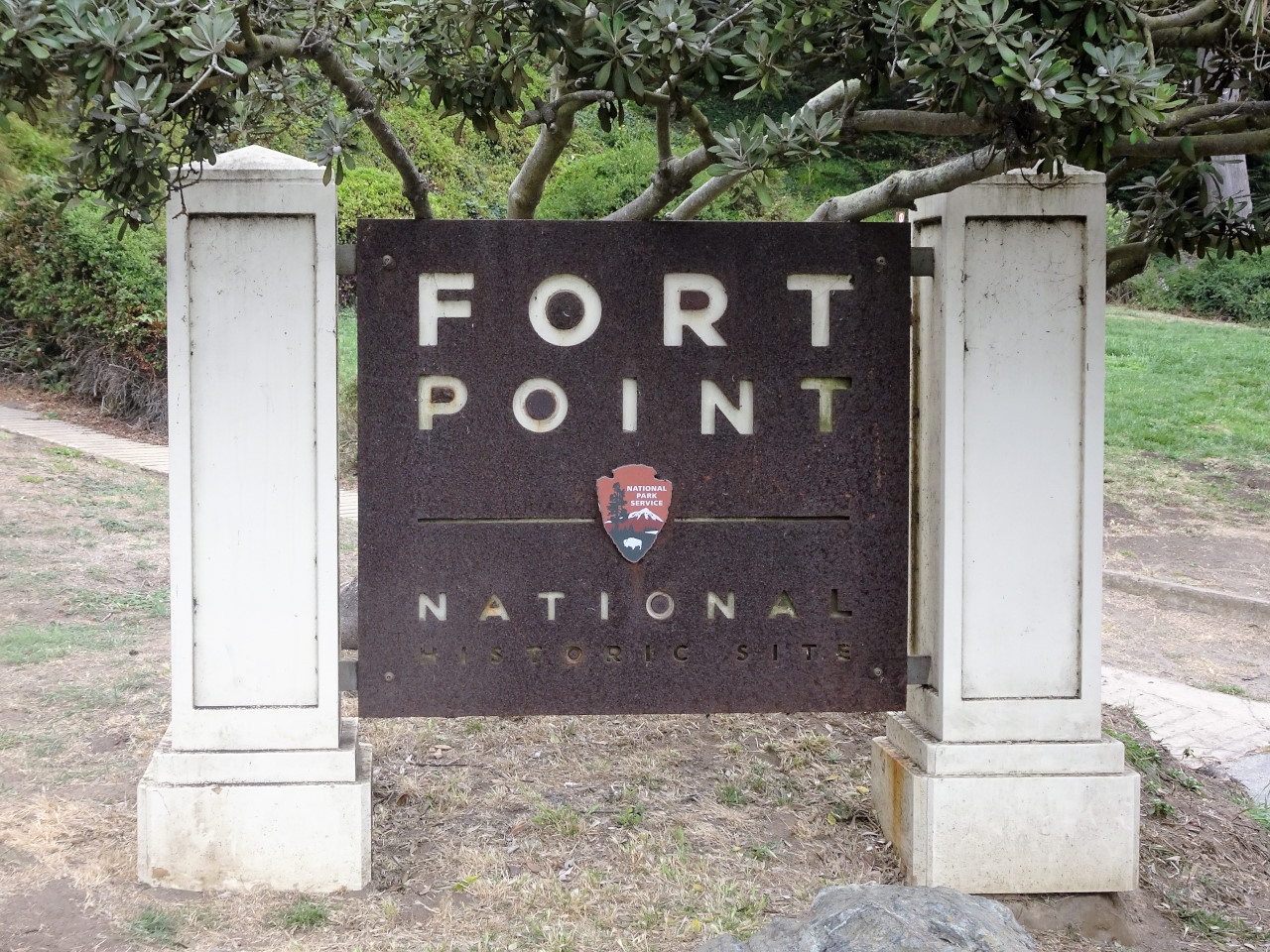 We had timed our arrival at the fort perfectly as a tour was just about to get underway.
The Spanish originally built a fort in the 1700's that was higher up on the rock face but the Americans relocated the site much lower so they could 'bounce' the cannon balls across the water.  The fort took 8 years to build using mainly unemployed miners and was completed just before the outbreak of the American Civil war.  Interestingly the fort never fired a shot in anger;
The fort was allowed to fall into disrepair and was in threat of being demolished when plans were being drawn up for the Golden Gate bridge.  Fortunately the bridge's engineer (Strauss) successfully argued for its preservation and modified his bridge design so that the fort could be incorporated in it;
From the fort we drove back up the hill and parked the car to go for a walk out along the bridge.  The first 200 metres of the bridge has high wire fence to stop people jumping off (suicides) and landing on top of people in the fort;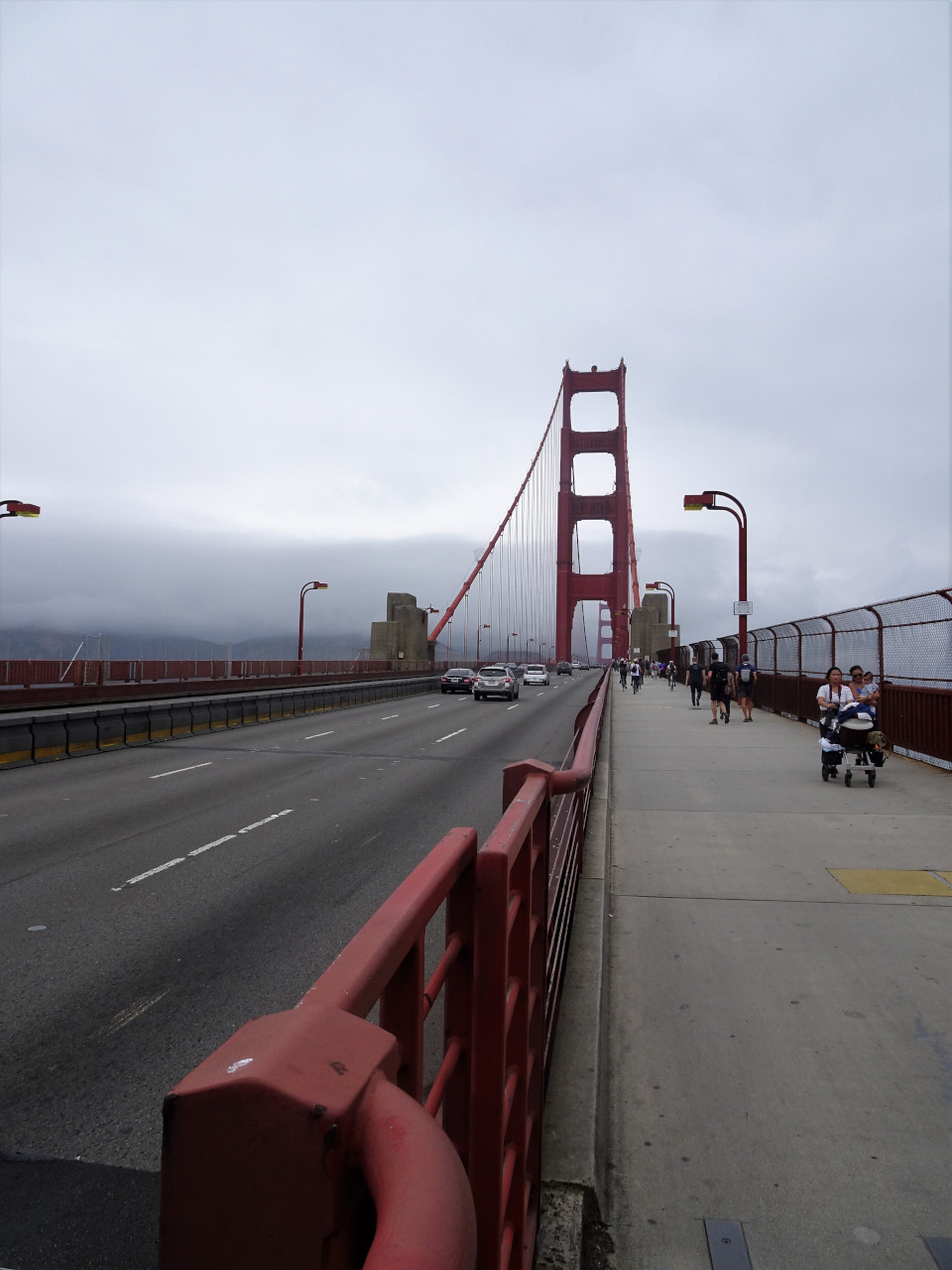 The view from the bridge was special;
We get back in the car and head into North Beach which is an older part of town and famous for its restaurants / bars;
We end up going to this very iconic Italian Restaurant;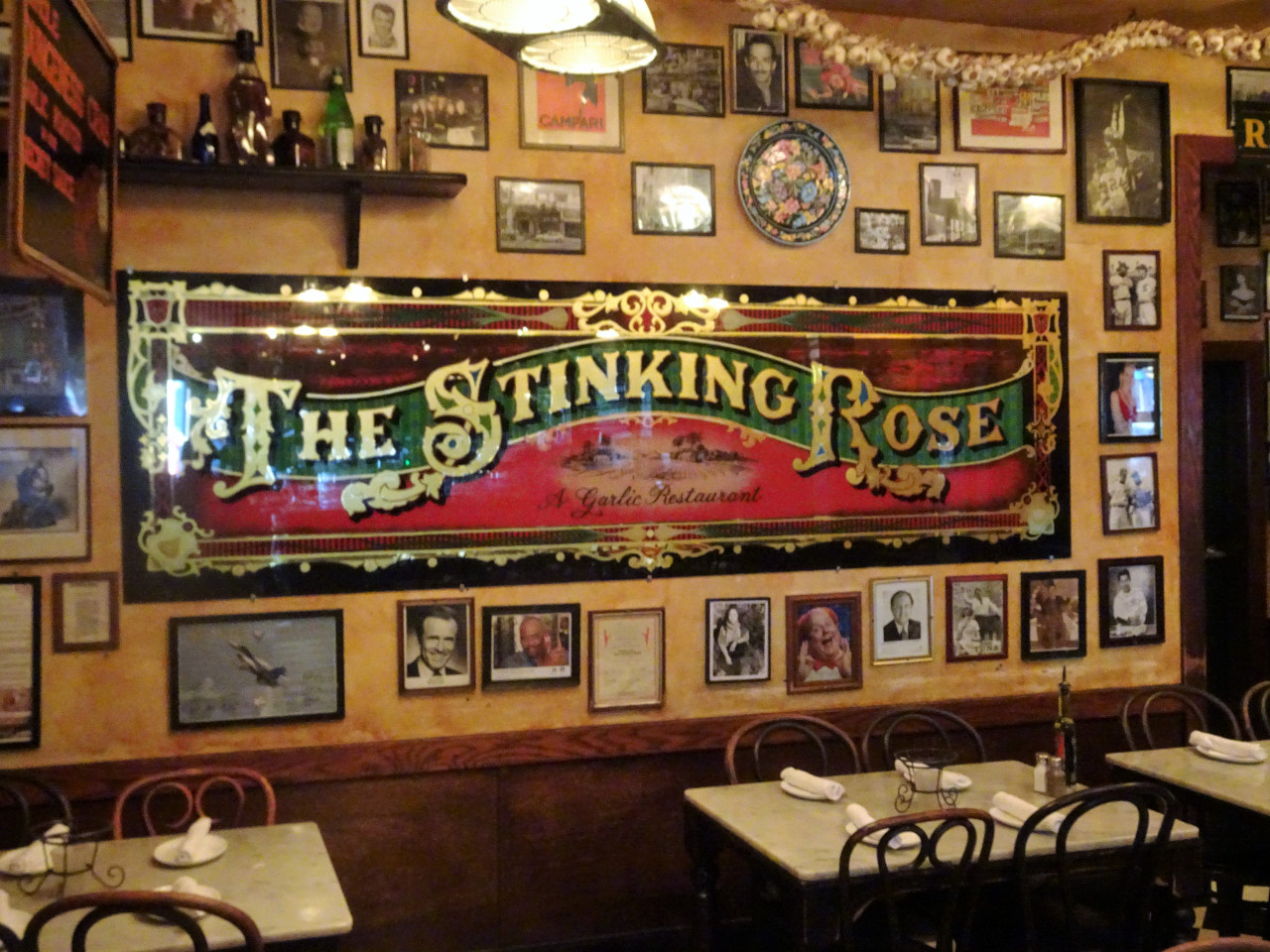 The restaurant has been around forever and the walls are covered in old photos of yesterday's stars – that in itself is worth a visit.  It is the first 'quality' meal I have had on the trip and the pasta was something out of this world!  What was even better was that the Mayor shouted! Ha.
After lunch we toured around the local streets that you often see in movies involving car chases;
We walk to the cable car musuem but unfortunately we were out of luck (by 1 day) as it was closed for maintenance;
We were able to catch a cable car that ran right beside the museum;
After the ride it was a decent walk back to the car.  Somehow we had managed to do all of our walking going up the hills and not down them!
I never really rated convertibles but driving around on such a great day in the Mayors car with the roof down was fantastic;
Next stop was Lombard Street which is known as the most 'crooked' street in the world having 8 turns amongst large flower beds which made you slow to a crawl;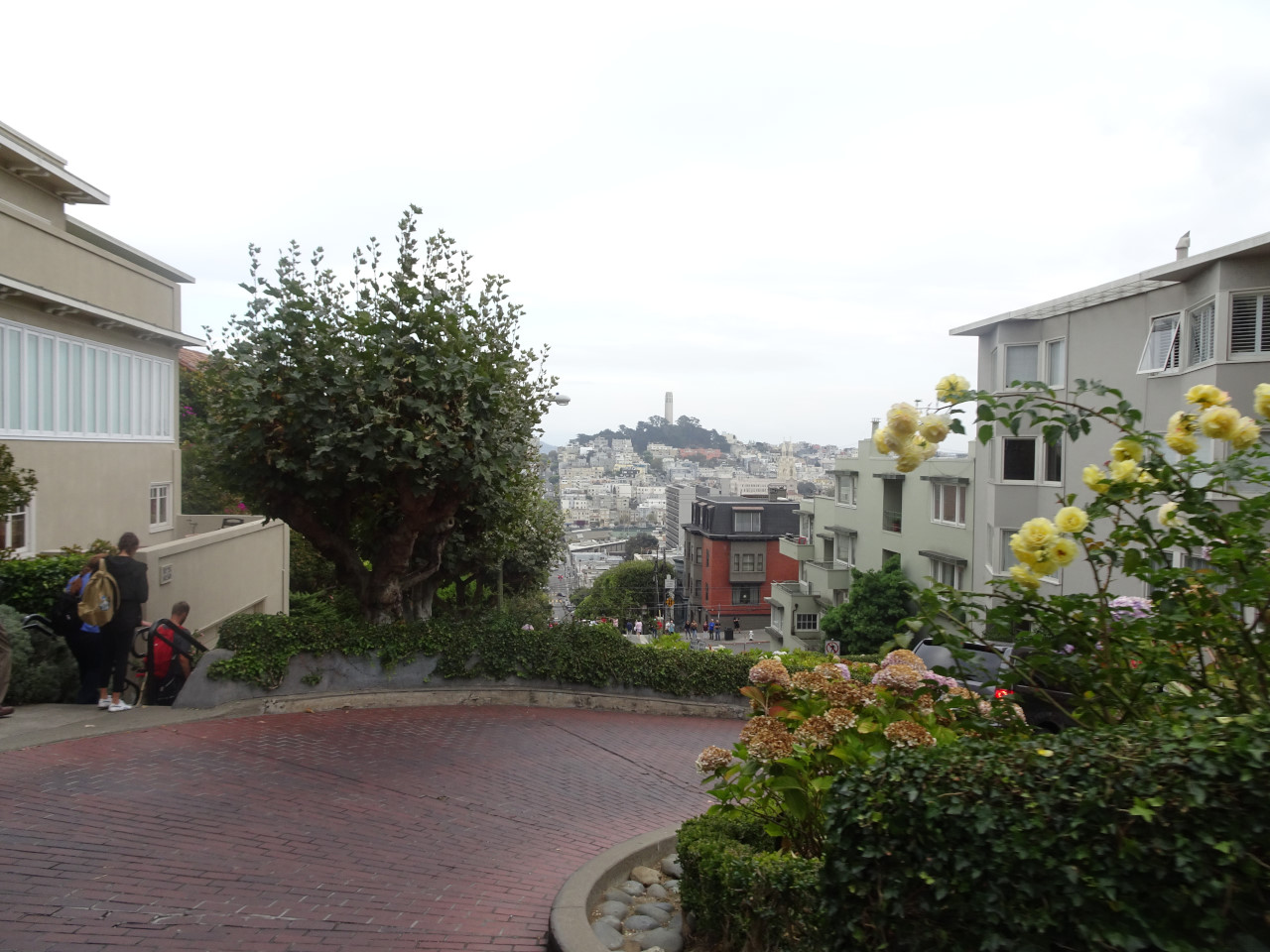 The Mayor then heads out of town to drop me off at the Motel where Mick has already booked in and had dinner.  The Mayor gives me a great bottle of red and a couple of tie pins to top of great day.  The Mayor's effort is yet another example of the fantastic generosity of people I have found on this trip (the Mayor drove up from Scotts Valley just to show me around).   I hope that she can make her way to Australia so I can repay the favour.