Up I get and its a bit foggy but by the time I have a shower and breakfast most of it has lifted. I take a photo of the bikes belonging to a group of couples that arrived last night before I hit the road to Mt Rushmore.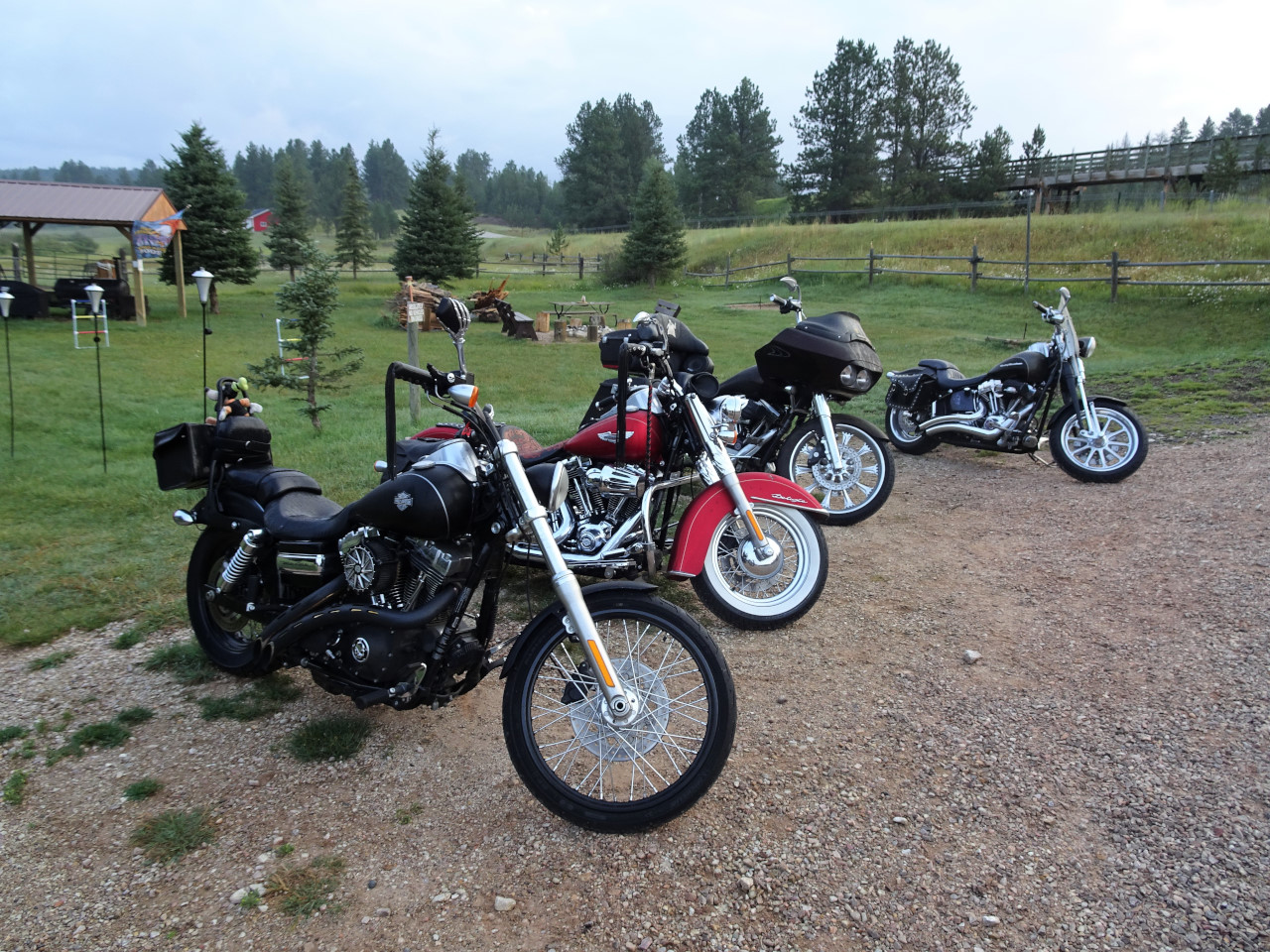 The black hills are great to ride thru;
Along the way there are vendors who have set up in service station car parks selling rally merchandise and everything else you an think of;
I keep stopping to take photos;
I get to another market and decide to stop and have a look around;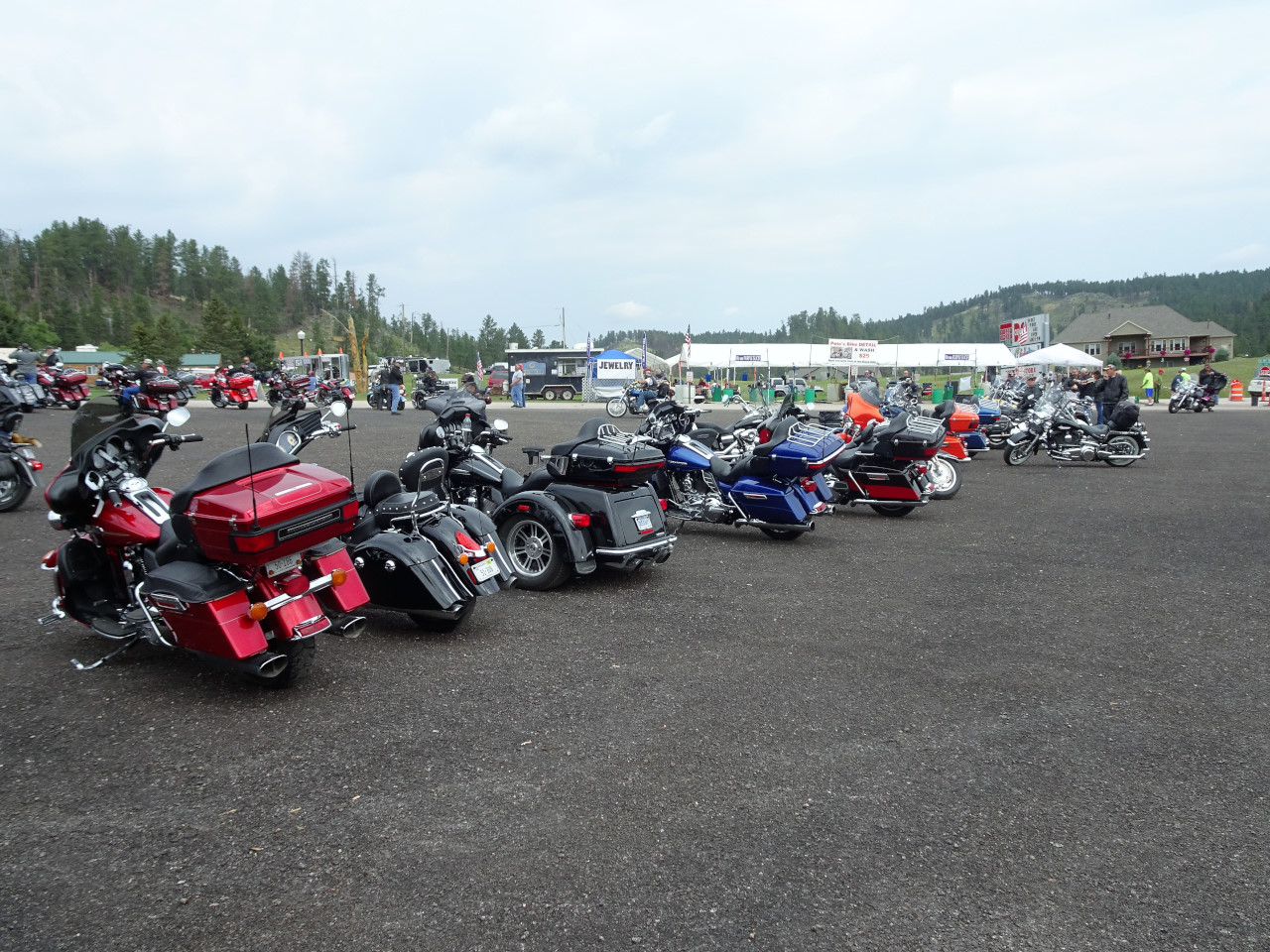 Hard to believe that less than a couple of hours later when I went past it on the return leg that it was so full it was hard to get a spot to park!
I check out the knife stall and speak to the vendor (Sean). I had previously flagged a Jim Bowie knife as something I would love to get as a souvenir of my trip. I had researched Jim Bowie's knife and how his brother had made it for him. I knew that an original style Bowie knife was big but very plain. I searched thru the knives on offer and picked out this one;
The knife/pouch was made by a guy in Texas. The handle is made out of camel bone whereas the original would have been buffalo. Sean was impressed that I knew my history and that I picked that one given there were far more fancier ones for sale but not authentic in their style. Sean dropped the price and I got it for $40 – after seeing a few around the place for way higher I was happy.
I went to a another vendor that had various leather made gear. I selected this one to purchase;
I was able to get this for $50. I had seen very similar ones at Sturgis ranging from $39 to $250. Generally the more expensive ones have far more work put in to them such as tassels, gun pockets, etc. I wanted a plain one as my view is that less is more. I was very happy with the quality of the leather and workmanship.
The reason I wanted a vest is so that I could patch it up and have it as a cool souvenir of the trip. I will go back to Sturgis as they had thousands of patches you can choose from.
Back on Fred and continue on to Rushmore. The small towns I go thru are all jam packed with Harleys;
After riding around Rushmore I make the decision not to go and see the Crazy Horse sculpture (being chiseled as we speak). Rain clouds were hovering around and I thought it wouldn't hurt to leave something for next time when I do the ride. I make my way back to Lead and stop at the supermarket before heading back to camp. The ride was about a 160klm round trip and I took a 30min power nap to recover. I then went into Deadwood for a closer look around town. What I found was the Town was absolutely pumping;
The history is very interesting and there as some significant markers;
I go into the saloon to where the actual site is that Wild Bill was killed. Its not the original saloon as the old one was destroyed in a fire. The landscape has also changed when the new saloon was built but what the owners have done is to add a basement level that is a replica of the actual bar room. The room is not full of Chinese reproductions but original antiques that have been sourced from all over the States. There is a tour of the bar room ($10) that I hope to do whilst I am here. There are some very cool antiques on the wall in the saloon;
I go back out into the street and just take in all of the bikes and people;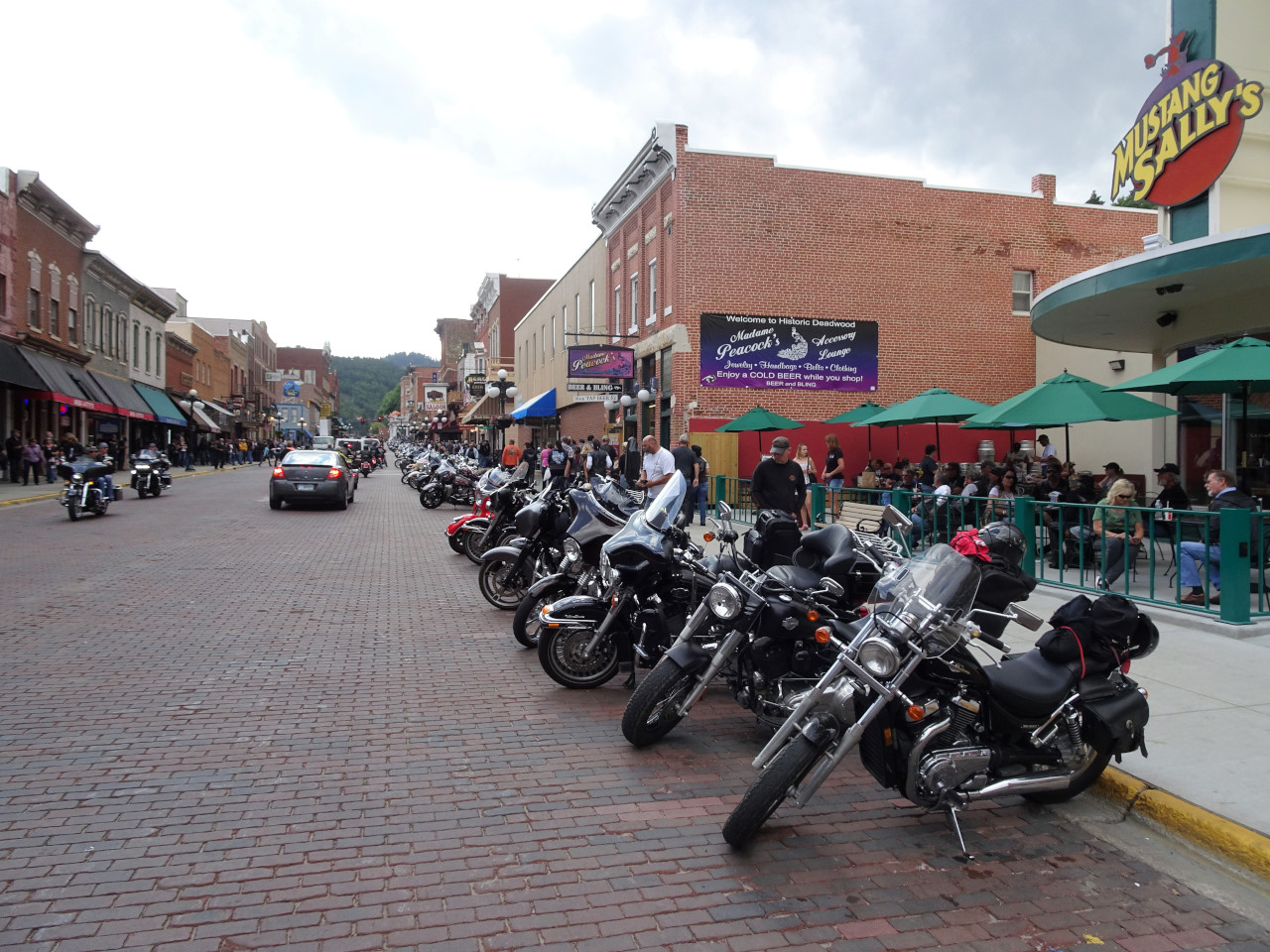 I finally find a motorcycle that has an engine nearly as big as Mick C's;
I go into one shop and meet these girls and get a photo for a laugh;
I tell them about my travels and that I want my troops back at work to share the fun with me. Hearing that they suggested another photo but with a bit more cheek(?) in it; LOL
I take more photos of bikes around the place;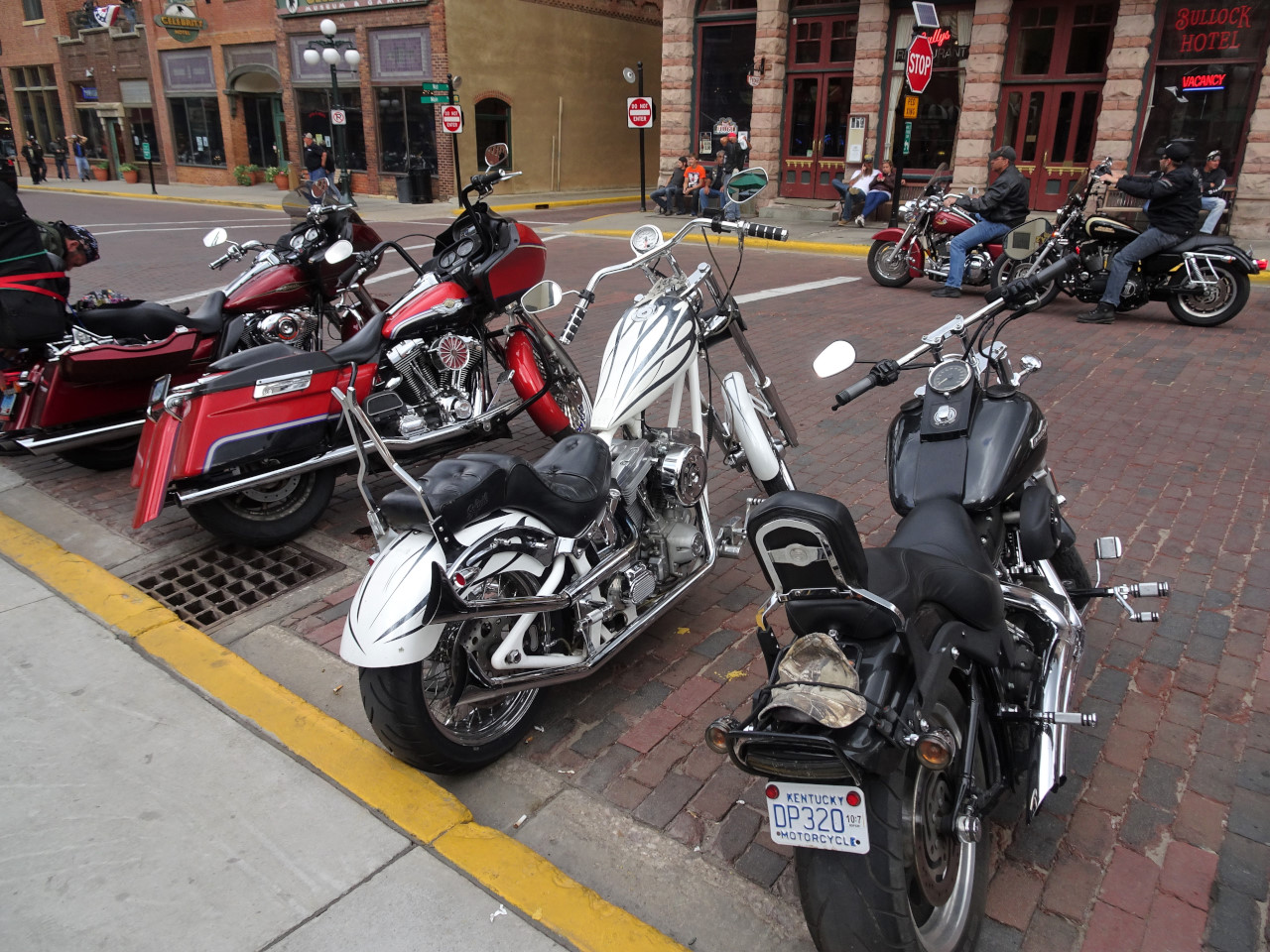 I get back on Fred and we head up to the cemetery that is located on top of the hill that overlooks the whole town. I pay the $2 fee and get given a guide. The graves of Wild Bill and Calamaty Jane are right beside each other and easy to find. I take a couple of photos;
Great resting place for them with magnificent views of the city;
I finish up and start to head back home when I find this;
I continue on and get back home in time to cook dinner. I really rate Deadwood – full of history and so interesting.