I am up early (again) as I am finding that it gets so cold overnight I can't get back to sleep after I wake up. The elevation here is 6.7 thousand feet which means overnight dew and freezing temperatures. Elevation is not something that I have ever had the need to pay attention to back in Australia but with camping over here it takes on great importance.
I only had a couple of things I wanted to get done today – go to the local Post Office and send the latest bundle of purchases back, get back over to Sturgis and get my vest patched, and if time permitted back to Deadwood and do the historical Wild Bill presentation.
Off Fred and I go and arrive at the Lead Post Office which, from the outside, is not that appealing. I go inside and it is a whole different story. The Post Office was built in 1912 and is worth a visit even if not posting anything! I get my parcel off and hit the road to Sturgis.
On arrival at Sturgis I was able to park in the same free spot and walk to the patch vendor I had seen before. I look at hundreds of different options but came up with this;
I made sure that Brotherhood meant the brotherhood of motorcycle riders and not some weird Nazi type crap. I picked California for 2 reasons (1) its where I first entered the US and (2) In honor of my good mates Carl & Suzi.
After I get the patches I have a look around;
Plenty of Harleys for sale around the place;
More photos;
Now I find this store which makes me have a chuckle;
As you can see its a Hells Angel store where you can buy everything you can think of to support your local 'Red & White'. I go over and have a chat to the 'noms' that are working there. The reason for my chuckle is that back in Australia they are a 'declared' criminal organisation which means they cannot associate together or wear their colours. Here in South Dakota they are selling merchandise. LOL
More photos;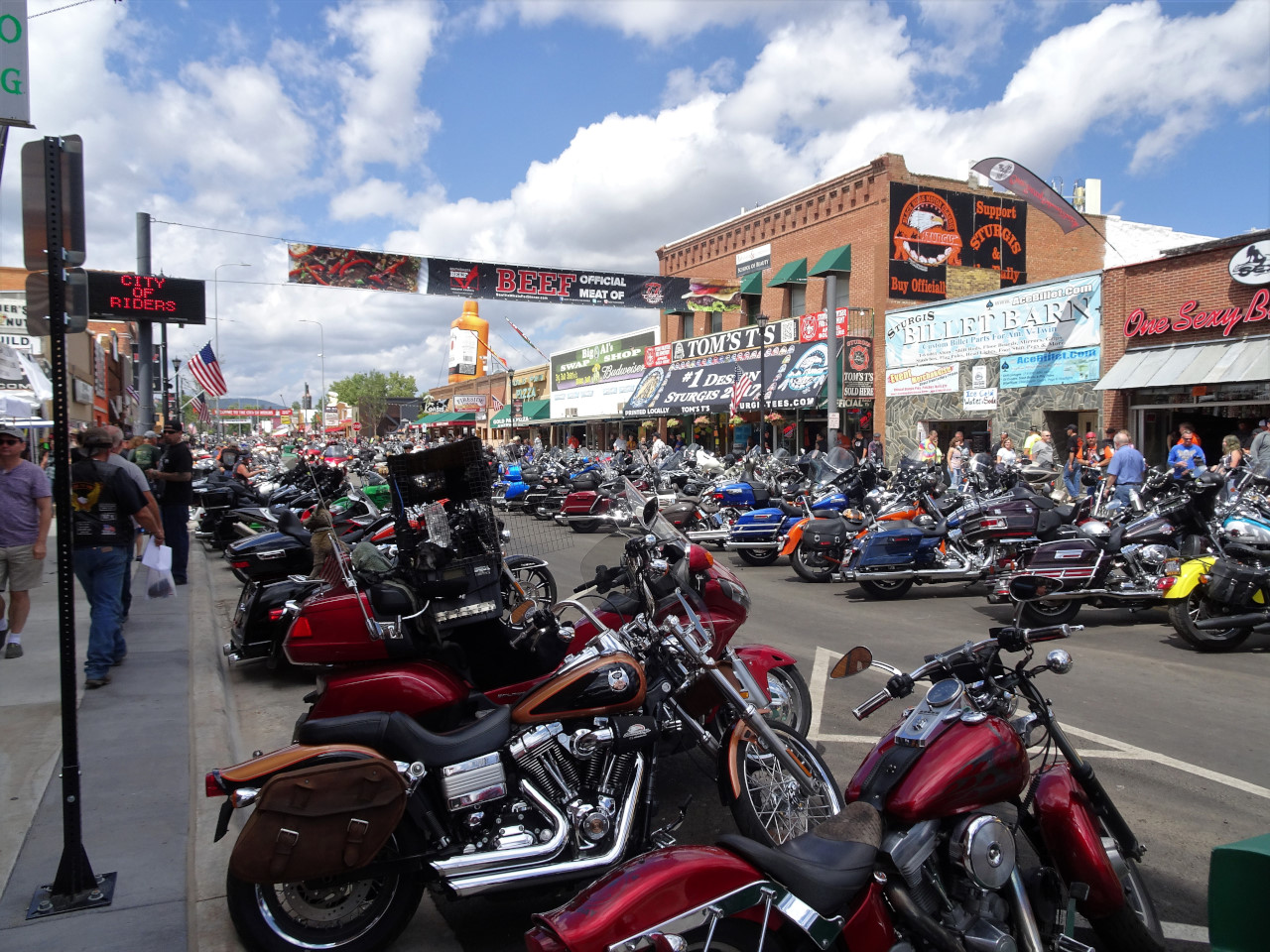 The following photos were taken on a platform (they have one at each end of the main street) that you pay $5 for 5 minutes (they are not strict on the time if there is no-one waiting). I have a chat with the volunteer and find that they are all manned by members of the National Christian Motorcycle club who give up their time to raise money for charity. This particular guy was camping at Swordfish with his wife and paying $150 a day for a tent site for the privileged of volunteering. He gives me a silver coin and tells me it has the contact details for the club and if ever I break down (its for any rider) they will come out and help. Very impressive.
I keep taking photos;
I get back on Fred and head back to camp via the Lead supermarket. I do a few things and then back on Fred to Deadwood. Back in Deadwood I go wandering around;
I then go and check out the cigar bar that had been recommended to me and found it to be a very cool place. A band was playing blues and George T. (all motorcycle classics);
Now I thought I had better experience (for once in my life) the biker culture so on goes the vest and I purchase a $10 'sweet' cigar. There I am in the bar, vested up, smoking a big arsed cigar and listening to George T. LOL Was I having a good time? You had better believe it!
I leave the bar and go and see the Wild Bill room that I had mentioned in the last blog. It was well worth it as I learnt a hell of lot about Wild Bill from this guy;
One thing I learned is that Wild Bill was 6'4″ tall – in those days that would have been giant status. I take a few photos (poor quality due to bad lighting);
I head off and walk around taking photos and checking out the bikes;
Time is marching on and its time to leave. I get up the road and find this old girl;
I take my time getting back to camp as the deer over here are like Kangaroos back home and you have to be careful you don't hit one.
Back at the camp I get given a beer by my new mates, Sonia & Dave, and have a laugh.
I will do a specific blog about what I think is the best way to enjoy the Sturgis Rally. Next stop will be Denver but I am going via Nebraska as it will be the only chance I get to see that State.