The next morning Mick and I have breakfast at 'IHOP' diner right next door to the Motel.  We get organized and go around to the local Police Department and Mick minds the car while I go in to get a patch.
I get up to the front counter and explain who I am and in about 5 minutes I am having a chat with a member of the local SWAT who gives me one of his patches.  The conversation is cut short when he gets the tap on the shoulder from his partner as there is a job on.
I get back in the car and Mick drives down to a nearby shopping center so I can go to a bank.  Whilst getting some cash out we get a call from Jack who lets us know he has landed and is waiting to be picked up.
Mick's effort in driving to pick Jack up deserves a medal.  He conquered his fear of the 'cloverleaf' expressway and managed to get us to Jack in one piece.   We pick Jack up and head back to the Motel so he can check in.  It was fantastic to see Jack and we all couldn't stop laughing at the fact that we were all in the US together.
Later in the afternoon we go out for dinner and found what we thought was a sports themed Italian restaurant.  Jack orders a large pizza and Mick and I order beef ribs.  I missed the warning sign when Jack ordered a pizza without anchovies and the waiter had no idea what the hell he was talking about.  The glasses of beer come out and they are warm and flat as a pancake with no head on them whatsoever.  I then notice that all the staff are Indian and not a lot of English is being spoken and realise that we are in an Indian restaurant that is serving up Italian food.
The pizza comes out and in fairness its very basic but overall not too bad.  The ribs get served and bottom line they were inedible – clearly heated up in a microwave and tougher to chew on then an army boot.
I wave to the boss and indicate to him to come over.  I politely ask him when were the ribs cooked and he tells me that they were done in the morning (a conservative estimate would therefore be at least 10 hrs prior).  I tell him how bad the ribs are and that we are not paying for them.  Luckily Jack's pizza is big enough to go around.
We leave the 'restaurant' and on the way back to the car we see a great little bar tucked away that we all walked past and missed.  To add further insult we could see the patrons eating great looking meals at the bar.  Doh!  We head back to the Motel and call it a night.
Next morning, we all check out and I take the boys to a couple of the places that the Mayor took me to.  We go up to Twin Peaks lookout and then on to Fort Point.  Given it was the weekend it was far busier then when I did it during the week and people were everywhere.
It was a complete circus with our car setup.  Jack sat in the back and fell asleep most of the time as he was still getting over his jet lag.  I sat in the front passenger seat and acted as navigator using my motorcycle GPS while Mick took on the driving responsibility.  The trouble with this setup is I kept forgetting that Mick is as deaf as a post (suffers from tinnitus) and just assumed he could hear the directions given by the GPS.  This meant that I kept shouting directions at Mick when he nearly missed each turn or had to change 4 lanes in 5 metres.
We complete the sightseeing and set sail for our next Motel in Santa Clara.  It was only about 45 klms away but took us ages due to the heavy traffic.  Mick got us all there safely but was a wreck from the stress of driving on the main Interstate – I don't think I have ever seen a bloke sweat so much or turn so pale!  (Mick's suffering took a toll on Jack and I as we slept most of the way).
On arrival, we go to check in and I find that Mick and I have been given a room that has only 1 bed.  I try to explain to the receptionist that although we are good mates we are not 'partners' (the situation is not helped by the fact that the receptionist is VERY CLEARLY gay and takes a shine to Mick).  We are given another room which thankfully has 2 x king beds.
Jack doesn't escape the room drama as he is given a room just a few doors up from an Asian woman who is having a psychotic episode on the balcony in that she is gesturing and yelling to imaginary persons.  I think you would be starting to get a picture re the type of Motel that we had booked in to.  Jack and Mick go out for a drink and something to eat – I just have a quiet night in listening to the crazy woman for entertainment.  In reality its quite sad to see that nothing is done about it – we brought it to the attention to the Motel staff and that was it.
Next day we jump in the car and go down to Denny's Restaurant which was close by for breakfast.  After breakfast, we go back to the Motel and I book an Uber ride to get us to the 49's game.  I have learnt to make sure when booking Uber I get the drivers name and car details to make it straight forward in finding them.
I knew something was up when we were left waiting for about 20 mins standing on the footpath in front of the Motel entrance.  I finally spot the car coming through the Motel carpark which meant that he had come in from the rear entrance and most likely lost.  I stop the car and the driver tells me that he cancelled the fare as I did not answer my phone (total rubbish).  Once the fare is cancelled you cannot simply jump in and get going as it must be rebooked on line.  To say I was a little peeved would be an understatement and I shared my view with the driver of his upbringing.
We give up on Uber and book a taxi through reception.  The taxi arrives after another 20 mins and takes us the long way around to 'Levi Stadium'.  The fare should have been less than $20 and we pay $35.  The joke is on us as there is massive empty parking areas all around the stadium and we could have easily driven the hire car to the game.  On arrival, the boys got into tourist mode;
Mick checks his backpack in (you can only take clear plastic bags in) and we get through security.  Given it was a very hot sunny day we all felt a massive relief when we found that our seats were right in the centre of about 25 seats that are the only ones in the whole stadium that were in the shade.  For the next 3 hours we had a ball watching the game.  The actual game was a one-sided affair as the 49's were never in it and got a belting from the Nth Carolina Panthers.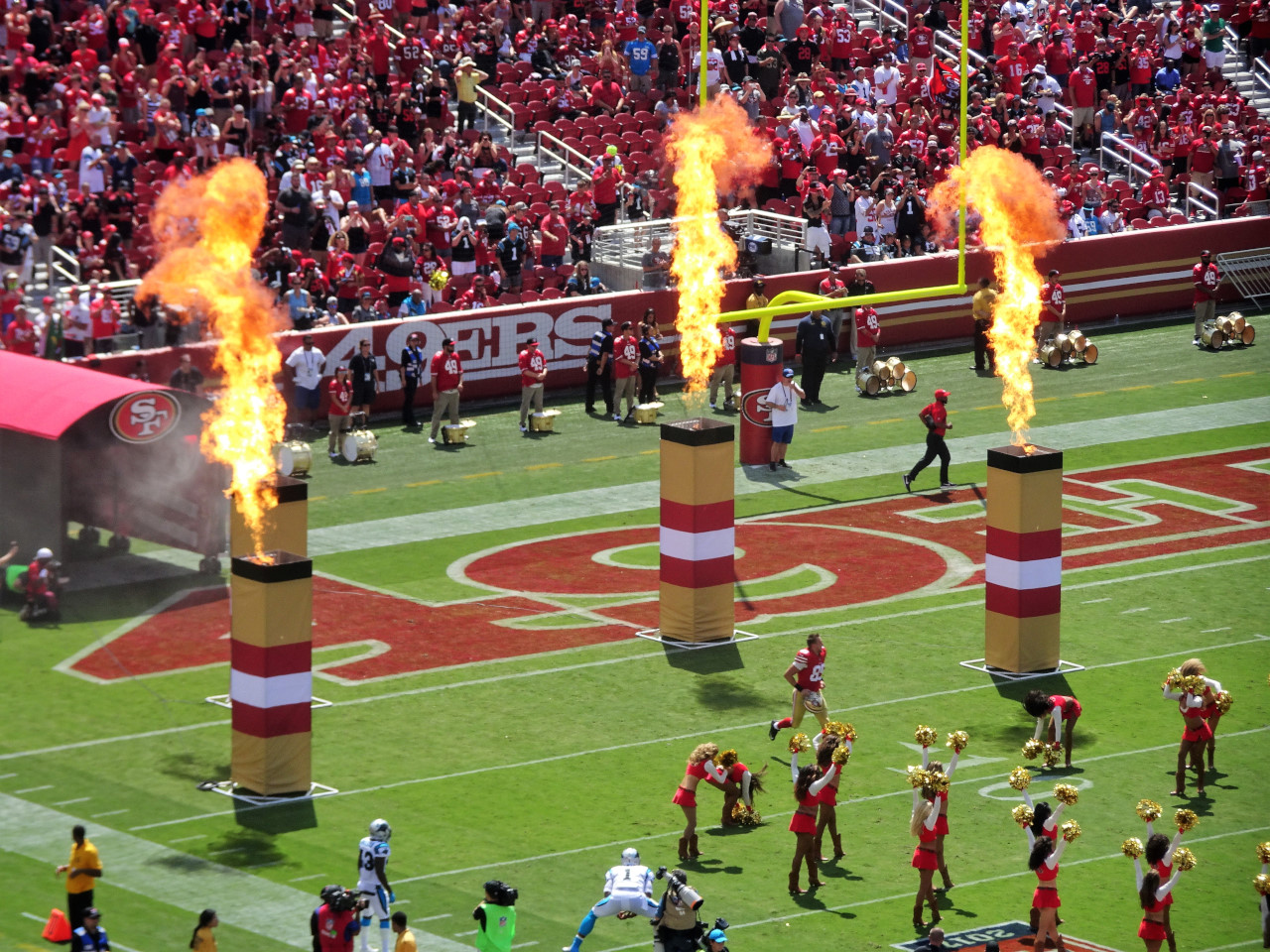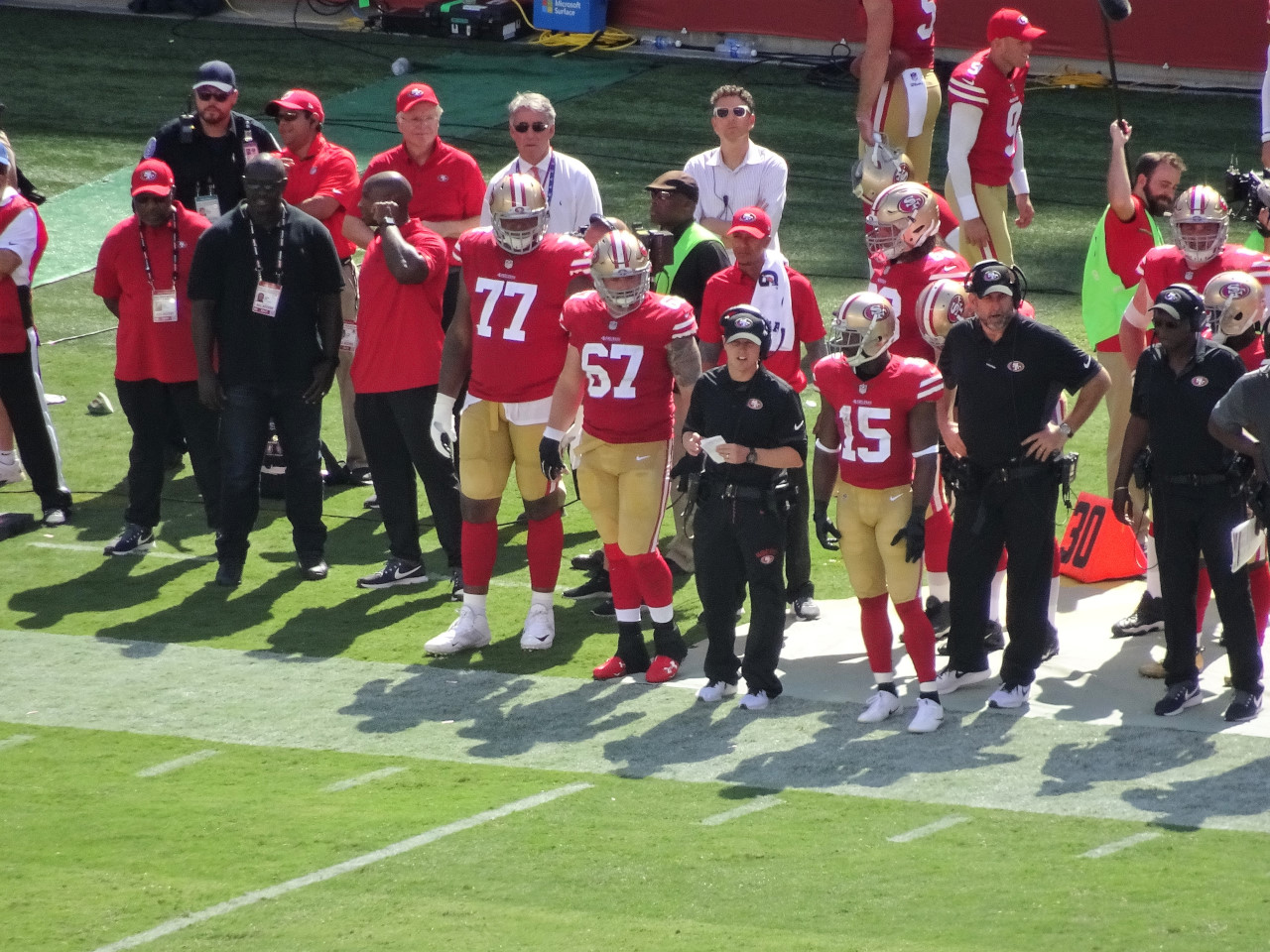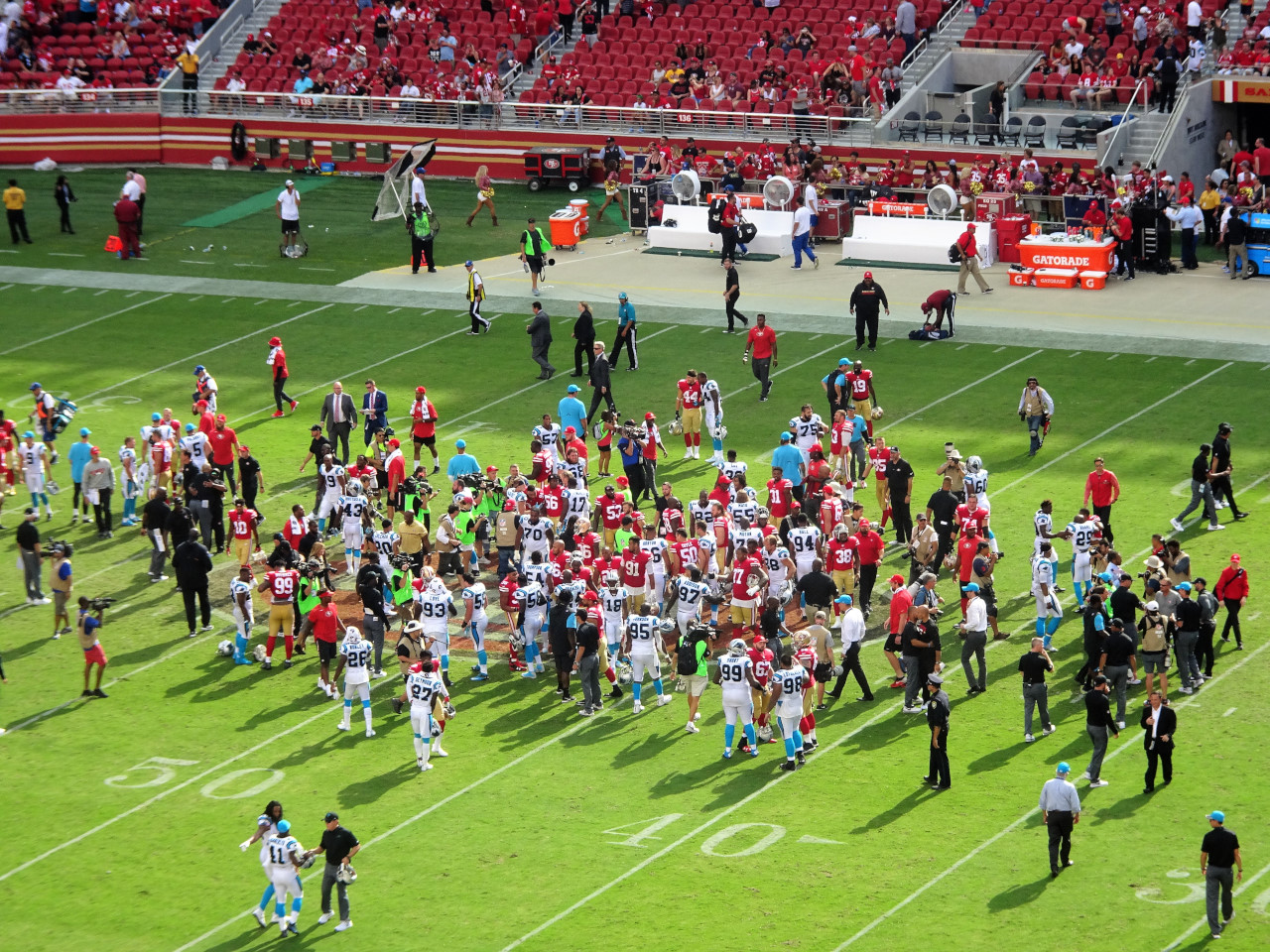 None of us could work out why the hell you would build a new football stadium that was actually 50 klms out of the city but what we were told from some die hard fans later is was all about the money.   The current owner of the 49's inherited the team from his Uncle and has driven the team into the ground.  The move to Santa Clara was purely driven by money and the cost of seeing the team is nearly double to what it used to be when they were based in the City.  The team has lost a lot of supporters who feel they have been duded.
You can't really compare American Football with what we have back home given its stop / start nature.  We were lucky enough to see a sensational touchdown where the Nth Carolina Player did a sumersault over the line.
When the game was over we decided to walk to where we could catch a taxi.  As it turned out we most likely would have been better off just waiting at the ground a couple of hours as our walk turned into a torture test for Mick with his sore knee.
We worked out a rough direction to where we thought the Motel would be and kept following the same road.  After about 3 klms we came across traffic barriers that a closed road sign on them.  Thinking that we were on foot and therefore the signs would have no impact on us, we continued on until we hit a railway crossing where a bridge was only partially built.  The only way over was to walk on big bladders that were filled with water – just like over sized water beds.
I am sure that Mick now thinks Jack and I tried to kill him as we made the big fella (on 1 leg) walk over the bladders to get to the other side.  If I didn't feel so sorry for Mick I think I would have wet myself laughing as he swayed and lumbered over them with Jack shouting encouragement.
We get to the other side and walk for another 20 mins before pulling up at a gas station.  Big Mick now has completely blown out his knee and can't walk at all due to the agony he is in.  I think the only thing that kept him alive was the thought of having a cold beer later.
We approach the Latino gas attendant and she is a great kid using her own phone to call for a taxi.  We are told it would arrive in about 20 mins so we all by cold drinks and sit in the shade.   40 minutes goes by and she phones the company back and the driver is lost so they are going to send another one.  30 minutes later the taxi turns up and I thought Mick was going to kiss the driver!
Back at the Motel we collect the hire car and go to the nearest supermarket for supplies.  I think Mick's first 20 beers evaporated in his throat.  What a day!
The next morning Mick is so sore he can't drive and has to lie across the back seat.  Jack gets thrown the keys – welcome to America Jack and your first go at driving on the wrong side of the road is going to be on the 6 lane expressway in peak hour traffic.
Jack does a great job and gets us to our next hotel in downtown San Francisco.   I had phoned the manager the night before and had organized for us to leave the car there whilst we did the Alcatraz tour – the only trouble was that when I went in and asked a different manager where to leave it I was told that the Motel did not have off street parking.  The place was so bad that even I could not stay there so I went back to the boys and we hastily regrouped.  Fortunately we found a great place not far away and were able to book in and leave the car there.
It's only a 10 minute walk down to the wharf and we make it in plenty of time to have breakfast.  Mick was walking with the aid of a cane and ended up getting on the ferry first as the staff viewed him as having a disability!
The ferry takes us out to Alcatraz and everyone gets off and heads over to a ranger who gives a brief welcome to the island talk.  Whilst standing in a crowd of about 150 people an old guy starts gagging right next to me.  I see a lady (wife) grab him by the arm and take him out of the crowd and stand next to a toilet block.  Clearly the guy is choking as he is grabbing at his throat and doubling over.
As I move to help the guy I can see his wife trying to do a 'heimlich maneuver' on him (this first aid action is very outdated).  I grab hold of the guy with my right hand and make him lean forward.  I then use my left hand at the same time to slap him 3 times as hard as I could between the shoulder blades.  While I am doing this a Latino woman comes over and starts yelling at me to stop hitting him (good grief).  The guy gives a big cough and whatever was stuck in his throat comes out.   By this stage Mick is telling the wife and woman to calm down as I am doing first aid and trying to help.
The guy recovers and I get a bewildered look from the wife.   They can't understand English so I shake my head whilst repeating her actions – trying to get them to understand that you don't do that type of first aid maneuver any more.   They just don't get it and I give up trying to explain.  The joke is that I saved him from choking and never even got a thumbs up!
I look around and similar to my experience on Peaks no-one in the crowd has missed a beat in watching/listening to the ranger.  The lack of interest from the crowd didn't bother me at all because at least this time my first aid involvement had a happy ending.  I just can't believe that I have never had to do any type of serious first aid on anyone and now I have done it twice in a short period.
We then go a self guided tour of the 'Rock'.  Mick is down to crawling pace but does a great job in getting up and down the slope.  I take heaps of photos;
What you don't about this next photo is that Jack and I had to jump over a fence to sit on the steps where the prisoners would have all sat during their yard time;
We all enjoyed ourselves and rated the experience.  It was pretty hard work as it was very hot, humid and the flies nearly ate us.  Jack had done a tour of the rock in 1982 – he found that this time there were a hell of a lot more tourists and you were prevented from doing a lot of the things he did back then.
We catch a ferry back and its time for lunch down at Fishermans Wharf.   We make Mick jump in with this guy;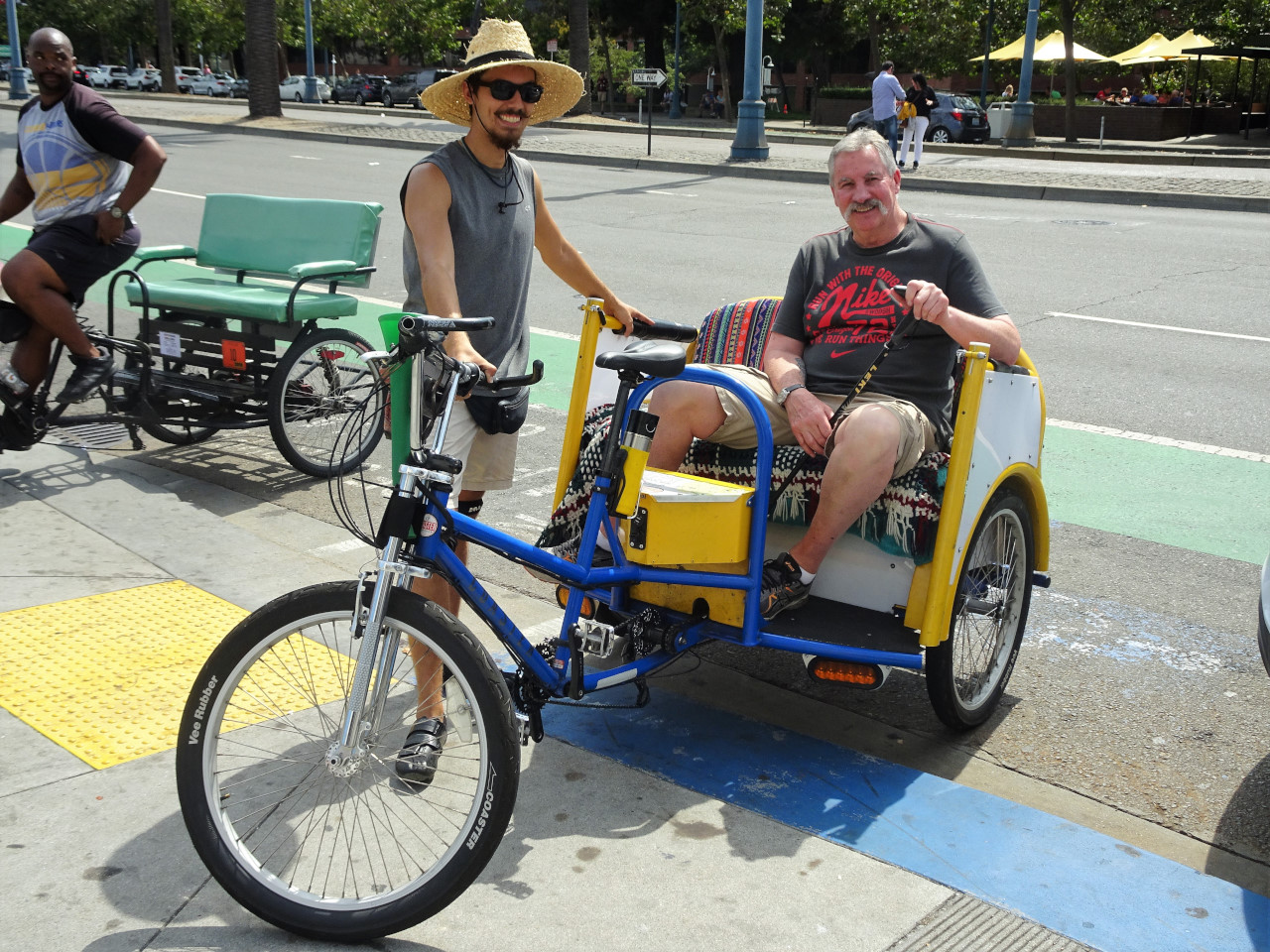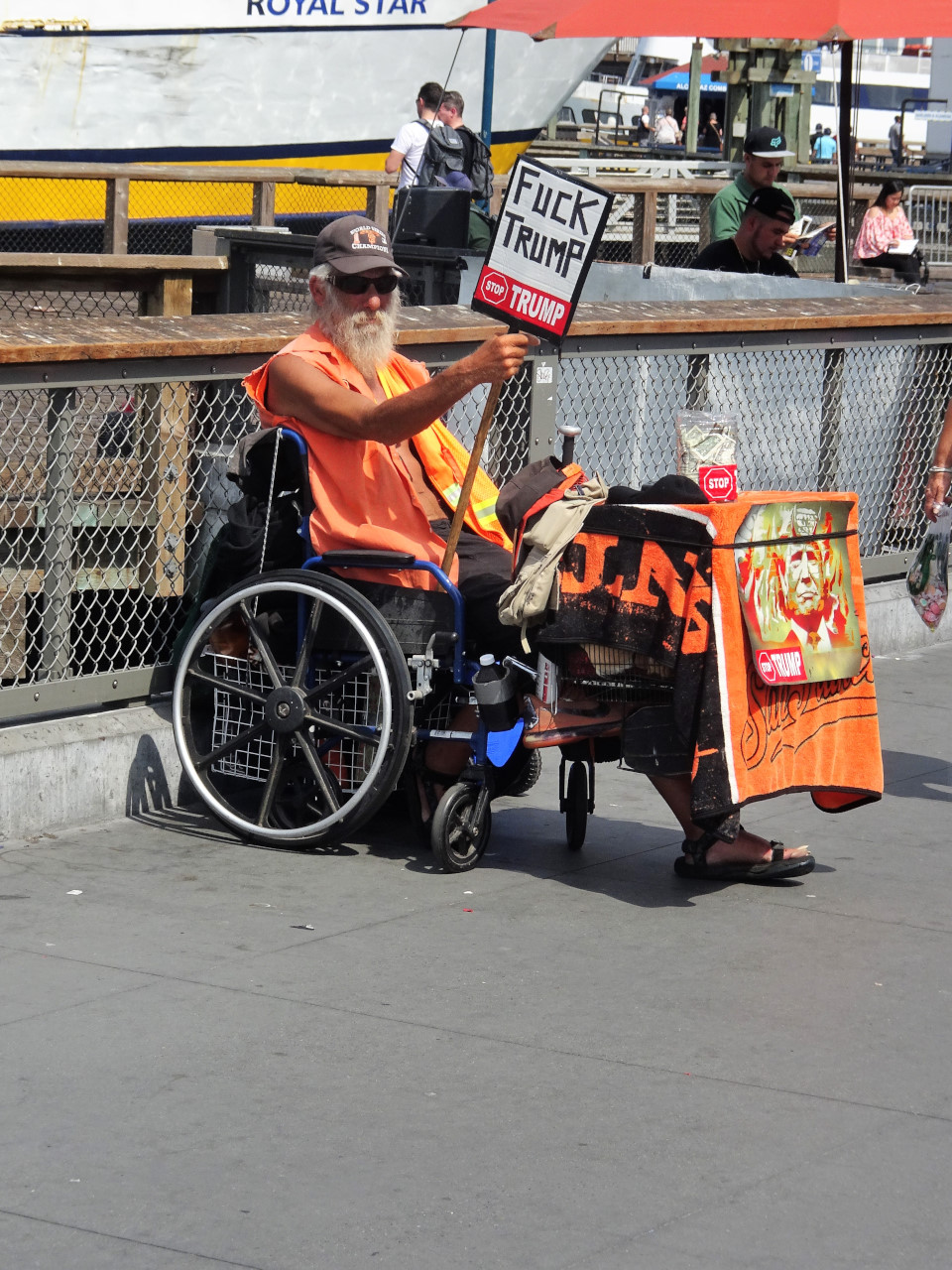 Down at the wharf we find a restaurant where Jack and I have fish and chips.  Mick has the renowned Clam Chowder – I would have liked to have had a crack at it but wasn't up for having a soup dish in the heat;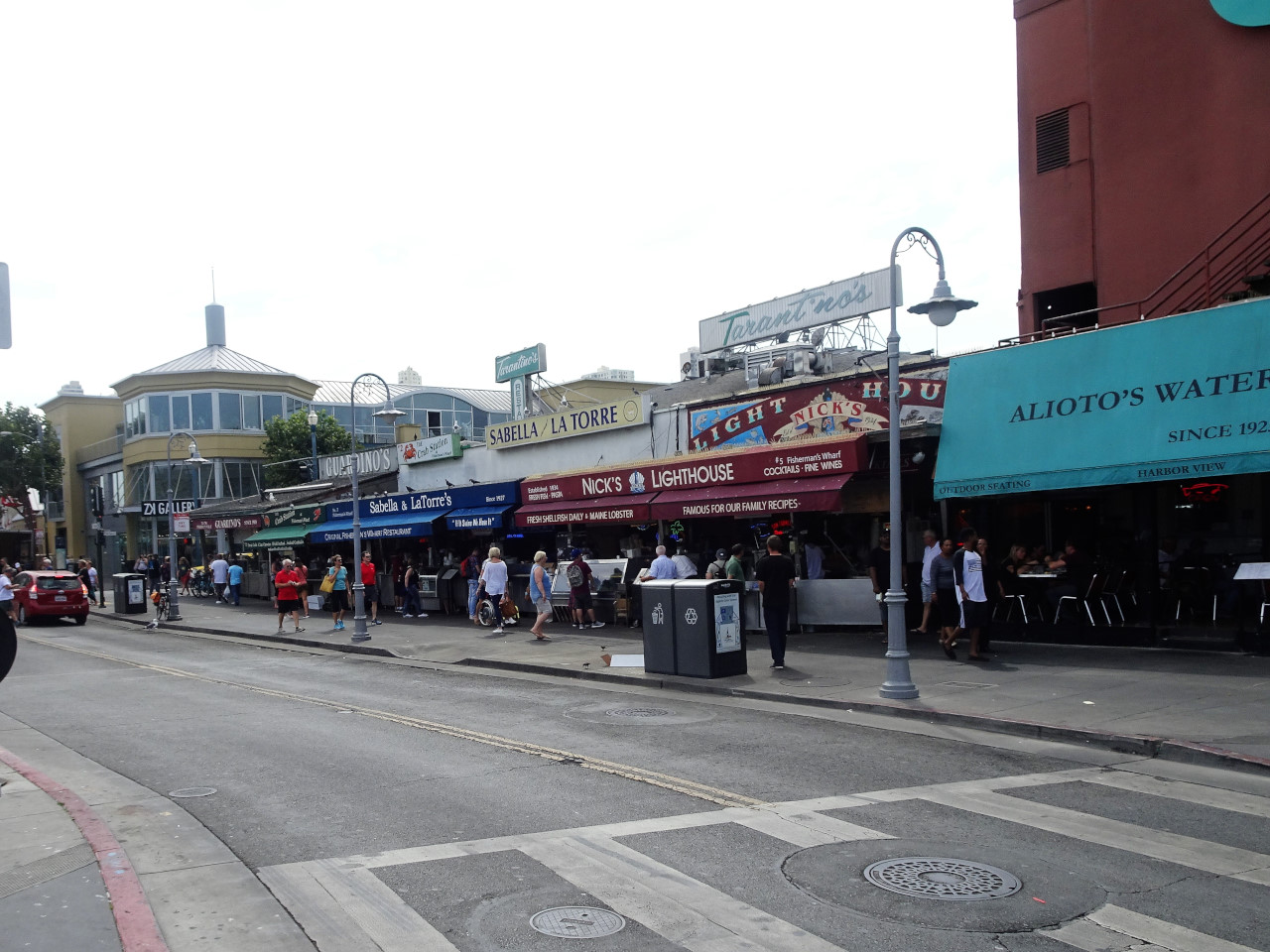 After lunch we walked back home and later went out for a couple of beers.  We found a great little Bar that had a bartender (Paulie) that kept us entertained for a couple of hours.  We started off watching the baseball but that didn't last due to the heavy rain and the game was called off.  It was lucky I hadn't thought of going to the baseball because we would have been very disappointed if we had.
Paulie must have enjoyed having Aussies in the bar as he shouted us about 5 rounds and also shots of Whiskey – I wished I had taken the camera as I would never had thought that I would see Jack downing whiskey shots.
We call it a night and head back to the room to get ready for the flight to Memphis.  I can certainly now see why so many people love San Francisco.