Just checked and I now have 82 followers! I will fall over if the number gets to 100.
I leave the lake to Al and the mosquitoes and head off with the intention of doing at least another 400klms for the day. I get to Spokane and go off the Interstate and have a brief look around the city before continuing on. Just before the State line into Idaho I come across at least 6 massive RV dealerships that would each have at least 2 to 3 hundred RV's on their lots ready for sale. It makes me think what will the US be like in another 10 years with their massive population all trying to drive these things around?
I cross over the State line and pull up at Post Falls Police Station. I go inside and get greeted by a lovely smiley girl in uniform who looks about 16 and makes me feel about 90. I ask for a patch and she tells me that she will get it sorted. She makes a phone call and then Captain Pat Knight comes down and we have a good chat. Amongst other things it turns out he is the young officers Father! Anyway Pat was previously in the Marines and had visited Australia and loved it! After leaving the services he ran a Swat team for about 13 years that is shared between Post Falls and Rathdrum before being promoted to Captain (I hope I got all this right). Anyway his brother works in the Sheriffs Office (helicopters) and is an avid motorcycle rider with other members. Pat gives me a SWAT patch and tells me that his wife is very keen on Australia. I will definitely be catching up with these guys its just where!
The ride in Idaho is again very enjoyable;
As I am riding along a Harley cruises past me with a bicycle loaded on the back. I regretted not getting a photo of it given that I had never seen anything like it. About an hour later I pull into a small town to fuel up and grab a coffee and I spot the same dude in the service station!
I introduce myself and find out the guy is named Paul who is from Canada. He tells me he only gets to ride his Harley when he has to travel for work. We exchange details – Paul intends going overseas next year and I may be able to recommend blokes that can help him plan. He can help me when I get to Canada down the track. How is that for luck?
In the same town I find this classic Chevy – no bargain though as the owner wants 6.5k for it;
I get to the State line with Montana;
I get a little confused as to which way;
The scenery is fantastic;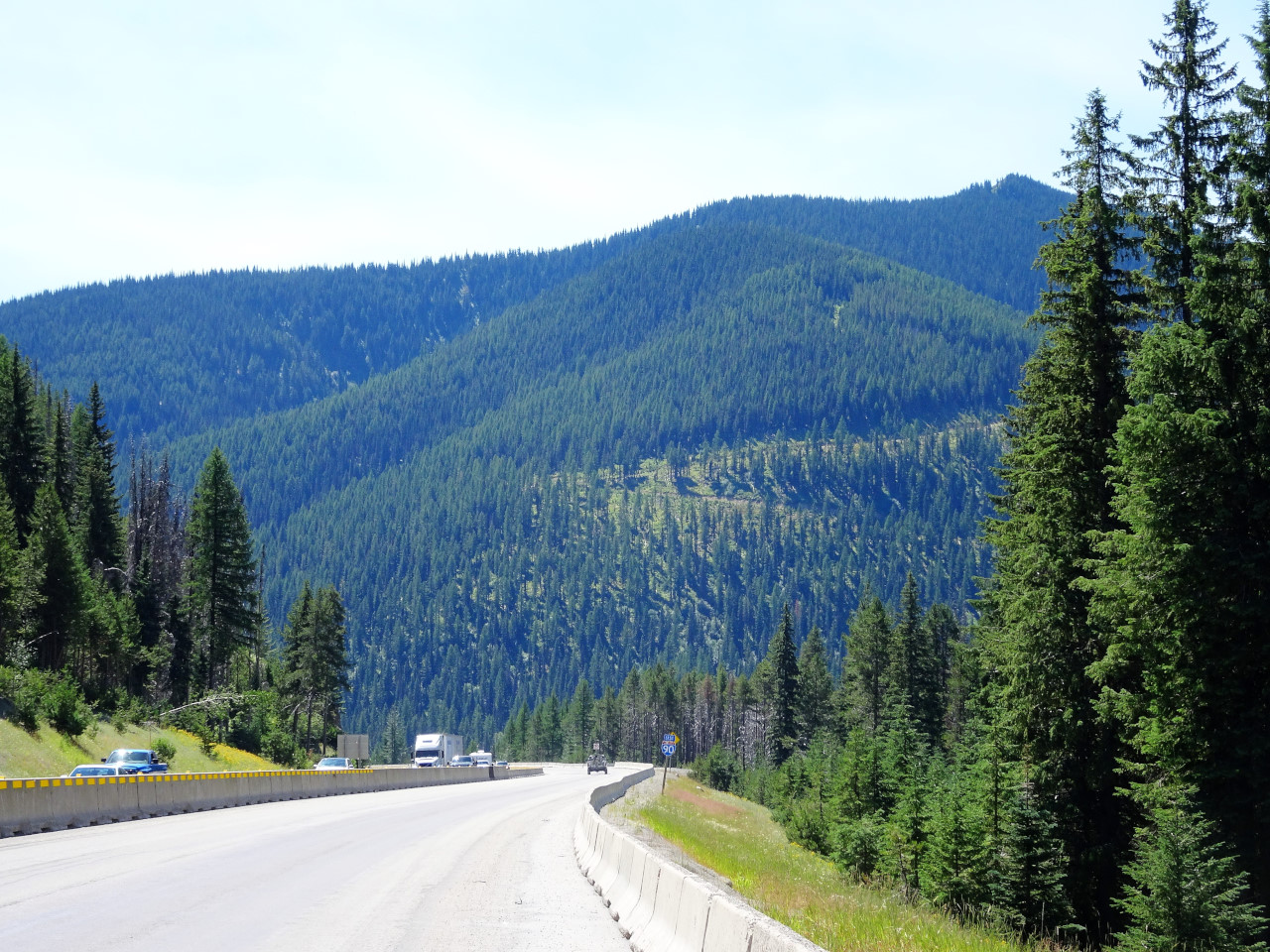 By now (I know) I am a bit weary so I find a nice tree next to a dam to have a quick nap;
I continue on thru some wonderful country and stop at Missoula. I first call in at the local Police Department and speak to Captain Gary Becker. We have a chat and Gary tells me that I must come back in winter as it gets down to 30′ below zero. There is so much snow that people aren't allowed to use their vehicles. Gary tells me that they get a lot of drunk drivers in winter who get stranded in their vehicles and have to be rescued. Ha. I ask how they go about their job in winter given that patrol cars would not be able to get around in the snow. Gary tells that the department pays the individual officers to use their own 4 x 4's when/if they have to. Love to see that work back home!
I leave Gary's office and head over to the local Sheriff where I meet Deb at the front counter. Deb travels with her husband and both love getting off track whenever they can. I give Deb my blog details and a promise to send her a patch when I get home.
I continue on and run into heavy smoke from forest fires;
Later it was time to find a place to camp and I stopped at a small town called Drummond. It's a 'real' country town and I ride around taking a few photo's;
The town has a small but great little camp area next to the river;
I set up camp and go to the local diner and have my meal. The diner is great and its like visiting your Grandmother the way its set up;
I head back to camp and start on a rough draft for my blog. The mosquitoes are that bad I get forced to sit on top of my bed in the enclosed section to avoid them (as it was I got plenty of bites). I later go to sleep but about an hour later there was a large commotion outside my tent and I woke up seeing flashing lights moving all over the outside of my tent – for a moment I thought an alien spaceship was landing on top of me until I heard a woman's voice yelling right next to my tent. I yell out to her to see what the hell is going on and she tells me she is trying to catch her dog. Next minute something very big (the dog) tripped up in my tent ropes and ripped a couple of pegs out of the ground which caused the roof to fall down on me! I find my torch and go outside and see the woman and her dog closing the door on their RV. Gee thanks for the apology lady! I fix the tent up and get back to sleep.
The next morning I pack up and went to start Fred. Nothing. Obviously Fred had been traumatised by the incident and wasn't ready to go anywhere. I hear a clicking sound coming from the right hand side of the seat and work out that Fred must have a bad electrical connection. Off comes the seat and I fix the relay switch that had come apart.
Now its still very early in the morning and there is no movement coming from woman's caravan. Given I had my tools out I removed the silencer (quick change with only 1 screw holding it) from Fred's exhaust which raises his decibels by 500%. I then pushed Fred over right next to her caravan and fired Fred up. Fred must have loved the new found freedom to breath because he revved his guts out which nearly blew the doors off the caravan. I hear the large dog inside the caravan start howling and the van begins to rock and roll all over the place. Fred and I then make a hasty exit and make our way to the diner to have breakfast. I should feel bad about it but even now it makes me laugh out loud. Ha.
I get to the diner and put the silencer back in. I go inside and set up at a table with my laptop. I order bacon and eggs which turns out a real winner. Seated next to me is a retired couple and I strike up a conversation with Lyle. Turns out they live in North Dakota and travel around as Lyle judges sheep at county fairs. I tell him about my upbringing and how my family had sheep. We exchange details so that I can help him out later when both come out to Australia next year.
I had been disappointed that I would not get to go across the top of North Dakota but after speaking to Lyle it is better to do it another time anyway as they are experiencing the worst drought for years and everything is brown and dry which is completely opposite to normal.
Lyle ordered biscuits and gravy. He was amazed when I told him that I had never eaten it and was of the belief that I most likely never would. I get told by Lyle that it is probably the worst thing ever for you health wise but the taste can't be beaten!
I finish up in the diner and then hit the road.